Throughout the 10 years that I have been working on taxonomy design and metadata, I have made an effort to identify simple, day-to-day examples that can describe the concept of business taxonomy and demonstrate how powerful it is in organizing information at any level and for any industry. The examples I've chosen from the Rio 2016 Olympics showcase how valuable and necessary a well-crafted taxonomy can be.
Whether you've dedicated every waking moment to watching the Rio Olympics or simply kept

up with the latest highlights on your phone, you've no doubt heard about how Michael Phelps won his 22nd medal, and broke a 2,000 year old record in the process. But Michael Phelps is just one of the athletes participating in this year's Olympics. This year, there are 6,225 male and 5,137 female athletes participating in the games, representing 205 countries. Those athletes are competing in 306 events, for 42 sport disciplines. Hearing all of these numbers, you might wonder: How can anyone keep track of that much information? As a result of effective business taxonomy design, the official website of the Rio 2016 Olympics is able to track all the games and provide timely information mainly categorized by Country, Athlete, and Sport.
Business taxonomies are designed for the purposes of content categorization and findability. They must be simple, consistent, and intuitive for end-users, and preferably have a flat structure. The taxonomy in the Rio 2016 Olympics website meets these criteria.
From the homepage, the site allows you to browse and discover content by Sport, Athlete, Country, Venue, and Date. From the business taxonomy perspective, these five facets are called "enterprise metadata" or "core metadata", which means that virtually every piece of content in the site can be tagged with them. In the case of the Olympics website, every game or event could be tagged with these five facets.
For instance, going back to the Men's 200 Individual Medley Final that took place on August 11th when Michael Phelps won his 22nd Olympic medal, you may notice that this event was tagged with the following metadata:
Sport:

Swimming

Athletes:

Phelps Michael, Hagino Kosuk, Wang Shun, etc.

Countries:

USA, Japan, China, etc.

Venue:

Olympic Aquatics Stadium

Date:

August 11, 2016
These tags allow people to browse the site and find the Men's 200 Individual Medley Final event from different perspectives. This particular event took place on August 11th, so I chose the Schedule and Results option and then selected the date to filter only the events that took place on that day. Then, I was able to refine the results by Sport (swimming). I quickly found all the details about the Men's 200 Individual Medley Final event, including the venue where it took place, which athletes participated and from which countries.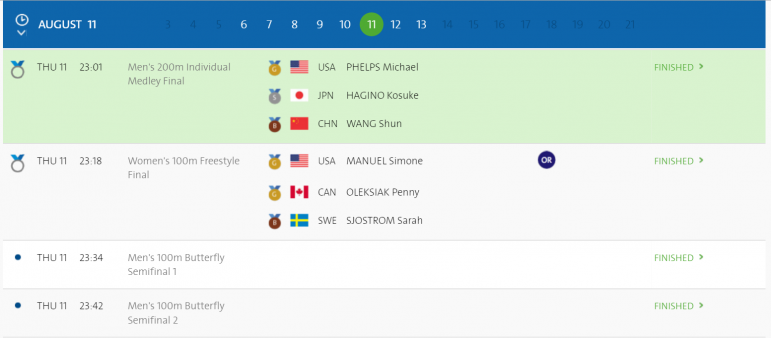 After looking at the information for this swimming event, I wanted to learn more about the gold medals that have been awarded so far at Rio 2016. I clicked on the Medal Count option from the left navigation and found that I was able to browse the number of medals by three metadata fields (Countries, Athletes, and Sports), which are again part of the core metadata that we identified earlier.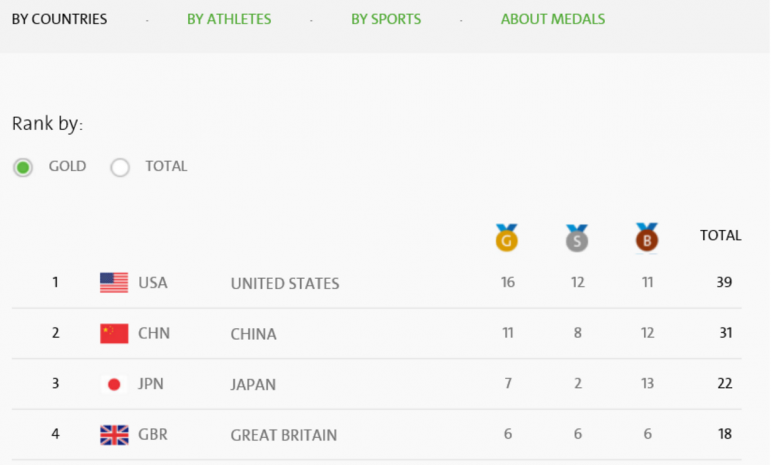 When I thought about learning more about Michael Phelps' performance throughout this year's Olympics, I clicked on the Athletes option from the left navigation and realized that I could search by two facets (Country and Sport), again, two fields that are part of the core metadata.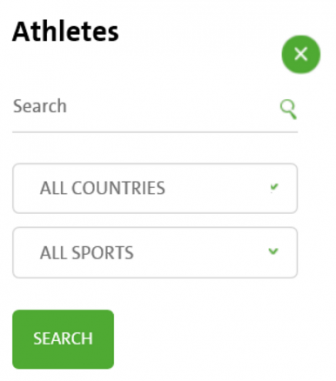 As you can see, the well-designed taxonomy helped me to quickly find the information I was looking for.
Besides the core metadata, in business taxonomy there is also the concept of "secondary metadata", which means that additional facets could be applied to certain pieces of content to provide more granularity. For example, an athlete could be tagged with Age, Gender, and even with Type of Record (World Record or Olympic Record), if applicable. These three fields are called secondary metadata because they provide an additional level of detail about the athletes. In short, the core and secondary metadata used in the Rio 2016 Olympics website has been applied not only for classification purposes, but for also for intuitive browsing and discovery of content. By applying metadata and secondary metadata to every piece of content, the creators of this website have provided a lot of flexibility and a wide range of options for visitors to search and find what they need.
Although the Rio Olympics website is just one example of business taxonomy design, as you continue with your work day, think about how an intuitive business taxonomy could enhance search and findability at your organization. At Enterprise Knowledge, we work with organizations from many different industries to identify their information management needs and build customized business taxonomies. These taxonomies are generally used to tag content within an organization's intranets, public websites, document repositories, and other information systems. But because every company is different and has unique needs, the business taxonomies we build are designed to meet each client's specific requirements.
Contact Enterprise Knowledge to help you design a business taxonomy that's worthy of a gold medal.
In the meantime, I'll sit back and continue to watch and enjoy the Olympics…