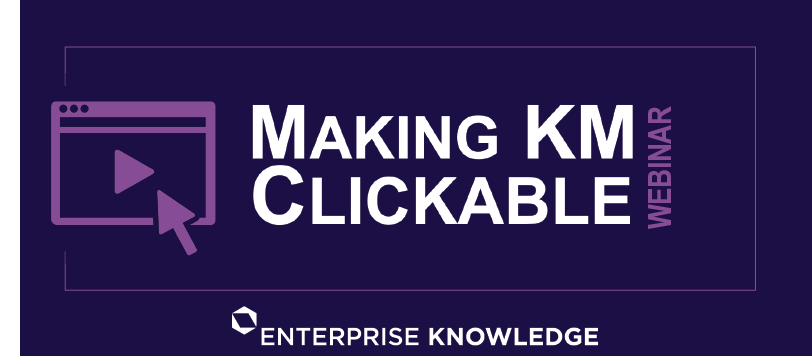 Enterprise Knowledge's Principals Zach Wahl and Joe Hilger are presenting a new webinar titled "Making KM Clickable: Powering Great Enterprise Search with KM" on Thursday, November 21st from 1:00 PM – 2:00 PM EDT.
In this webinar, Wahl and Hilger will combine their expertise in Knowledge Management and Advanced Enterprise Search to discuss how KM enables Advanced Enterprise Search. The webinar will cover foundational KM topics, such as taxonomy, ontology, content types, and governance. It will focus on leveraging your KM foundations to improve search, and how your organization can begin the path towards Advanced Enterprise Search, including leveraging graphs, machine learning, and semantics to power highly intuitive, user-centered search experiences.  
View event details and register here.
Date and Time:
Thursday, November 21st
1:00 PM – 2:00 PM EDT
10:00 AM – 11:00 AM PDT
6:00 PM (18.00) – 7:00 PM (19.00) CET