Many organizations look to take advantage of knowledge graphs to aggregate and align data from siloed systems, as well as enable explainable artificial intelligence solutions, but can get stalled if they don't have enough experience building and scaling knowledge graphs. Design and development teams for knowledge graphs often operate similarly to other enterprise data product teams, requiring collaboration between analysts, engineers, team leads, and stakeholders. However, since knowledge graphs are standards-based and place a premium on business intelligence, they require a team that has strong facilitation and analytical skills with a specific foundation in information management and semantic web standards. This ensures that knowledge graph solutions will be relevant to users and interoperable within technical environments. 
The technical expertise required for implementing a knowledge graph can be solved in various ways – through hiring, upskilling, or in-house consulting. Organizations often focus on their core, domain-specific capabilities, and these may not include skill sets in knowledge engineering. EK can enhance their capabilities through collaborative delivery or in-house consulting, working closely with domain experts to build and maintain knowledge graph services. We also offer a Knowledge Graph University to build the knowledge graph design and development competencies on your team. Depending on the nature of your organization, your team structure may vary. However, we find that the following roles and skill groups provide the core capabilities for many organizations to create a solution and program that is user-centered, standards-based, and well-integrated into your enterprise architecture.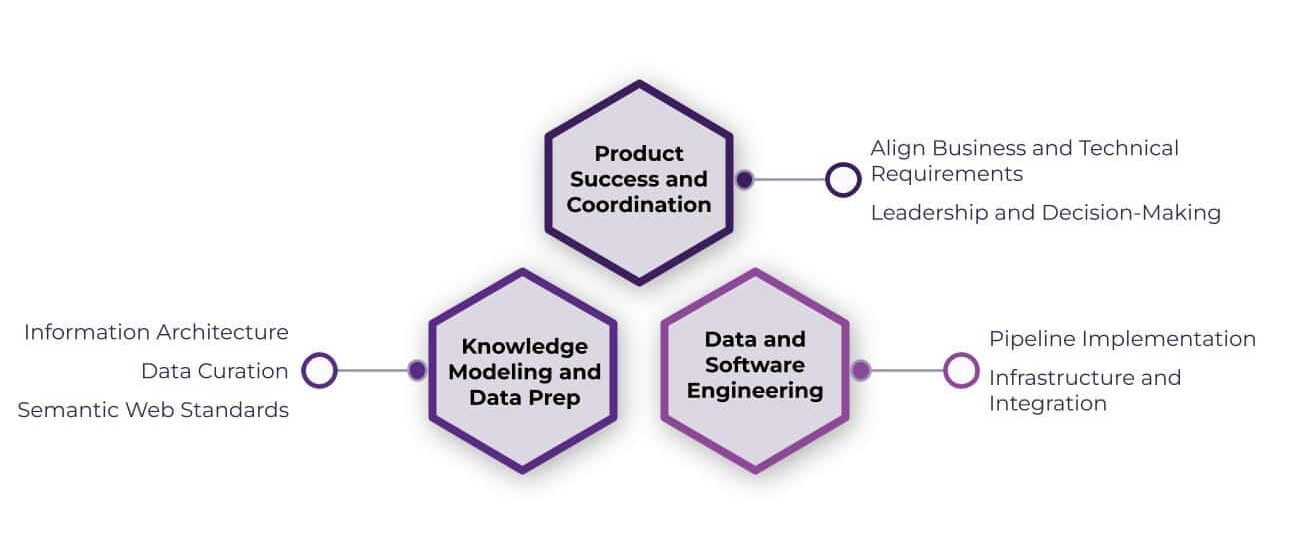 High-Level Teams for Knowledge Graph Development
What Are the Teams and Skill Sets You Need?
Product Success and Coordination
This team ensures that the knowledge graph aligns with business needs and technical requirements. These individuals provide leadership and decision-making to the delivery team while communicating outcomes to stakeholders.
It's important to have a Business/Product Lead and Technical Lead that have experience with enterprise data solutions and can both guide internal development teams and be a point of contact for organizational leadership and other stakeholders. They are responsible for scoping and executing knowledge graph initiatives and should leverage product management best practices to be successful.
This team will make sure that your solution is providing tangible value by translating business challenges into actionable use cases and guiding the knowledge graph in a sustainable and relevant fashion.  
Knowledge Modeling and Data Preparation
This team designs, maintains, and grows the ontology and taxonomy models that are the foundation for the knowledge graph. These key team members ensure the alignment and readiness of integrating source data with the knowledge model. 
The knowledge modeling should be led by experienced ontologists, information architects, and taxonomists. These facilitators should interact with SMEs to design taxonomy and ontology models while applying semantic web standards (RDF, RDF*, SKOS, OWL) to ensure applicability and interoperability of the models and schemas. They collaborate closely with technical analysts who guide the data inventorying and define how data should be transformed and integrated according to the foundational schemas.
This team is central to successful knowledge graph development, making sure that use cases in data standardization, artificial intelligence, search, and more can be achieved through defined data concepts and relationships. This team is successful when knowledge models embed business concepts in a machine readable manner and when source data relevant to the use cases can be ingested, transformed, and stored according to the model. 
Data and Software Engineering
These roles are responsible for implementing the pipelines and algorithms required for populating the graph solution, as well as building the infrastructure and connectivity between the graph and downstream applications.
Semantic data engineers who have programming ability in data extraction/transformation and experience in data-centric applications are key to successful knowledge graph development. It's important they have a skillset in querying and data manipulation languages, like SQL and Python, alongside experience working with graph-based querying languages and data types, like SPARQL, XML, RDF, JSON, and OWL. 
Having an experienced data engineering team will accelerate your knowledge graph development, ensuring that technical solutions are high quality and well integrated into the enterprise architecture. One of the primary advantages of graph-based solutions is their flexibility and extensibility, and this team makes that tangible for the organization. 
Establishing Your Team
There is not a one-size-fits-all model for establishing a knowledge graph development team. The team structure and needs will differ depending on relevant use cases, where the knowledge graph fits in the enterprise architecture, and the complexity of the domain area. Fulfilling roles can happen in multiple ways. It is possible that a single person may fulfill multiple roles or that each role may be fulfilled by one or more people. Regardless of the team structure, it's critical to have the right sets of skills represented to successfully achieve your knowledge graph use cases.
At EK, we support many organizations in building out their capabilities to design and implement knowledge graph solutions, closely partnering with teams to close skill and experience gaps. If you'd like to work with us through in-house consulting, advising, training, and coaching, reach out to [email protected].