Knowledge Management (KM) is fundamental to the effectiveness and success of every organization. A strategic roadmap to maturing an organization's KM capabilities is what sets apart organizations that leverage their collective knowledge from their competitors who don't have a handle on it at all. That is especially the case for organizations that are in the business of offering their knowledge to their clients, such as: 
Professional services firms

that provide executive and management consulting based on the expertise and experience of their consultants and subject matter experts;

Financial advisors

who recommend the optimal set of investment strategies and tools to increase their client's portfolio value;

Legal advisors

who need reliable access to laws, regulations, and related matters in order to apply them to their client's unique situations or mitigate risk for their own organization; and

Retail companies

that have to guide buying decisions for their already informed customers who have direct access to all of their product information online.
Most organizations see the value of KM, but struggle with determining where to start and how to show progress quickly, continuously, and impactfully. In this blog, I'll share the elements of an Agile KM Roadmap that will allow your organization to take an agile approach to implementing your knowledge management strategy. 
Workstreams, Tasks, and Milestones
The building blocks of an Agile KM Strategy Roadmap are workstreams, tasks, and milestones that are based on a current state analysis and target state definition.
Workstreams
Workstreams are independent, yet interrelated, KM efforts that add value on their own but ultimately create a more holistic solution when combined with other workstreams. 
The classic examples would be taxonomy design and governance, content strategy, and search design and implementation. Each of those workstreams alone will help an organization standardize the way it manages its knowledge and information while improving content findability. The outputs of these efforts can be combined into a web portal that indexes multiple repositories of good, quality content, resulting in optimal access to that content regardless of where it is stored.
Tasks
Tasks are the discrete steps towards producing the deliverables in each workstream. They are defined not only by the activities involved, but also the appropriate methodology for ensuring that the task is completed based on best practices.
Whenever EK designs a taxonomy, one of the critical sets of tasks is Top-Down Analysis, which involves conducting interviews, focus groups, and workshops with stakeholders and subject matter experts to identify primary, also known as "core," and secondary metadata fields and values that should be included in the enterprise taxonomy design.
Milestones
Milestones mark the delivery date of a deliverable that adds value to the overall effort. This is important because all tasks within a workstream need to be purposeful, leading towards something that can be used. This may seem intuitive, but often times KM practitioners go through many efforts of producing something of value to the organization without ever delivering something that can be used to guide decision making or begin implementing. 
Examples related to taxonomy include the delivery of a report that summarizes all of the top-down and bottom-up analysis efforts and how the inputs gathered have helped to formulate the first implementable version of a taxonomy design. This report will not only summarize the work done, but provide the foundational information and next steps for continuing to improve the taxonomy design.  
Independent vs. Dependent Tasks
The art of crafting an Agile KM Roadmap is based on prioritization of efforts, as well as identifying the areas where tasks are contingent upon one another. In most cases, if you follow the approach recommended above, you'll have a series of independent tasks that don't require one to be completed before beginning another. There is a benefit however to sequencing your tasks in order to maximize how much value you add to the organization in the shortest amount of time.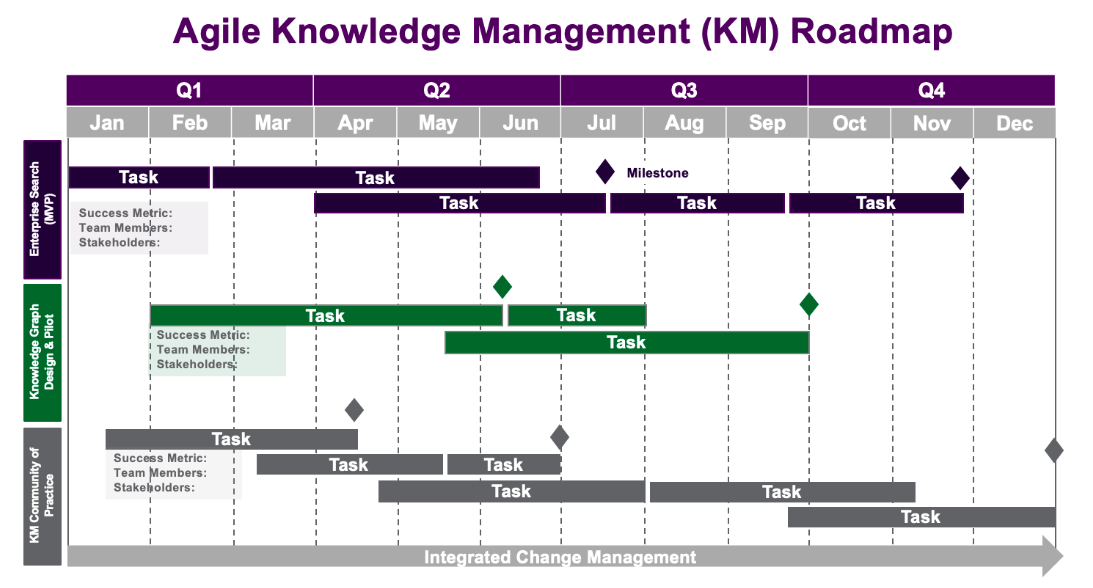 Although not absolutely necessary, identifying and coaching the right group of individuals to lead each workstream is critical when it comes to driving efforts forward without losing steam. Without a sense of ownership and accountability for the outputs of the overall roadmap and each workstream within it, stakeholders assume that someone else is leading the efforts. Being explicit about who is Responsible, Accountable, Consulted, and Informed (RACI) brings transparency into who is doing the work vs. who is guiding the work. The key here is not only conducting a thorough stakeholder analysis that identifies the individuals needed to gain buy-in and adoption, but also hand-picking KM leaders (or those with high potential to become one) based on their interests, capabilities, and proclivities. 
Agile Tools and Ceremonies
Once you have identified what you are doing, who's responsible for doing it, and the order in which you'll do it all within a set time period, such as 6-months or 1-year, you'll need a way to track progress and a method for building in continuous improvement. Keep it simple to start with and then only build complexity as needed..
You can go low-tech and have a Kanban wall dedicated to the tasks you have To Do, are Doing, and those that are Done, utilizing a post-it per task. There are also no-cost, online options, like Trello, to help manage your tasks. Make sure that you manage your KM team's "Work in Progress" capacity, meaning you allow them to commit to tasks, rather than assigning them tasks, based on their availability and their expertise-level to complete the task within a time-boxed period (or Sprint).
Set-up recurring meetings like a Sprint Planning session and a Sprint Review session to make sure everyone understands all that's involved with each task, specifically the "Acceptance Criteria" that will determine whether a task is completed. In your agile cadence, build in time to check in with your team to determine what's working and what's not working so that you can identify actions and action owners that will help to improve your process and team dynamics.
A Few Final Recommendations
Now that we've covered the basics of an Agile KM Roadmap, here's what you need to build into your plan to maximize the benefits of your efforts:
Start with your users:

Whether you are undergoing KM efforts to benefit your internal workforce or your external clients, you need to understand what your users need and want. Look at KM from their perspective by asking them questions, watching them work, and requesting information related to past effort that may or may not have worked. If you truly understand who you are doing this for from the very beginning of your effort, you will increase the likelihood of success as soon as you're ready to roll-out the KM solutions you have developed.

Define success metrics:

Spend some time thinking about what you will measure in order to determine whether or not you're moving in the right direction. If you're developing a Community of Practice (CoP), you can measure the number of members in your CoP, how many people attend each session, or how your participants rate the usefulness of the information you provide them on your team site or at the various events you host. Beyond the success of the effort itself, ask what Key Performance Indicators (KPIs) matter to the organization, such as revenue each quarter, and how you can align your success metrics to impact to those KPIs. With the CoP example, perhaps one of your Innovation Challenges leads to a new product that generates unexpected sales when you bring it to market.

Manage change and communications: KM practitioners make the mistake of focusing on the solution they deliver as the end-goal when, in reality, they should be focusing on whether that solution is even used and adopted by the individuals it was designed for. Integrated Change Management is an absolute must for any Agile KM Roadmap. This is a workstream that needs to be initiated at the start of the KM effort and carried through until the end of the initiative and beyond. People who are impacted by your KM solutions need to know why you're introducing new technology, processes, and way of doing things. This can often seem like an unnecessary disruption to their already busy workday. If they understand "what's in it for them" and are involved in the decision-making process as the solutions are being designed, then they are more likely to change the way they do things because they were involved and engaged throughout the process, having input and insight from the conception of the KM solutions to the delivery of them.
Leverage a combination of technical and non-technical solutions:

Technology is often the first and only solution that comes to mind when organizations face KM challenges. Introducing new technologies such as a more robust Content Management Systems (CMSs) or a user-centric enterprise search portal can significantly improve an organization's knowledge management maturity, however implementing the technology itself is not enough to yield desired results. Technical solutions are an enabling factor to good KM, but it needs to be designed and governed in a way that maximizes adoption and delivers actual business value. Your KM roadmap should include facilitated sessions that allow your users to interact with the designs, prototypes, proofs of concept, and production-ready versions of your technical solutions. It should also include sessions with senior leadership and stakeholders to help them understand how the technical strategy and product align with overall business objectives. By approaching KM with an integrated technical and non-technical approach, your efforts will result in not only an optimal experience, but you'll also make the most out of the features your technical solution offers.
By taking an agile approach to designing and implementing your KM Roadmap, you can go from not knowing exactly where to find your knowledge and information to having an action-oriented plan for creating, managing, and finding information in a more consistent and reliable way across the organization. Within months, as opposed to years, you can demonstrate that your KM efforts are bringing order to the once chaotic landscape of systems, content, and people. If you're ready to design your custom KM Roadmap, contact Enterprise Knowledge and our KM experts will guide you through developing a practical approach for improving KM at your organization.