As I did last year, I'm proud to close the year with a look back on EK's accomplishments. We experienced another year of growth in new staff, new clients, and expansion of long-term efforts. We also continued to receive recognition from the community, both locally and globally.
The trajectory we find ourselves on is astounding, but not surprising. When you view the commitment, intelligence, and dedication of every single person that comprises EK, it is clear why we are where we are.
EK's six guiding principles are People, Thought Leadership, Transparency, Partnership, Integration, and Energy. The review of our year, and our assorted accomplishments fits well within these categories.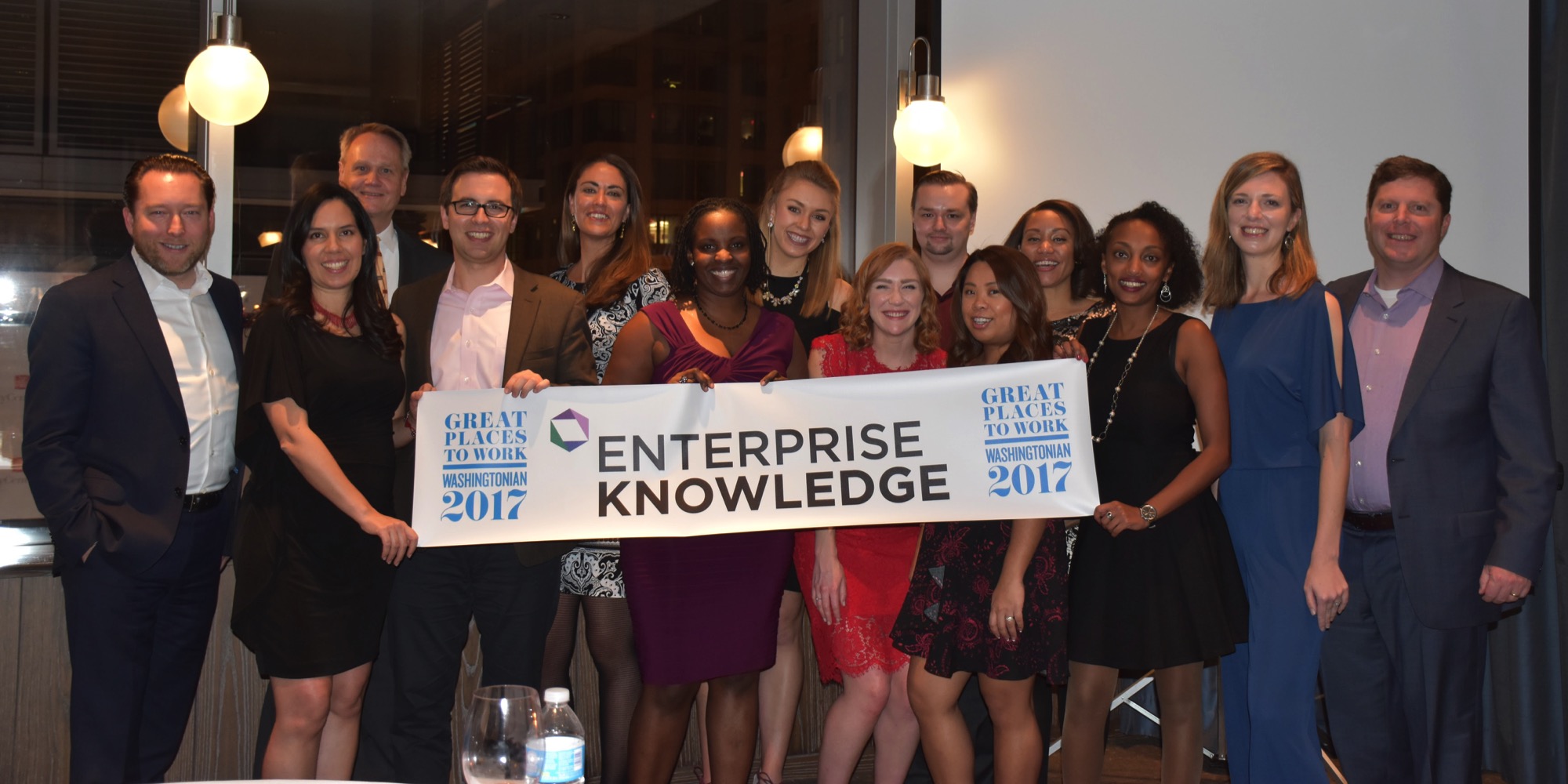 People – Our number one asset is our people. We invest in them and ensure they possess the knowledge and resources to serve our clients to the highest degree possible.
Beyond simply growing in headcount this year, EK realized several major achievements regarding our team. Over the course of 2017, we experienced zero attrition. No one left EK. In a very competitive job market and field, I'm extremely proud of this fact. It serves as a clear demonstration that we are honoring our team members for everything they do and are.
With this growth comes a need for more space, so this year we extended our lease on our company headquarters and began an expansion plan that will be completed in spring of 2018. Our office expansion will include new standing desks, additional casual meeting spaces and rooms, and a large open area for company-wide knowledge sharing sessions and other meetings.
The community recognized our benefits, culture, office space, and team members as well. In February, Washingtonian Magazine featured EK as one of their 50 Great Places to Work. In May, the Washington Business Journal followed this up by honoring us as one of their Best Places to Work in the DC area. Both of these recognitions were particularly meaningful as they required that our team answered anonymous surveys sharing their personal opinions of work and life at EK.
Once again in 2017, each member of the team leveraged one of my favorite benefits, a committed $3,000 budget for each employee to continue their lifelong learning through training, continuing education, and certifications. This is in service to our team, but also to our clients to ensure they're always benefitting from the sharpest skill sets and latest advancements across the board.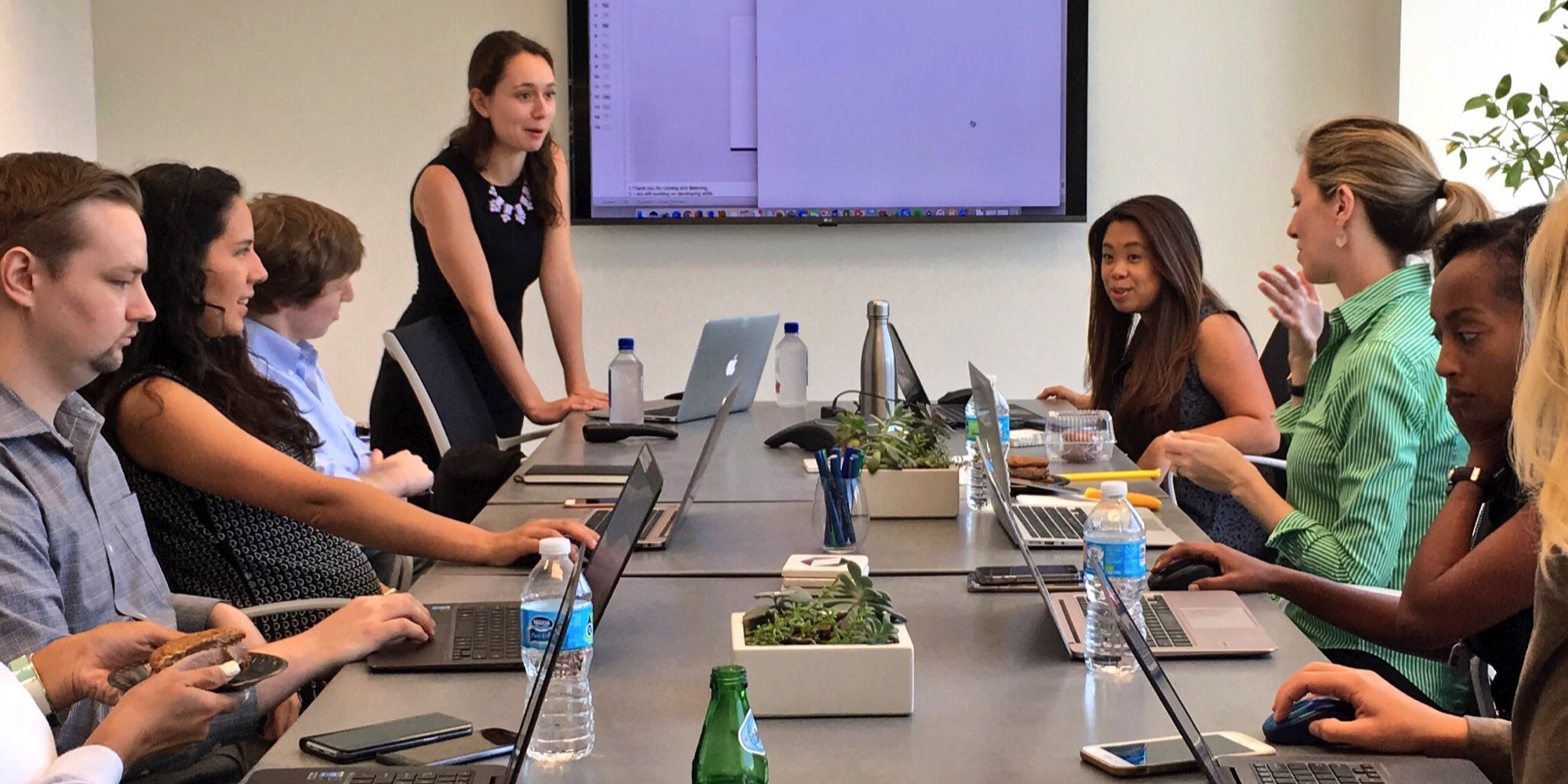 Thought Leadership – We serve as leaders in the industry, sharing our knowledge and expertise, guiding the development of agile knowledge and information practices, and supporting the community.
In 2017, EK beat our record and published over sixty new blogs, articles, and videos on our website's Knowledge Base. This collection of materials is openly available to the public, as a key component of our commitment to support the community. In addition to that, we spoke at over fifteen different conferences and seminars, including the DC Code(Her) Conference, Taxonomy Boot Camp, KMWorld, eLearning Guild Learning Solutions Conference, AgileDC, Web Content Mavens, KMI Showcase, Text Analytics Forum, BAWorld, ACMP, and KM Ark Group Australia. Our presentations spanned four continents and over a dozen speakers. The latter is of particular importance, as it demonstrates EK's breadth of thought leaders across the organization.
Over the course of the year we also hosted a number of Agile, KM, Search, and Change Management meetups in our office. We anticipate this growing in the year to come, as our expanded office will also allow us to host larger meetups in our space, accommodating up to 50 seated attendees.
We were again recognized for our thought leadership, winning a spot on KMWorld's 100 Companies that Matter in KM for the third year in a row.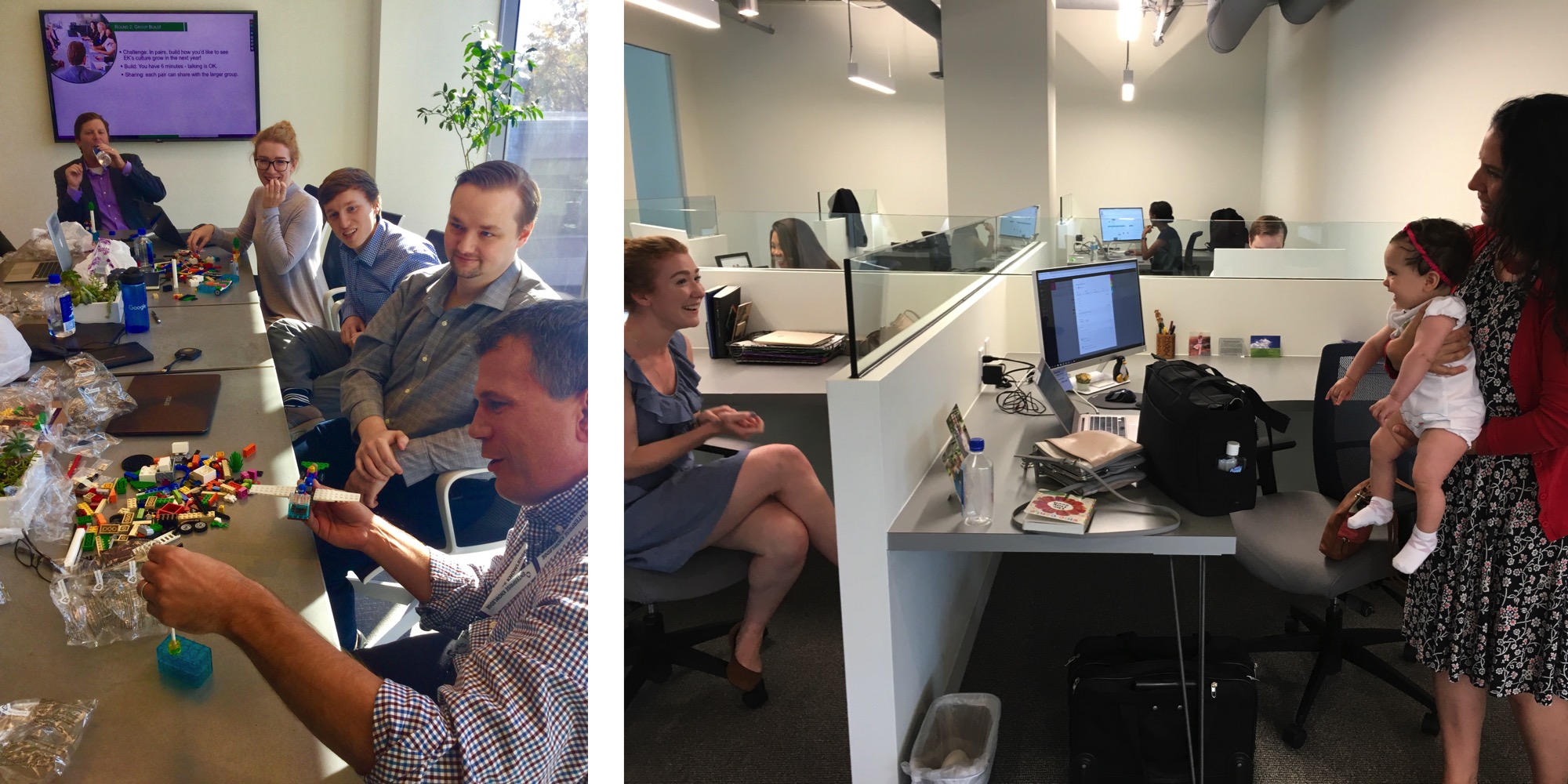 Transparency – We communicate clearly and openly, ensuring the highest level of quality and accountability for our company's management, in our service to our clients, and with respect to our colleagues.
Over 2017, we found more and more clients coming to us asking to help them benchmark the state of their Knowledge Management and define a multi-year Agile strategy to transform their organization's KM Maturity. Many of these organizations had tried and failed this in the past, but succeeded with EK because of the clear and practical ways we approach KM. This transparency and clarity is a key aspect of our client delivery and a real driver for our continued growth.
We apply this same transparency to our internal communications. We maintained our twice monthly all-company knowledge sharing sessions. These are important opportunities for the team to learn from each other and for Joe and me to share the company's accomplishments and challenges.
As with every year, we set performance goals and challenges for the company and individual team members at our annual Winter Gala. At our knowledge sharing sessions and various offsites, we reviewed our progress toward these goals in order that each member of the team knew how we were doing and clearly understood how they could contribute. As we close the year, I'm proud to say that we've exceeded each primary milestone for growth, sales, and delivery that we set.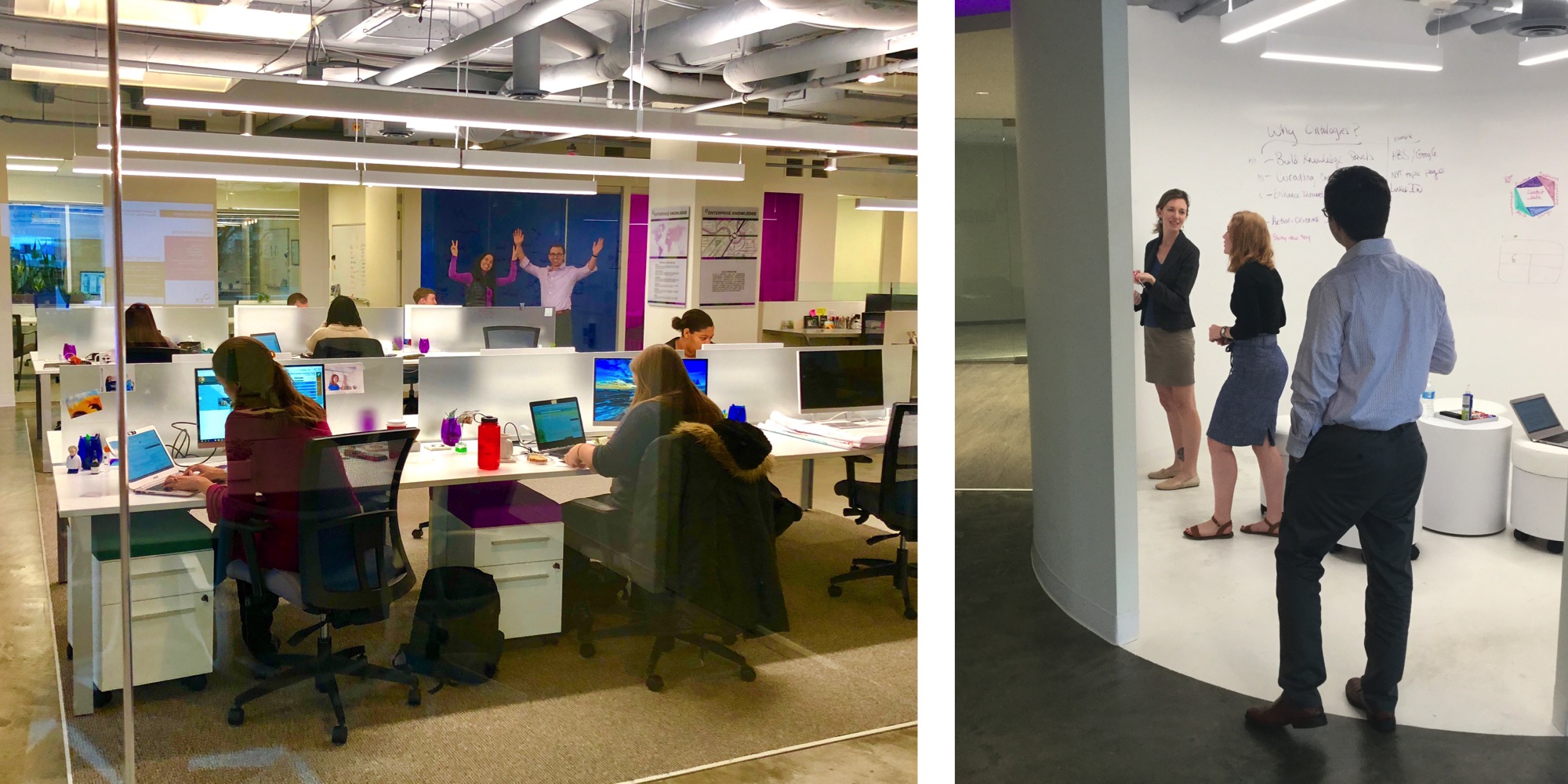 Partnership – We partner with our clients, building meaningful relationships founded on a sustained commitment to mutual success.
At the heart of EK is a focus on exceptional delivery and a commitment to long-term partnerships with our clients. We exemplified this in 2017 by maintaining relationships with each of our core clients we began the year with, and adding a number of new clients throughout the year. We keep, in the office, the many letters we receive from clients commending our work and our individuals. The fact that we've earned and maintained the trust and appreciation of our clients is what fuels us.
Several highpoints of the year for me were marked by our clients taking time from their schedules and traveling cross-country to EK for meetings because they wanted to come to us, get to know the whole team, and collaborate in our space. Our office is full of writable walls, including our round whiteboard room, and there's little that makes me happier than to see each of these walls filled with great work, in service to our clients, populated by our entire team.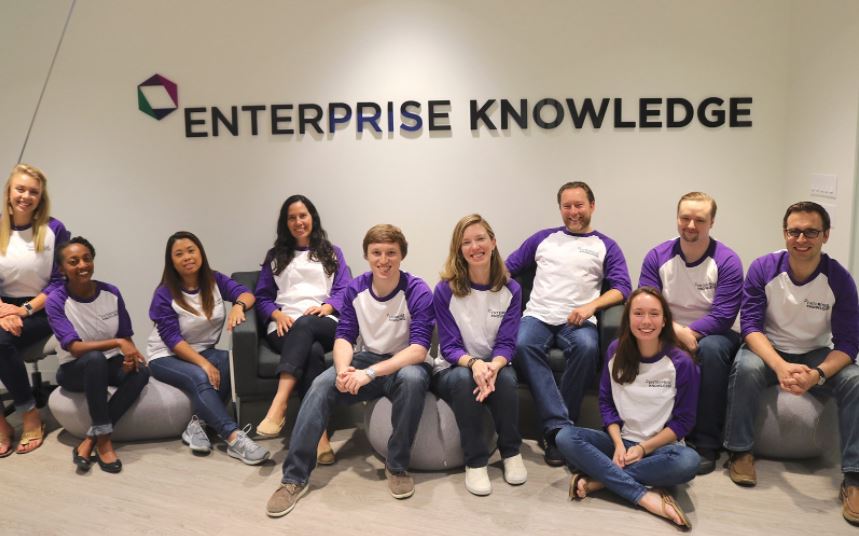 Integration – We provide our customers with the full range of EK's expertise, integrating all of our services and resources to ensure the greatest business value.
Though each of our service areas stand alone, we've built our expertise and capabilities to provide cohesive solutions that feed off each other, just as we as individuals at EK are constantly focused on supporting, collaborating, and learning from each other. This year, we experienced more of our clients coming back to EK following an initial effort, seeking additional services.
EK's delivery of integrated Agile Knowledge and Information Management services resulted in new wins both in the Commercial and Government space. We won our first prime contract on GSA's Technology Schedule 70 Contract, and followed it with additional multi-year projects with other federal agencies with whom we hadn't previously worked.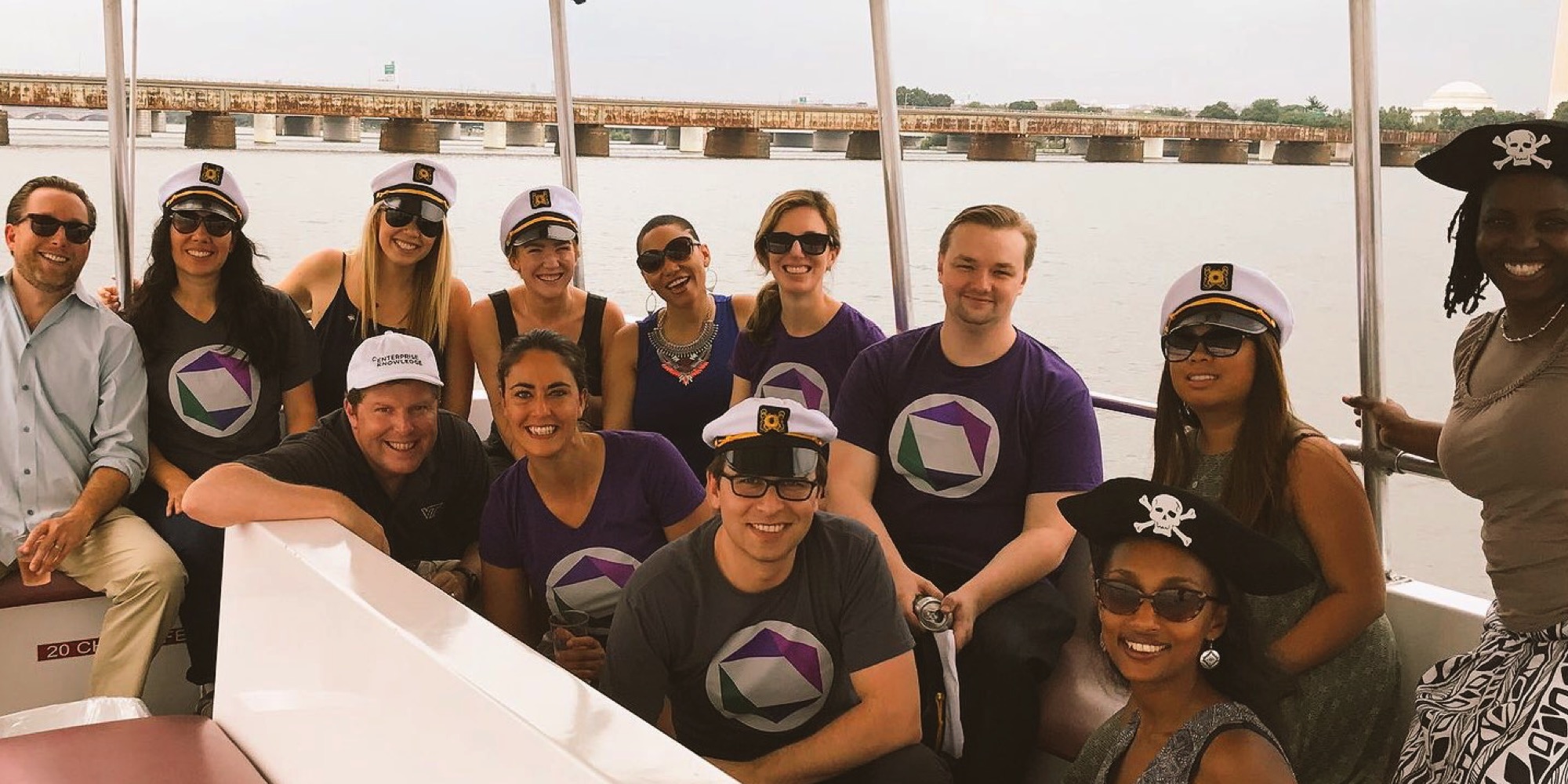 Energy – We share our enthusiasm with our clients and colleagues, leveraging our excitement in order to achieve meaningful change.
As with every year, amidst the hard work, we found time to celebrate our efforts, our clients, and our people. As the team knows, I talk about EK as my dream come true. I work every day to ensure they all feel that same way, allowing them to bring their energy and dedication to everything we do. We're always looking for that next thing that will make work fun and fulfilling and will continue to do so through 2018.
We work to share this same energy with each of our clients, and I believe that effort is one of EK's biggest differentiators. It is not simply our job to be experts, it is our responsibility to energetically and emphatically share that expertise with our clients and their colleagues. This energy, backed up by a profound belief in the value of what we're doing and the meaningful ways it can help our partner clients is infectious. As we look to 2018, expect this energy to be infused in everything you see and do with EK. It is going to be an amazing year and we look forward to partnering with you throughout it.