Enterprise Knowledge (EK) and Knowledge Management Community of D.C. (KMCDC) will host a workshop, KM Wine & Design: The People Side of KM, on Wednesday, January 16th beginning at 6:00 PM at EK's Headquarters in Arlington, VA.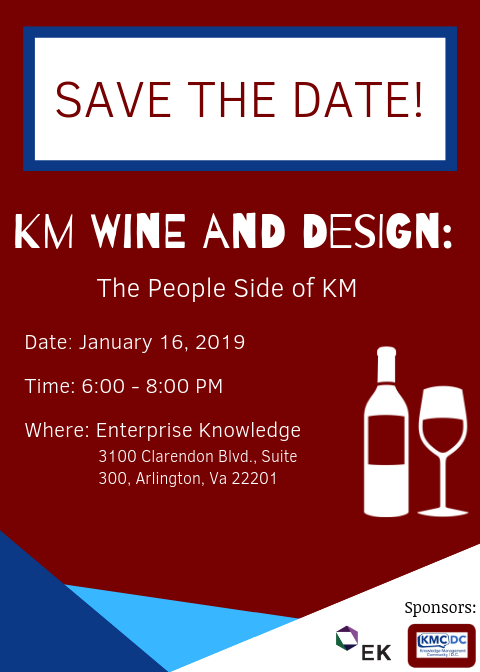 After a brief networking session and welcome from KMCDC Leader Tara Mohn, Bill Kaplan, CEO and Founder of Working KnowledgeCSP, will lead participants through a presentation and interactive activity.
Kaplan's presentation, Capturing Knowledge from Teams Using Fast Learning Techniques, will discuss the three Fast Learning techniques and how those techniques can build trust and confidence among team members, ultimately helping to deliver better project outcomes. Participants will also have the opportunity to collaborate with each other and EK experts as they work through a simulated Action Review.
Interested in joining us for a night of wine, cheese, and KM? Sign-up on KMCDC's Meetup page or contact EK Analyst Madison Jaronski via email. 
Event Location
3100 Clarendon Blvd., Suite 300, Arlington, VA 22201