Taxonomy is not as daunting as it seems. In this blog series, one of EK's taxonomy experts, Ben White, provides 4 practical steps to designing and validating a user-centric taxonomy.
Step #4: Measure the Findability of Your Content
Search, which is central to enterprise-wide knowledge transfer, is simple in theory; a user enters a set of key terms in a search engine and the search engine retrieves records that match the key terms. In reality, the architecture of a search engine is nothing more than:
Search Outputs: Search results the user sees after requesting information
Query Management:  The way a system formats and matches requests for information
Search Inputs: Content a system looks through to find the requested information
Yet while it's true that search is a simple and well-understood progression, creating an effective enterprise-wide search is a multifaceted process that requires in-depth analysis. In my previous blogs, I've talked about some of those necessary steps, such as designing a user-centric taxonomy, making sure that facets are consistent, as well as testing the taxonomy. In my final blog of this taxonomy series, I'll be discussing the metrics that can be used to measure the effectiveness of a taxonomy.
The addition of a taxonomy supports accurate search and guided navigation, which cannot be achieved with a search engine alone. However, implementing a taxonomy requires consistent maintenance and refinement of the search data in order to ensure its effectiveness. Objectively scrutinizing enterprise-wide search data allows us to tune search and update the underlying taxonomy to create a positive search experience. When examining search data, there are a number of metrics that can help us measure the effectiveness of a taxonomy:
| | | |
| --- | --- | --- |
| Metric | Definition | Benefit |
| Search Refinements | The number of times a visitor searched and then performed another search. | Provides information on the effectiveness of the terms used to search |
| Search Depth | Average number of pages viewed after performing a search. | Provides information on the effectiveness of the search results. |
| Bounce Rate | Percentage of visitors who navigate away from the site after viewing only one page. | Also shows us the effectiveness of search terms. |
| Time after Search | How many searches made before reaching a desired page. | Allows us to see if search terms retrieved adequate results. |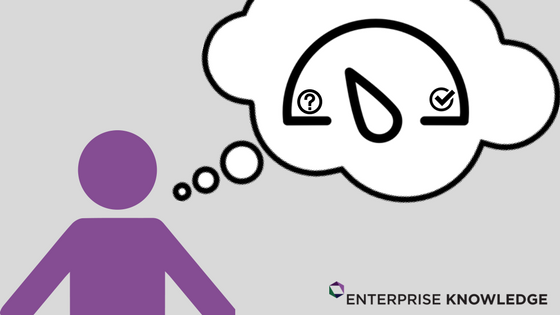 These analytics can be used to better identify the most effective search terms and determine if they are reflected in a taxonomy. To capture this information, we can simply ask users to search for specific content and analyze their search habits, making note of search depth, bounce rate, time after search, and any search refinements that occur. There are also a number of tools that can be used to help calculate these analytics. Google Analytics and PIWIK are two popular choices that can be used for both intranets and public facing websites.
Once you implement these metrics, the taxonomy should be updated periodically to reflect the search trends, which will result in a more efficient and accurate search system. The key to properly updating a taxonomy with effective search inputs is to understand user intent. This is no easy task, it involves a deep understanding of the keywords used by employees when searching. Therefore, in addition to the metrics provided above, it is also important to look at:
Where users searched and what they did next: Did the user reach the desired page or attempt another search? Are users generally visiting the same pages when searching the same key words?
Measuring search quality: By looking at search refinements, search depth, bounce rate, and time after search while paying close attention to the search terms used to reach the page, we can get a good idea of the quality of the search.
For example, if a high number of users searched the intranet using a specific keyword and 80% of users left the page the keyword led to immediately, correcting the underlying taxonomy is necessary.
In short, understanding the intent of the user allows us to get into the minds of the searcher. Therefore, a better understanding of the search terms used by users allows us to create a better taxonomy and a better search experience.
Although the concept of search is a relatively simple idea, there are many considerations that go into the implementation process. Despite the challenges that come with developing an effective enterprise search, the benefits to doing so are clear. Sue Feldman of IDC found that knowledge workers spend from 15% to 35% of their time searching for information and 40% of corporate users reported that they couldn't find the information they need to do their jobs on their intranets. The subsequent costs are significant; in another recent survey conducted by IDC, the time spent searching for information averages 8.8 hours per week, at a cost of $14,209 per knowledge worker per year. In short, the time and costs associated with unstructured information are too significant to ignore.
We hope that through this blog series, you have a better understanding of how much thought and consideration goes into designing and evaluating a quality taxonomy and enterprise search. To learn more about how you can improve the findability of your content, connect with one of our knowledge management experts by contacting Enterprise Knowledge.