Working with a client recently on building a new knowledge management system (KMS) from the ground up, I was reminded of the power of information items. Not only because they are the building blocks of a KMS, but also because they are an important way to help everyone understand how large bodies of information can be used and managed effectively.
First, a Definition
Before discussing how information items can be used, it's best to begin with a definition. I think of information items as the fundamental building blocks of knowledge and information management (KIM) systems. Think of them as the smallest amount of information that makes sense and can be used to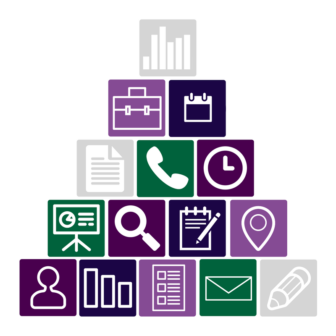 complete a single task.   Here are a few characteristics that help define information items:
They contain a single piece of information;
They can be described and classified by a set of topics (metadata);
They are useful on their own but are most often combined with other information items to give a more complete set of knowledge on a given topic;
They are free floating and can be combined with other information items in almost infinite combinations; and
They take the form of images or graphics as well as text.
For example: The phone number for the Human Relations Department is: XXX-XXXX could be considered an information item; a photo of the HR department at work could be another example.
However, something like: Phone: XXX-XXXX could not be an information item because it is not useful or actionable on its own. It is data, but it is not an information item.   Likewise the photo of HR would not be an information item without metadata describing the photo; data yes, information item no.
Next, an Application
Now, imagine a vast pool of information items stored in a database and described via metadata and the power becomes clear. Any search (particularly a search using a dynamic set of search refiners, or facets, that narrow the search results in a structured way) will produce a list of information items that:
Carry a single piece of actionable information;
Present information that is not buried in a longer document;
Are useful on their own; and
Are even more useful when added to the other information items in the search result, building on the overall context and completeness of the "answer" to any question that could be asked.
Theory vs. Practice
It goes without saying that most information in organizations is not stored as individual information items. Typically information is stored in documents or data sets that contain hundreds of information items. That makes finding that information more difficult, particularly for call centers or self-service websites that are intended to offer up just the right information at just the right time.
The good news here is that repositories of information items can be built up incrementally over a relatively short amount of time. In a call center environment for instance, empowering the agents to add information items in real time as they answer requests can result in a knowledge base of information items that is both current and extensive (Learn more about best practices for getting the right content in your knowledge base at this link). Likewise, allowing questions and requests for information from users (as well as search analytics) to dictate the creation of new content items for self-service web sites is a good way to create a meaningful library of information items in months rather than years.
In this regard it is more about the format and structure of new content and how you create new information going forward than it is about how you store existing documentation. New content gets created for knowledge bases all the time and is added on an ongoing basis. Creating that information as discrete, well described information items will pay huge dividends in how the information is maintained, accessed, and used.