Enterprise Knowledge (EK) and Knowledge Management Community of D.C. (KMCDC) will host a workshop, Wine & Design: A Practical KM Program, on Thursday, November 15th beginning at 6:00 PM at EK's Headquarters in Arlington, VA.
EK and KMCDC have been long-standing partners, with EK hosting KMCDC's meetups and providing speakers to support the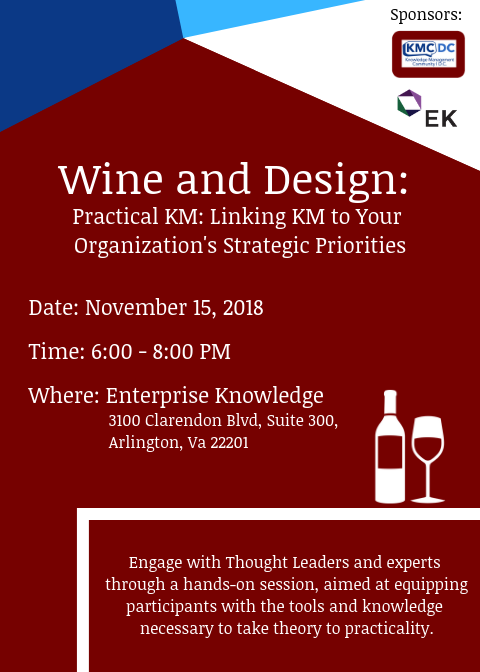 collaborative spirit and shared expertise of KM practitioners in the DMV area. Looking to expand beyond the monthly KMCDC morning MeetUp, KMCDC organizer Tara Mohn and EK CEO Zach Wahl have launched a new event, titled Wine & Design. The premise of the event is to create an environment where individuals can engage with thought leaders and experts during a hands-on session, aimed at equipping participants with the tools and knowledge necessary to take theory to practicality.
After a brief networking session and welcome from Mohn, EK Consultant, Jubilee Jackson, will lead participants through a presentation and case study. Also, additional EK experts will be in attendance to provide guidance and support to attendees during the case study breakout session.
Interested in joining us for a night of wine, cheese, and KM? Sign-up on KMCDC's MeetUp page or contact EK Analyst Madison Jaronski via email.
Event Location
Enterprise Knowledge, 3100 Clarendon Blvd., Suite 300, Arlington, VA 22201 USA