What a year we've had together at Enterprise Knowledge! As 2018 draws to a close, I'm happy to take a step back to summarize EK's year. In 2018, we experienced our most exceptional growth yet. We expanded our capabilities and services, continued our track record of exceptional performance, and maintained our culture of collaboration and fun. Though the year was not without its challenges, we delivered on our goals and our promises, celebrating our successes along the way.
When we set our goals for 2018, we knew that we were aiming high, but as the team grew, our individual strengths combined to form something incredibly special. As a team, we gained the confidence to be bold in our aspirations. I've often said that good Knowledge Management creates a happy team, and a happy team creates good Knowledge Management. More than ever before, we modeled that philosophy over the course of the year.
EK's six guiding principles are People, Thought Leadership, Transparency, Partnership, Integration, and Energy. The review of our year fits well within these principles.
People – Our number one asset is our people. We invest in them and ensure they possess the knowledge and resources to serve our clients to the highest degree possible.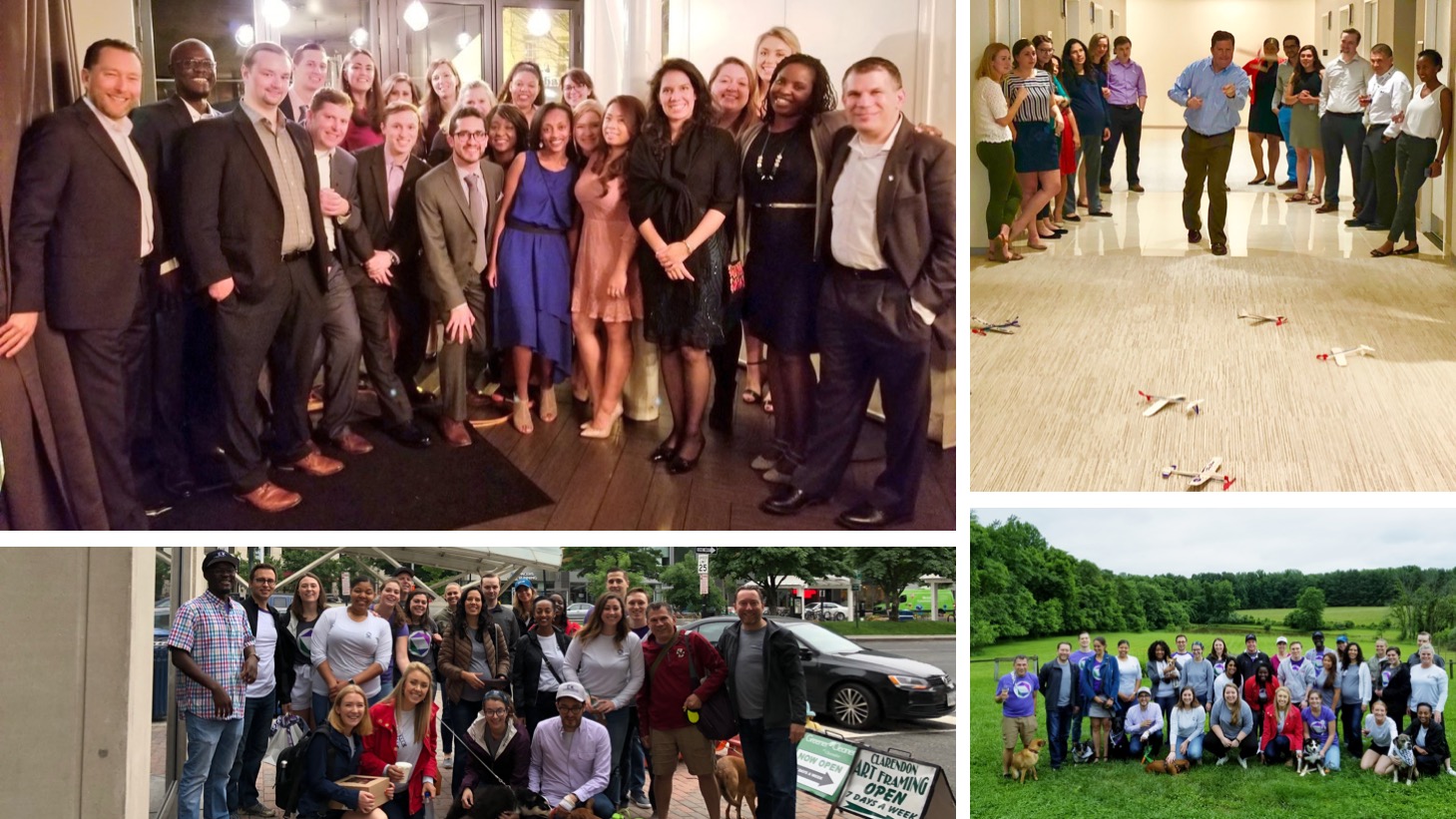 I'm proud to note that our philosophy of hiring and investing in full-time salaried staff has resulted in EK being one of the largest dedicated Knowledge Management consultancies in the world.
With this growth, we placed particular focus on maintaining our culture. We've developed as an organization in a way that many of our employees would describe the culture as caring, supportive, and family-oriented. Our five-star rating on Glassdoor, as well as the awards we've won for being a great place to work are a testament to this. This year, Washington Business Journal again recognized us as one of their Best Places to Work in 2018, and Inc. Magazine recognized us nationally as one of the best workplaces in the United States. These awards are extremely important to me, as they were dependent on our team answering anonymous surveys about their happiness and how they feel supported at work.
The fact that we've been able to maintain this culture while experiencing such rapid growth is a true testament to the team we've cultivated. Every member of our team feels empowered to serve as a guardian of EK's culture of knowledge sharing, collaboration, and support. To reinforce our unique culture, our team developed and defined the "EK Way." In the same way that our vision and principles guide our growth, delivery, and performance, the EK Way will bolster our internal culture as we continue to expand and evolve. The team derived six guiding elements of the EK Way: Leadership, Voice, Collaboration, Balance, Growth, Ownership, and Fun. This was personally one of my proudest moments of the year. The team documented the culture of a company I have always dreamed of leading. Expect more on this to come as I write about how we're implementing the EK Way in 2019.
A sure sign of the strength and longevity of EK's culture was demonstrated by the creation of an EK "Hangouts" group this year. This group emerged when several team members were discussing their assorted hobbies and decided they wanted to share these activities and experiences with their colleagues. The group quickly grew to be company-wide, promoting inclusive gatherings for employees of all levels, skills, and interests. Over the course of the year, separate individuals organized a Saturday hike, a rock climbing excursion, a book and movie night, a board game night, and a wine tasting event. To support the EK Hangouts group and the team building and positive nature the hangouts drive, we subsequently introduced a new benefit to fund the group and its activities. At its core, the EK Hangouts group is an example of one of the many ways in which the EK team is driving the culture of EK.
We also made several key personnel moves in 2018, promoting Lulit Tesfaye, Mary Little, and Rebecca Wyatt to EK's Leadership team and promoting Yanko Ivanov to the position of Technology Partnership Manager. These moves represent our continued commitment to our people, as each of these new positions were filled by a well-tenured member of our team. These individuals have grown with EK and have helped to shape who we are, and they now have a continued mandate to do so. These moves constitute some of my proudest moments for EK in 2018.
One of the best ways that EK applied our resources in 2018 was on our people's development. One of my favorite benefits is that every employee, regardless of tenure, receives $3,000 each year to continue their education and development. As lifelong learners, this is a big part of who we are. It was a pleasure to see how EK'ers applied this benefit in 2018. The team chose various classes and conferences for their learning and development, such as Certified Scrum Master (CSM), UVA Darden School of Executive Education – Specialization in Design Thinking and Innovation, MIT Sloan & MIT CSAIL Artificial Intelligence Implications for Business Strategy Program, Certified Scrum Product Owner (CSPO), Certified Enterprise Architect, Enterprise Content Management Master Class, Certified Social Media Manager (CSMM), Nielsen Norman Group UX Research, and Training Magazine Gamification Conference and Level One Training. This learning directly translates to added value and an increase in thought leadership that we can offer to our clients.
Thought Leadership – We serve as leaders in the industry, sharing our knowledge and expertise, guiding the development of agile knowledge and information practices, and supporting the community.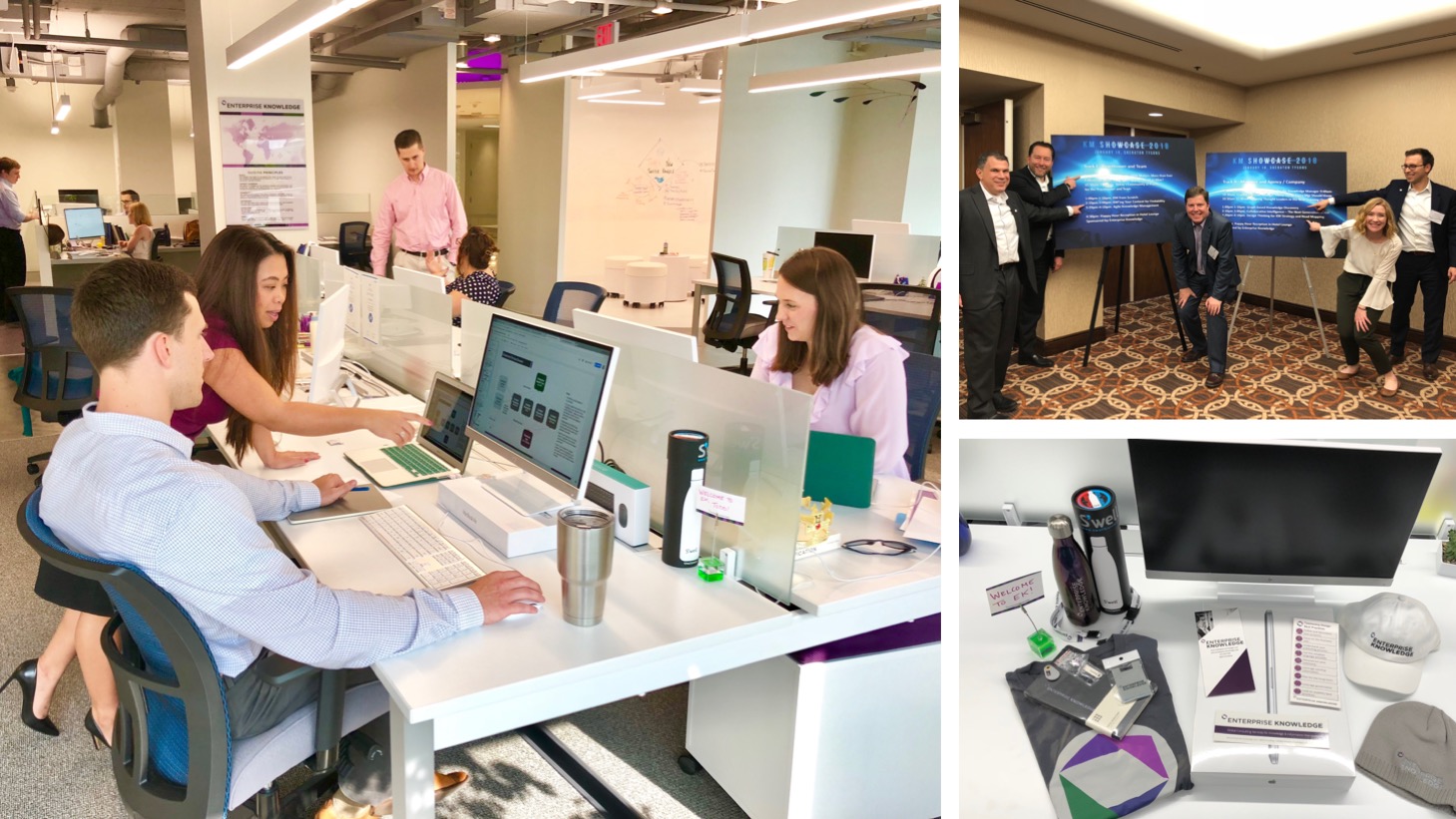 In 2018, EK published nearly sixty new blogs, articles, and videos in our website's Knowledge Base. This collection of materials is openly available to the public and serves as a key component of our commitment to support the community. In addition to that, we spoke at over fifteen different conferences and seminars, including Taxonomy Boot Camp, KMWorld, KMI Showcase, BAWorld, ACMP, KMI Agile and Design Thinking Certification Course, Semantic 2018, and Cognitive Computing Summit. Our presentations spanned three continents and over fifteen different speakers. The latter is of particular importance, as it demonstrates EK's breadth of thought leaders.
We also expressed our commitment to thought leadership by expanding our office space to include a new classroom and learning center. Over the course of the year, the new space became the core meetup location for the Knowledge Management Community of DC and hosted several Design for DC meetups, as well as other agile, KM, and design thinking training and learning sessions.
As a testament to our continued growth in the KM space, I will also be chairing the Knowledge Management Institute's annual Knowledge Management Showcase. Under my leadership, this conference is growing to be a two-track, two-day event focused on practical KM. Confirmed speakers from the Peace Corps, National Park Service, Hilton, GSA, and Inter American Development Bank will present real world case studies that demonstrate the true value of KM.
For these efforts and more, we were recognized by Information Today as KMWorld's 100 Companies that Matter in KM for the fourth year in a row.
Transparency – We communicate clearly and openly, ensuring the highest level of quality and accountability for our company's management, in our service to our clients, and with respect to our colleagues.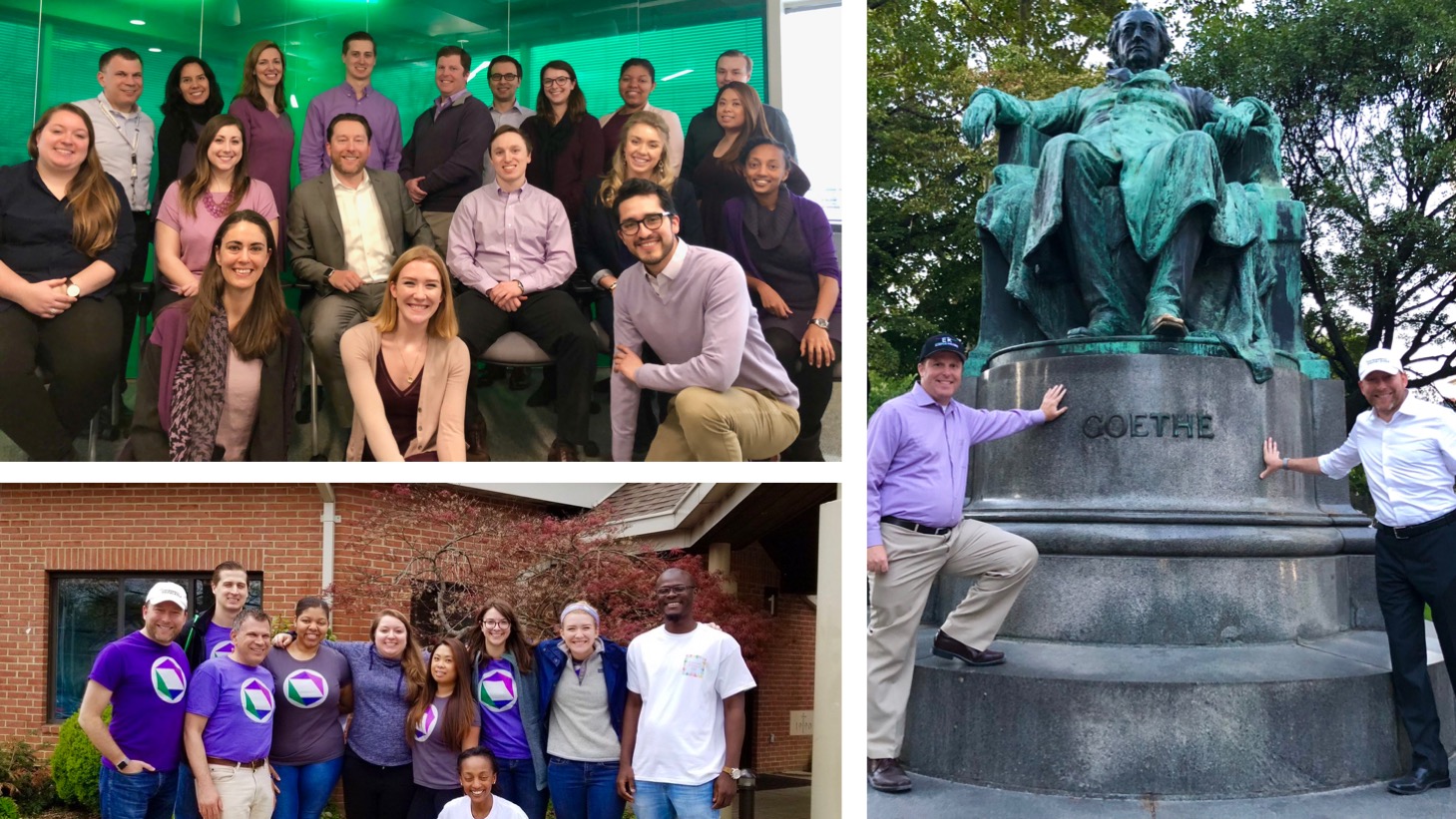 At EK, our focus has been on ensuring our clients, partners, and team members know exactly where we stand, what we're doing, where we feel we've achieved goals, and what we've potentially missed. We exhibit this internally in many ways, not least through our standing bi-weekly knowledge sharing sessions and open door approach to communications. We recently introduced Slack as a new tool so that the entire company has channels to "talk" and make their voices heard. These avenues for knowledge sharing not only enable us to celebrate our wins and our team, but also give us an important opportunity to share what has not worked and to discuss opportunities for improvement.
We also hit an important milestone in 2018. We celebrated EK's five-year anniversary. During our offsite on the anniversary, all team members were paired and presented a lightning talk (five minutes) on where they see EK in the next five years. The ideas and energy expressed are being built into our strategic plan and will be guiding elements for EK in the future.
As we've done every year previously, we gathered the entire team at our annual Winter Gala. This event gives us the opportunity to toast the team, to report on how we closed the previous year, and to set goals for the year to come. It is incredibly important to me that every team member, from the most junior to the most senior, understands and is committed to their role in EK's success. The true sense of ownership and responsibility the team feels is one of our greatest strengths.
Partnership – We partner with our clients, building meaningful relationships founded on a sustained commitment to mutual success.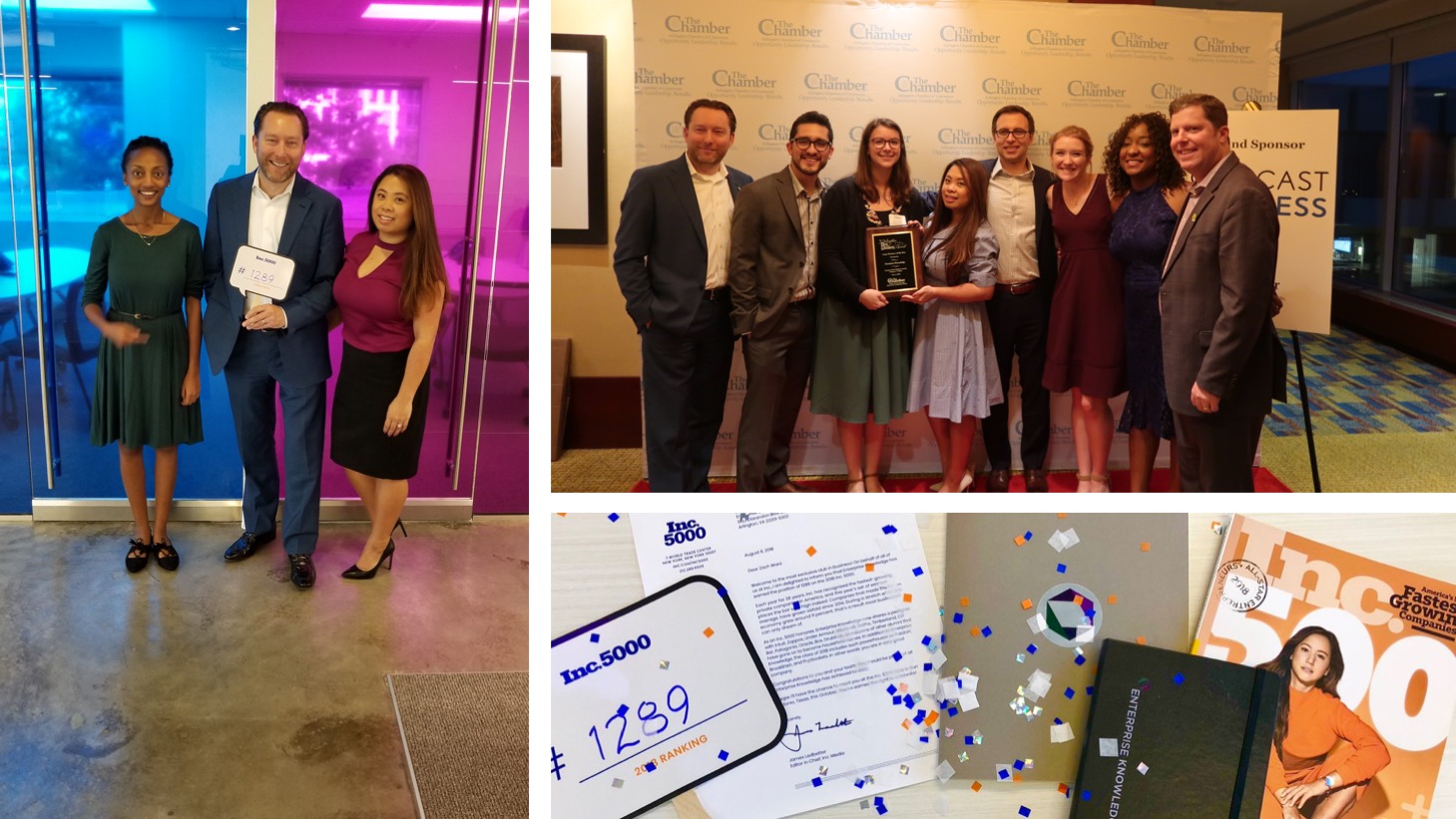 The strength of our culture and the commitment of our team is reflected in the wonderful partnerships we've built with our clients. We've established incredible relationships built on trust and camaraderie with a host of organizations that I deeply respect and am proud to support. Again in 2018, our growth was fueled by the loyalty of our existing clients, as each of our major accounts from the previous year chose to continue working with us. We further expanded our relationships by adding several new marquis accounts, many of which were the product of referrals from existing clients. This growth resulted in EK being listed on the Inc. 5000 List of Fastest Growing Companies in the United States at number 1,289, an aspiration that Joe and I shared since we were both in our twenties.
With all of our growth, we've managed to fill our office to capacity, but we always make room for our clients to visit. Some of my favorite days of 2018 were those when our clients travelled to work at EK's offices. With our collaborative spaces and a myriad of writable walls, we love to host our clients for workshops and other brainstorming sessions.
One of my proudest client moments this year was when the National Park Service's Common Learning Portal, which we helped to design and build, was officially released to the public. This site, in my opinion, is one of the finest examples of knowledge management in practice and I'm so honored to be a part of it.
Our sense of partnership also extends to our participation in the community. This year, EK furthered our support for the Wolf Trap Foundation for the Performing Arts by continuing to help fund their childhood education programs. We also formed a new relationship with a local, Arlington-based charity, Bridges to Independence, which works to lead individuals and families out of homelessness and into stable, independent futures. A private, nonprofit organization, Bridges has been working with and for homeless families since 1985. EK is proud to offer a range of support, offering financial support, funding events, and hosting a summer intern.
Our active participation in the community, focus on exceptional delivery, and unflagging support for our team resulted in the Arlington Chamber of Commerce naming Enterprise Knowledge as their 2018 Best Large Business of the Year.
Integration – We provide our customers with the full range of EK's expertise, integrating all of our services and resources to ensure the greatest business value.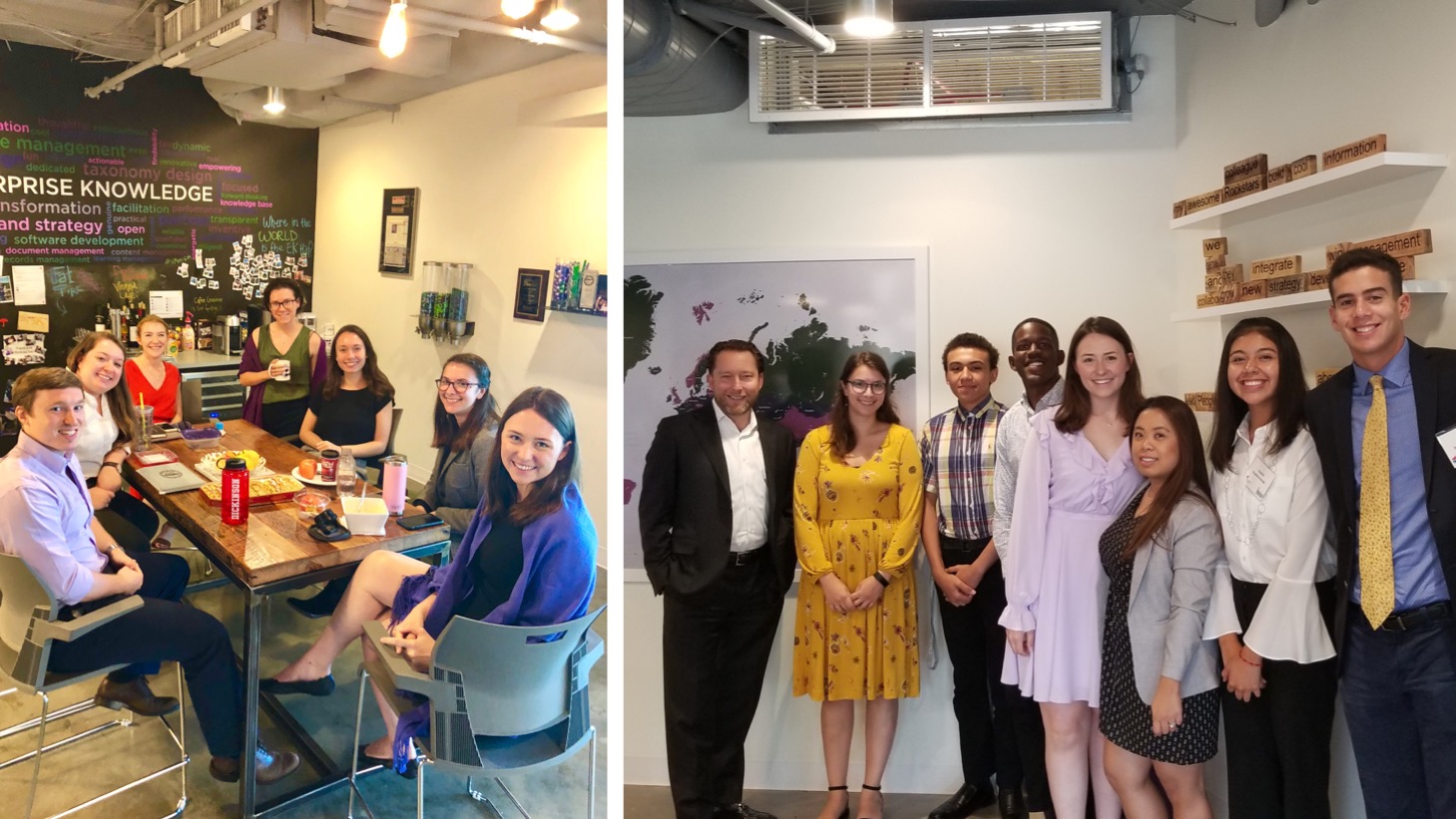 In 2018, we found more of our clients traversing EK's services, moving from a KM Strategy to implementation and development, or from taxonomy design to search, or from knowledge retention to content strategy. These services represent EK's uniqueness in the marketplace as a full-service provider of KM strategy, design, and implementation services. This unique position that we hold in the market allows us to provide the most authentic and practical recommendations and applications, ensuring that KM theory becomes KM practice and results in organizational value.
By offering integrated services, from strategy, to design, implementation, and support, we are also opening opportunities for us to be at the forefront of KM technologies. This position will enable EK to help organizations lay the foundation to achieve Artificial Intelligence. Our growing focus in this area was an important part of our delivery in 2018 and will be an exciting step in our evolution in the years to come.
Energy – We share our enthusiasm with our clients and colleagues, leveraging our excitement in order to achieve meaningful change.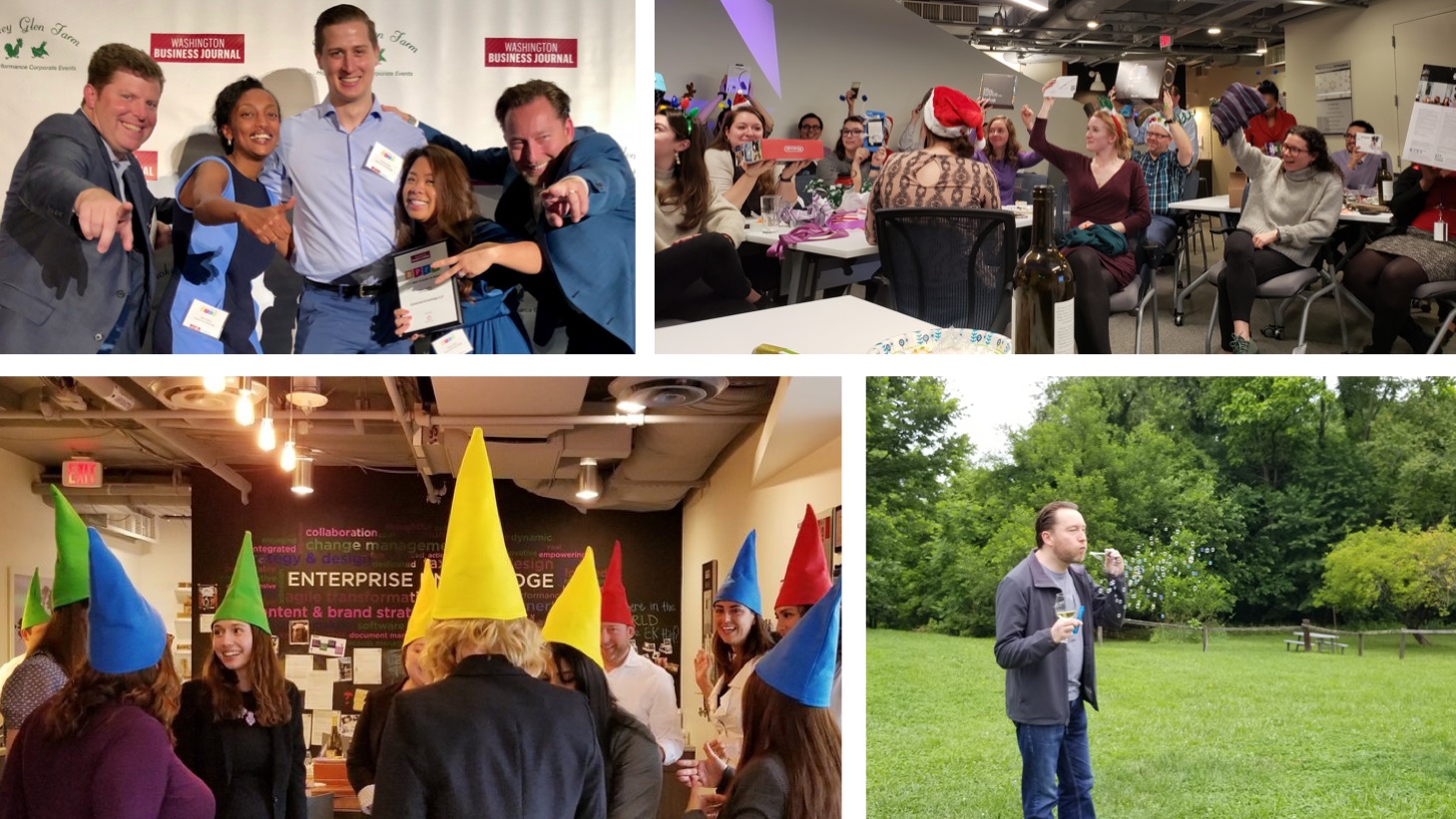 We infused the passion and energy of our team into everything that we did in 2018. We love what we do, we're proud of our work, we care about our clients, and we appreciate our colleagues. A new member of the team this year said it beautifully: "EK's office is full of joy." I couldn't say it better and often think about those words. I know that it is my job to personally ensure this sense of joy, and the energy that it generates, endures and grows.
Our focus is to share our energy and our passion for practical knowledge, data, and information management with our customers. We'll continue our work as experts, driving this energy and the broader value of KM to each of our customers in 2019. I anticipate another year of exciting challenges and growth for EK. Thank you for being a part of our journey.