We all know what a seamless search experience feels like. Thanks to Google and Amazon, we expect to immediately find that restaurant, book, or movie we're looking for. For an end user, using an effective search portal is like watching the masterful performance of the Wizard of Oz–simple, terrifyingly-efficient, and with nary a hint of the intricacies behind the curtain. 
This is all well and good, but what happens when you're the one behind the curtain and it's your job to create that seamless experience for your organization's internal systems? Do you know how to operate the mechanisms of enterprise search? In this blog, let's go behind the wizard's curtain and discover how search analytics, content reports, and user feedback can help you measure and improve the quality of the enterprise search experience for your users.
Search Analytics
You can collect several different helpful categories of information about your users' search experiences with web analytics. The metrics listed below can help you pinpoint potential pain points, needs, or frustrations of your end users. 
Metric
Description
How to Use This Metric to Improve Search
Most Frequent Search Terms

Lists the most common search terms during the previous quarter.

Search terms provide insight into the information people are looking for. By focusing your energy on the most frequent terms, you can enhance findability for the content that is most important to users. For example, if users are frequently searching for "annual goals," you can configure the current year's annual goals to show up as the top search result.

Average Search Depth

The average location of the selected search result based on the order in which it appears on the search result page.

Searches that provide more relevant results will have a lower average search depth, with users finding what they're looking for at the top of the page. Understanding your average search depth is a good starting point for your work to continuously improve the relevancy of search results.

Most Frequent Facet Group

The facet group that is most often selected in order to narrow search results.

An important reason for the use of taxonomies is to fuel greater findability. It is important to get regular feedback on which facet groups people use to filter their search results to understand whether that specific taxonomy is needed or whether it can be removed to streamline the search interface.

Most Frequent Facets

A count of the frequency in which individual facet values are selected for search.

This report also informs the taxonomy design, shedding light on which specific terms users are relying on the most to filter results down to relevant content. 

Previous URL

The page your user was viewing before they came to the search page.

Understanding where the user came from can provide you insight on the ebb and flow of traffic to the search portal. Did they search for an unfamiliar term from the previous page? Were there gaps in the content of the previous page that caused them to conduct a search?

Number of Search Refinements

The number of times the user performed a new search immediately after a previous search.

If the first search doesn't produce the desired results, many users will try again using different keywords. The higher the average number of search refinements, the harder your users are working to find relevant results. The keywords users are trying out in the search box can also give you ideas for tweaking your taxonomy and possibly adding in some new synonyms.

Queries with 0 results

The number of times the user received 0 results for their search terms.

It's useful to know what terms result in a fruitless search so that you can determine whether the search engine needs special tuning and/or whether the content team can add relevant content to meet popular demand.
Content Reports
Since a search experience can ultimately only be as good as its results, the quality of the content surfaced through searches is key. Run reports or build dashboards on the following queries in your content management system. When you share them with content creators and maintainers across the enterprise, they can identify content clean-up needs and take action on opportunities to make the most popular content even more accessible.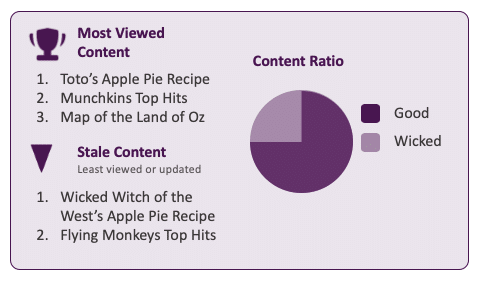 | | | |
| --- | --- | --- |
| Metric | Description | How to Use This Metric to Improve Search |
| Most Viewed Content | Lists system-wide content that has been viewed the most in the past quarter/year. | Content that is viewed frequently is often relevant and up to date. It is important to keep an eye on this content so that it remains relevant and that it is tagged appropriately to continue ensuring findability. |
| Stale Content | Lists system-wide content that has not been viewed or updated in the past quarter/year. | Unviewed and out-of-date content either lacks relevancy or is not properly findable. A quick review can identify content that should be removed. Relevant content should go through a findability test like card sorting or simple site usability exercises. |
| Recently Updated Content | Lists system-wide content that has been recently updated in the past quarter/year. | Content that has been recently updated is often accurate and current. It is important to keep an eye on this content, making periodic updates, if needed, so that it remains relevant and that it is tagged appropriately to continue ensuring findability.  |
| Use of Content Types | Lists the number of content items for each content type. | Content types that are frequently used should have additional attention to ensure that users can intuitively fill out fields and that metadata is automatically generated, if possible. If a content type is not frequently used, System Managers can consider how to improve its design for a streamlined user experience. |
User Feedback
Even with copious amounts of data on how your end users are interacting with the search portal, direct feedback from users can offer new insights on the search experience. Options for collecting user feedback include an immediate pop-up survey after each search, and semi-annual polls. 
Simple yes or no questions, such as "Did you find what you were looking for?" will draw out the largest number of responses, and open-text questions, such as "What would have made these results more helpful to you?" will give you a deeper understanding of the experiences of those who take the time to respond thoughtfully.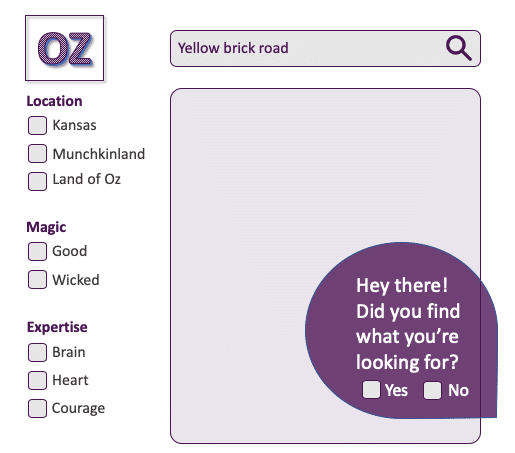 Do you know how well your enterprise search engine is performing? Do you need someone to help you peek behind the curtains and reveal the secrets of enterprise search magic? Don't hesitate to make your way over the rainbow. We are just a tap of your red shoes away!