The current global situation has upended nearly everything across the globe, and the professional world has not been immune. People are adapting to remote work across industries, dramatically shifting how they conduct business and go about their days as professionals. It can be even more difficult to adapt to new working situations when you are unfamiliar with your job or your organization. This being the case, remote work has put new hires and their mentors in new and often challenging positions. Onboarding has always been a difficult task, but working remotely has made the challenges that onboarding brings all the more difficult to overcome. New hires specifically need to be able to do the following three things in order to be successful in their new roles: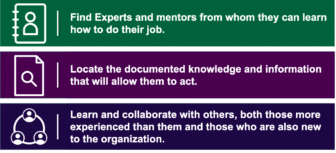 While these tasks have always been difficult for new hires, the shift to remote work has made them even burdensome and problematic for those starting a new job during the pandemic. Being remote makes it all the more challenging to find experts, search for and locate documents, and collaborate with others, especially when organizations lack the KM technology or processes to support these tasks. Without colleagues in the office to guide them, new hires can feel overwhelmed and lost in remote work environments with no way to solve their issues.  This can lead to longer time to proficiency, lower employee retention and satisfaction, and ultimately money lost for the organization. 
There are, however, ways to alleviate issues that new hires and their mentors face. Effective Knowledge Management (KM) can help to address the onboarding challenges, especially in remote work scenarios. At Enterprise Knowledge (EK), we define KM as the people, culture, processes, and enabling technologies necessary to capture, manage, share, and find information. In the following sections, I will explain how KM can guide new hires to proficiency and ensure that organizations are empowering their employees to do their best work. 
Finding Experts
Subject matter experts (SMEs) are often the foundation of many organizations. They provide deep expertise in subjects and can provide people of all tenures with the information they need to know to complete both basic and advanced tasks. While finding an expert in a subject or contacting a seasoned co-worker may seem like a simple task to most experienced employees, this can be a particularly daunting and stressful task for someone who is new to their job and isn't familiar with the experts dispersed across their organization. New hires can especially struggle in organizations that do not have a searchable repository of experts, people, or documented information that references who SMEs are, and shifting to remote work has made it even more difficult to find and get in touch with people. 
One possible way to connect new hires to experts is by designing and implementing an expert finder. The creation of an employee search system with proper governance and management would allow new employees to actively seek out experts to best learn from them. An expert finder can enhance search results with people/expert profiles that display information about employees, their expertise, and basic contact information, thus allowing new hires to be able to seek out experts without having to know them beforehand, which is almost impossible if they're just starting at an organization. With an expert finder, new employees would waste less time trying to find the people they needed to learn from and more time actually learning from them. This is particularly important in a remote and virtual setting, where it can be difficult to find and ask the right person the right questions as no one is there in person to assist a new hire. 
EK has assisted many companies with creating a portal where employees can find each other with accuracy and the information they need to make decisions on who to contact. For example, at a federally funded engineering research center, project managers were struggling to find employees who process specific skills sets or experience for their projects. EK incorporated a knowledge graph into a semantic search platform to engage employees to find individuals who had specific experiences and expertise, thus reducing time to find the right employee from weeks to a few minutes. This kind of search function would be greatly beneficial to new hires looking to find the experts that they could learn from to become proficient in their roles.  
Locating Documented Knowledge
While access to experts is important, they are also important knowledge workers who have their own tasks to accomplish. They can't spend all their time teaching new hires the ropes, nor should new hires rely on ad-hoc, personal meetings to learn everything. It is equally important for organizations to have documented reference materials, policies, procedures, and learning materials that can help new hires get up to speed and that they can reference down the line. The lack of this documented information and knowledge, or the inability to properly and quickly find it, can easily halt any employee's progress on projects and their day to day tasks, but new hires are particularly vulnerable to this type of slow down. Without context and experience, they won't have the skills necessary to work around a lack of documentation. With remote work, this problem is amplified as a new hire has to wait for their mentor to respond before they can proceed if they cannot find documented policies or procedures that can show them how to accomplish a task. 
While the lack of this information can create roadblocks for a new hire and make them feel useless, Knowledge Management can help streamline this process. The creation of a Knowledge Base or searchable repository with internal facing pages is one aspect of a solution to this problem. Designing pages on the Knowledge Base that are specifically geared towards new hires will give them a place to start looking for the information they need to know. Working in tandem with other solutions such as a taxonomy for findability, properly configured search, and a content strategy to ensure content is up-to-date and easily digestible, a well-designed Knowledge Base will vastly improve the working lives of employees of all tenures. This would reduce the time new employees waste looking around various systems they may be unfamiliar with or waiting for responses from busy co-workers. This centralized hub of information would also provide new hires with the opportunity to explore their organization's information and knowledge more deeply without having to gather important information piece by piece on their own, thus increasing their time to proficiency rate. 
For a global engineering firm who experienced a significant uptick in hiring due to COVID, we recently designed a central space on their SharePoint Online site where new hires could find the resources and experts to be successful during their first three months on the job. This site increased time to proficiency rates as well as overall satisfaction in their job experience. This not only helped new hires, but also supported more tenured team members because they were able to be productive more quickly than if they had to search multiple sites for the information they needed to do their job. This kind of ROI is exactly how KM can help organizations train their employees faster and more efficiently. 
Collaborating and Sharing Knowledge
Collaboration and knowledge sharing is key to the success of experts and new hires alike, but often it is difficult to collaborate within an organization, and everyone working from home only makes the problem worse. There are different systems and processes that enhance and encourage participation among groups of employees, including SMEs and new hires. 
The proper implementation of social and collaboration systems, guided by KM, can provide employees with a space (virtual or in person) to collaborate with one another and build their own communities. Learning from colleagues alongside other new hires, collaborating, building knowledge, and learning as a group are key factors to organizational success and community building. Giving new hires and employees of varying tenures the opportunity to interact and build collective knowledge together is very important. Ways to do this include implementing a Lunch & Learn series to provide a deeper look at topics followed by a discussion, the creation of collaboration channels in a tool such as Slack, or creating an internal company forum where people can post ideas, questions, and brainstorm strategies. Collective knowledge always enhances individual knowledge and makes it easier to turn important information from tacit and inside people's heads to explicit and written down where it can be accessed by all. 
EK recently worked with the National Park Service to design and develop a Common Learning Portal (CLP) where employees can easily search and locate educational and instructional resources. The CLP was enhanced with social networking features that allowed learners of similar interests or backgrounds and careers to be able to connect with each other. This solution allowed for employees and volunteers of all tenures spread out across the United States to collaborate, share, find each other, build community, and learn all in one space. 
Personal Experience
While the COVID-19 pandemic is unfamiliar territory for all, new hires face unique challenges when onboarding remotely. Many of the simplest aspects of asking questions and finding information have now become difficult and time consuming. I can personally attest to how challenging onboarding remotely can be. I was hired and onboarded to EK fully remotely during the pandemic. There were certainly many challenges and roadblocks to my progress as a new employee, but EK had the KM foundations that served as my stepping stones to proficiency. 
For example, our internal Knowledge Base, populated with blogs, articles, best practices, and tutorials written by my expert colleagues, allowed me to get a jump start on understanding EK and my role within the company. Rather than wait for one of my mentors to field a high-level question, I could turn to the knowledge base and find my answers there. Additionally, our internal directory gave me a great sense of the fields and subjects in which my co-workers have expertise. This gave me easy and quick access to the right person to help me with certain problems, rather than relying on unformed social connections. If I was confused about a taxonomy project, our expert finder told me exactly which co-workers are experts in taxonomy who I could turn to for help.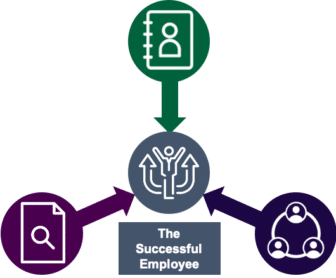 This internal directory was only the first step in helping me build strong relationships with everyone at EK. At EK, we leverage the collaboration and communication tool Slack. Our Slack channels are filled with people asking questions and receiving immediate answers, links to content, and input from many people, thus creating open and inclusive lines of communication across the company. Also, our bi-weekly Knowledge Sharing sessions gave me the opportunity to put faces to my colleagues that I had only heard of at that point and learn something new from whoever was presenting. These examples, among many others, gave me the opportunity to join the community and contribute to the collective knowledge developing at EK, even with the barrier of remote work standing in my way. 
My onboarding experience with EK showed me how the proper implementation of Knowledge Management and a direct investment in the curation and dissemination of information and knowledge can alleviate the tensions brought on by onboarding for both new hires and their mentors. I could not have asked for a better remote work onboarding experience, and I can only imagine how many more roadblocks I would have encountered without all the KM infrastructure at EK. Not only did I become proficient much faster than I thought possible, but I felt like I was part of the company and community more deeply than I expected, all thanks to KM and the great people working at EK. 
Conclusion
These are difficult times for every person and organization, but with the right dedication to Knowledge Management, new hires will become proficient much more quickly, providing value to their companies and giving them confidence to be the best employees they can be, whether they are working remotely or in-person. Employees who feel that they are learning, improving, and providing value will be more satisfied, and thus employee retention will increase. Contact us at EK and check out our success stories to find out more about how we support organizations in their KM efforts.