With the current global COVID-19 pandemic, companies big and small, global and local, have found themselves in a much different reality and have been forced into remote work situations. We, at EK, are amongst them. Though we always offered a rather liberal work from home policy, we found that the vast majority of people chose to come to the office, so we've had little opportunity, except for the odd snow day, to test what is now our current reality. Despite the lack of practice, however, it has been notable for me to see that we have adapted rather well to 100% remote work.  
Many have heard me utter one of my favorite phrases, that "happy employees are good at KM, and good KM makes happy employees." I've always held EK up as the ultimate example of this pithy phrase, and it now seems that I can expand it to also note that good KM enables productive and natural remote work.  
With EK's definition of what KM is and what value it offers, the linkages of how KM powers remote work become immediately apparent:
KM Enables Findability – With remote work, your employees no longer have the ability to walk down the hall in order to ask someone for the information or guidance they need to do their job.
I often reference the human search engines of an organization; those people that seem to know where all the right answers are hidden; but what if those people aren't available? With remote work, employees need to be empowered to act more independently, but nevertheless act on the correct information. Good KM ensures they can find that actionable and accurate information. This begins with the foundational elements of KM, namely taxonomies, content cleanup and governance, and content types. These elements will power findability and discoverability in your organization, ensuring the right employees are finding the right information that they need in order to do their jobs. This will maximize productivity and minimize risk for your organization regardless of whether you're remote working or not; but at its core, this is particularly necessary for organizations that are suddenly finding themselves with employees in makeshift home offices (i.e. their couch), rather than an office full of experienced and tenured employees to serve as their human search engines.
KM Enables Connections – With remote work, your employees no longer have the ability to meet at the water cooler and discover a like interest or form a learning/coaching relationship.
Whether your organization is local or global, face-to-face interactions remain a critical component of how people connect, how they find mentors/mentees, and how they learn from one another. When we lose the opportunity to discover each other in the same physical space, how do we ensure the right connections still happen? One key KM answer to this is to ensure that all your organization's knowledge objects (content, data, people, etc.) are all tagged consistently in order that your employees can discover connections by traversing from one type of knowledge to another. For instance, perhaps one of your employees goes searching for an answer to a question about Enterprise Artificial Intelligence (AI). With consistent tagging and enterprise search, we want them to find the simple, short definition of Enterprise AI, and then not only discover white papers and blogs on the topic, but end up connecting that content to an expert on the topic (or a group of experts) from whom they can learn and with whom they can engage. In this case, the technological side of KM plays a potentially major role by creating digital communities of practice and expert finder tools and then harnessing advanced search to allow your employees to find the right materials. One of my favorite clients tells the story of two unique experts, both on the same obscure sub-topic of their field, who never were aware of each other for over 20+ years at the organization until we created a digital community of practice where they discovered each other. One of them quoted, "I thought I was alone for so long, and now I have someone I can learn from." Now, the two of them are building that community of practice to mentor the next generation of experts. Like I said, good KM makes happy employees, and happy employees make good KM.
KM Enables Collaboration – With remote work, your employees can't duck into a conference room and whiteboard ideas for a solution together.
I have to admit, I was a slow adopter to the concept of remote work. As a CEO, I was worried about my colleague's ability to work together and learn from each other when they weren't physically together. I am confident, however, that the right KM tools and processes vastly improve the effectiveness of collaboration in remote work situations.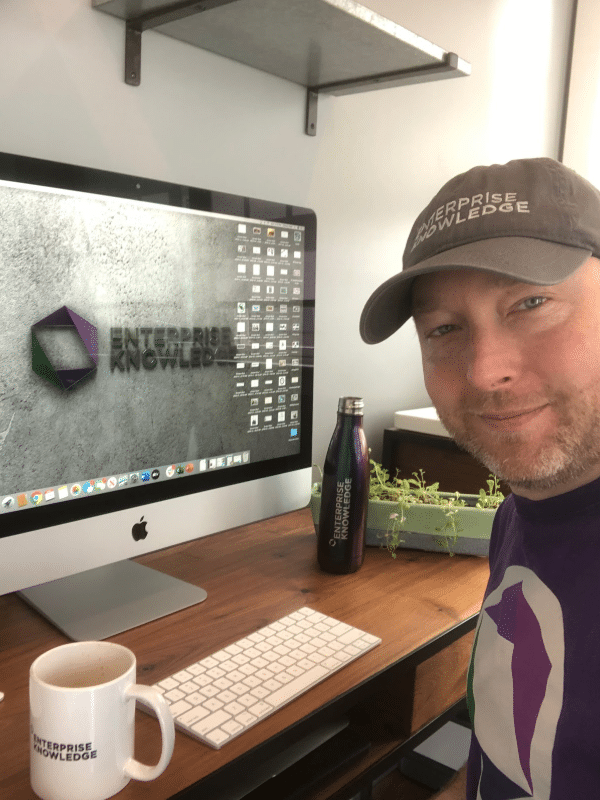 In order to make the vast field of KM more digestible, we at EK divide it into five categories: People, Process, Content, Culture, and Technology. An effective KM strategy enables remote collaboration by:
Identifying the

people

who hold the knowledge, and the people who need the knowledge, making the appropriate connections so the right people are finding each other and working together;

Creating

processes

by which knowledge can move through the organization and ensuring that, as people are collaborating, there are the appropriate guides in place to guarantee organizational policies are followed and the right knowledge is graduating as corporate information. This is particularly important for remote work situations, where managers may have less ability to stay on top of day-to-day work efforts;

Making the right

content

available as starting points, templates, and guides so that the starting points of collaborative exercises are fruitful from the beginning; 

Creating a corporate

culture

of knowledge sharing that encourages collaboration and support for one another, regardless of whether employees are in the same room or on the other side of the globe, resulting in willingness and rewards for employees lending their time to support one another; and

Constructing the appropriate

technologies

to allow people to collaborate remotely in ways that feel natural to them. For many organizations, the default answer here is SharePoint or Google Docs, and with the right governance and design, both of those are fine options, but they are just two of many options in what might be an organization's KM Suite of Technologies. Over the last week, for instance, we've been keeping in touch and sharing pictures of our home offices on Slack, collaborating on deliverables in Google Docs, and holding live meetings in Zoom. Any piece of technology is a KM tool if harnessed properly.
KM Enables Culture – With remote work, your employees can't witness the behaviour of corporate leaders or follow the cues of more tenured employees.
With a focus on corporate culture, I'll end where I started: happy employees are good at KM, and good KM makes happy employees. I believe one of the reasons we've so successfully transitioned to remote work at this time is that we'd already laid the foundation of corporate kindness and collaboration, we've already demonstrated that a culture of knowledge sharing and collegial support will be rewarded. As a result, our employees have found ways to stay in touch, for instance today a group suggested we institute a 15-minute open conference call just so everyone could check in. We, as leaders, have also played our part, leveraging our online collaborative platforms to get everyone talking, announcing new wins that we'd normally do in person via fun videos, and scheduling a virtual "happy hour" tomorrow for the whole team to get on video and catch up on the week. For any organization, the same can be made true, regardless of whether you've laid that foundation or not. With the right KM strategy, organizations can create the right expectations and rewards for their employees to stay engaged with the organization, and more importantly, with each other during periods of remote work. This, in turn, will result in higher productivity, employee satisfaction, and retention. 
Are you playing catchup with KM at this point? Do you need help to get started in the face of the current remote work reality? Contact us, and we'll set up a (virtual) meeting.