Lately I've been watching the quick maturation of learning and development concepts, practices, and technologies with interest and excitement. Organizations are paying more attention to learning and performance, how they apply it within their organization, and how it fits together with the rest of their knowledge and technology ecosystems. Overall, I see a few factors for this evolution of learning and development/performance:
The pandemic has forced organizations to think differently about learning. Traveling is now out of the question for most organizations, but it isn't just that. The pandemic has prompted sometimes daily changes in practices and processes for organizations. That dynamism requires learning and performance programs to be incredibly flexible and easy to adapt.
Budgets around learning and development have been tightening for a while. Lean budgets combined with travel restrictions are forcing more organizations to find other ways to deliver learning. Even after the pandemic ends, this trend in remote learning will continue.
Organizations are finally waking up to the direct link between mature and effective learning and performance programs, and employee and customer retention. There is clear ROI here. More mature learning organizations will maintain and grow their competitive advantage.
At EK, we refer to organizationally mature learning and performance — programs that consider the complete range of learners, a broad collection of learning methods, and advanced technologies to deliver customized learning — as Enterprise Learning. The following are the primary trends in learning and performance we're seeing. Taken as a whole, application of these trends will yield a true Enterprise Learning program for your organization, resulting in the aforementioned return on investment, quality, and performance for your people and your organization.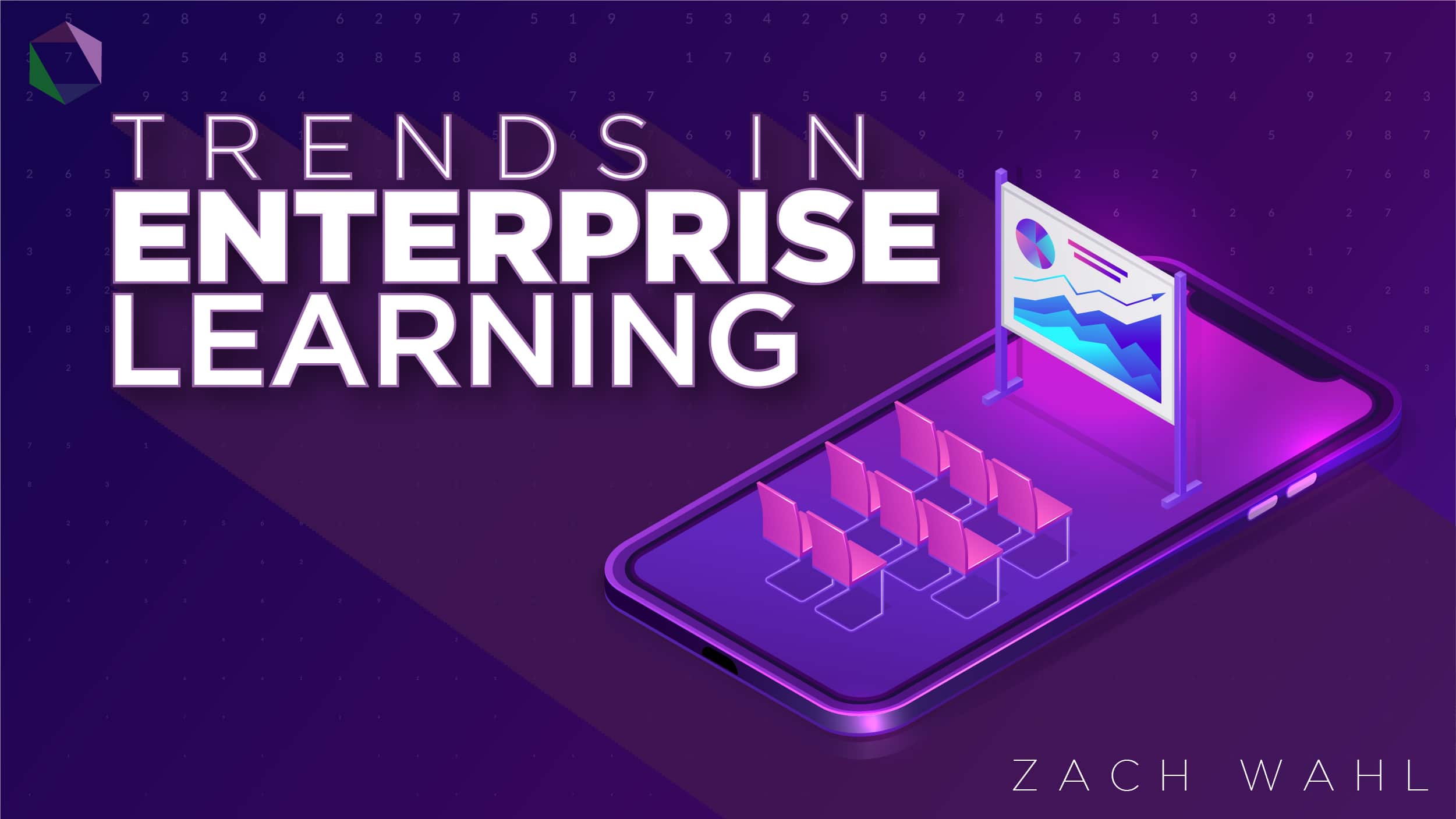 Learning Smaller
A key trend happening with many types of organizational content, but specifically with learning content, is deconstruction. Long courses, hefty manuals, and multi-page job aids are difficult to access, absorb, and act upon quickly. Chunking this learning content into smaller pieces makes it easier to find, lowers the cognitive load for the learner, and enables the learner to act on the acquired knowledge more quickly — thereby improving the likelihood of long-term retention. Chunking or deconstructing learning content  has benefits for improved findability through search.  It also enables advanced learning capabilities like adaptive learning and customized learning paths, two trends discussed in further detail below.
The Merger of Learning and Knowledge Management
Through my decades of Knowledge Management consulting, I've always been particularly excited when a KM transformation is being run by an organization's Learning and Development office. There are several reasons for this: 1) L&D touches everyone (or should) within an organization, meaning they have the enterprise-wide contacts and understanding to effectively communicate and drive a transformation; 2) The L&D ROI of higher employee retention and knowledge retention can alone provide sufficient business value to justify the costs of a KM transformation; and 3) L&D offers consistently compelling use cases regarding delivery of the right information to the right people to help them perform. This puts real, measurable results at the forefront of a KM transformation.
Now, we're not just seeing L&D helping to drive KM transformation; we're seeing organizations aware of how KM can fuel Enterprise Learning. Good KM means connecting the right people and content in ways that help people to learn, perform, and make good decisions. Foundational elements of KM like taxonomies, tags, expert finders, and governance are all required success factors to achieve a mature Enterprise Learning organization.
I'll take taxonomy design as one example. If an organization has invested in enterprise taxonomies that go beyond describing their content and include descriptions of their people, their business skills, technical skills, and competencies, they'll be poised to build a true Enterprise Learning environment. The power of the Enterprise Learning environment can connect people to others from whom they can learn, to communities of practice with whom they can collaborate, and to a vast array of different types of learning content and knowledge from which they can extract the information they need to grow and perform.
More Diverse Types of Learning Materials
As with the trend of Learning Smaller, today's mature learning organizations are also recognizing the complete learning and performance ecosystem. Yes, structured, in-person learning still has an important role to play, but it sits amongst a range of different types of learning materials to suit different learning styles and user needs.  Organizations can utilize unstructured learning content, how-to videos, job aids, infographics, flow charts, communities of practice (COP), and experts when creating learning content. It's important to note that an organization's own people are, in fact, types of learning materials when acting as internal coaches, resources, mentors, or COP participants. Offered together, this assortment of learning materials gives the learner the power to choose how they want to learn and define the depth of knowledge they require to act.
Answering the "Why?"
Organizations are becoming more mature regarding the "Why" of Learning. What I mean by this is organizations are getting better at structuring learning of all types to accomplish more specific and firmly communicated learning goals. This is, of course, good for the learner, but it is also good for the organization.,Learning materials with clear learning goals are easier to measure for effectiveness. If we understand the goals of an instructional strategy, we're able to assess or test whether those goals are consistently accomplished. Is the learner now able to perform X task?  Does the learner now have the right corporate answer to Y question?  If the answer is no, this enables the organization to prioritize their least effective learning materials for edits or replacements, thereby putting limited resources where they'll have the greatest impact.
Learning When and Where You Need It
Organizations are increasingly realizing what learning professionals have known for some time: structured learning is only one piece of the puzzle. It may not provide the tools an employee needs to quickly and effectively act on a need. In today's rapidly changing businesses, employees can't wait for the next three-day class to be produced and delivered to learn how to do their job. That's why the diverse learning materials I discuss above are so critical. In addition to empowering our employees to self-learn when they need it, we also recognize that business right now is largely happening where the employee is, not where the business is. To this end, mature Enterprise Learning organizations are increasingly developing learning content that is remote, asynchronous, and portable, so the learner can get it when and where they need it, and can access it regardless of whether they're in the office or on their couch at home.
Adaptive Learning
As organizations are maturing not just their learning content, but their learning technologies as well, knowledge-based artificial intelligence is beginning to come into play. One growing trend in this space is adaptive learning. Adaptive learning leverages AI to consistently assess a learner's grasp on material, speeding up when they're fully grasping the content, and slowing down or offering more basic materials when they're struggling. This is good for all potential learners, as it doesn't waste the time of the advanced learner, while ensuring all learning results in the appropriate outcomes. As organizations mature, their ability to offer more advanced Adaptive Learning capabilities will provide highly flexible learning experiences that, in a way, coach the learner at their own pace and ability in order to maximize the right outcomes and the learner's comfort and happiness with the experience.
Customized Learning Paths
Another advanced learning technology trend is Customized Learning Paths, or Automatically Assembled Learning. Powered by taxonomies and ontologies, learning content chunking and governance, and advanced technologies like knowledge graphs and machine learning, Customized Learning Paths recognize that there's no such thing as one-size-fits-all when it comes to how our people learn. Customized Learning Paths leverage technology to learn what a user wants to develop skills in, what they want to do in their career, or who in the organization they wish to model. The technology can then assemble customized curricula or learning paths made up of an array of different types of learning materials, specific to each learner and their goals.
Adding additional learning technology like xAPI ensures the learner's path is adequately tracked and measured. Over time, with the appropriate analytics, these learning paths can even be measured for efficacy, triggering alerts for an organization's learning professionals when specific materials or paths are consistently failing, enabling an organization to have the right intelligence to constantly improve their Enterprise Learning capabilities. Though these AI concepts of learning are complex, they are also achievable today.
How is your organization trending with Enterprise Learning? Are you ahead of the curve or lagging behind?  If you need help answering these questions, contact us; we can help by delivering our Enterprise Learning Assessment and Transformation Roadmap for your organization.