As 2016 comes to a close, I've been reflecting on EK's challenges and successes over the course of the year. We had another year of growth, of great experience partnering with our clients to help them achieve their goals, and a continued focus on thought leadership that once again resulted in recognition from the community. I'm deeply proud of the work we do, the people for whom we do it, and the amazing team with whom I get to work.
EK has six guiding principles we focus on throughout all that we do. It seems appropriate that these should be the structure around which I review our year.
People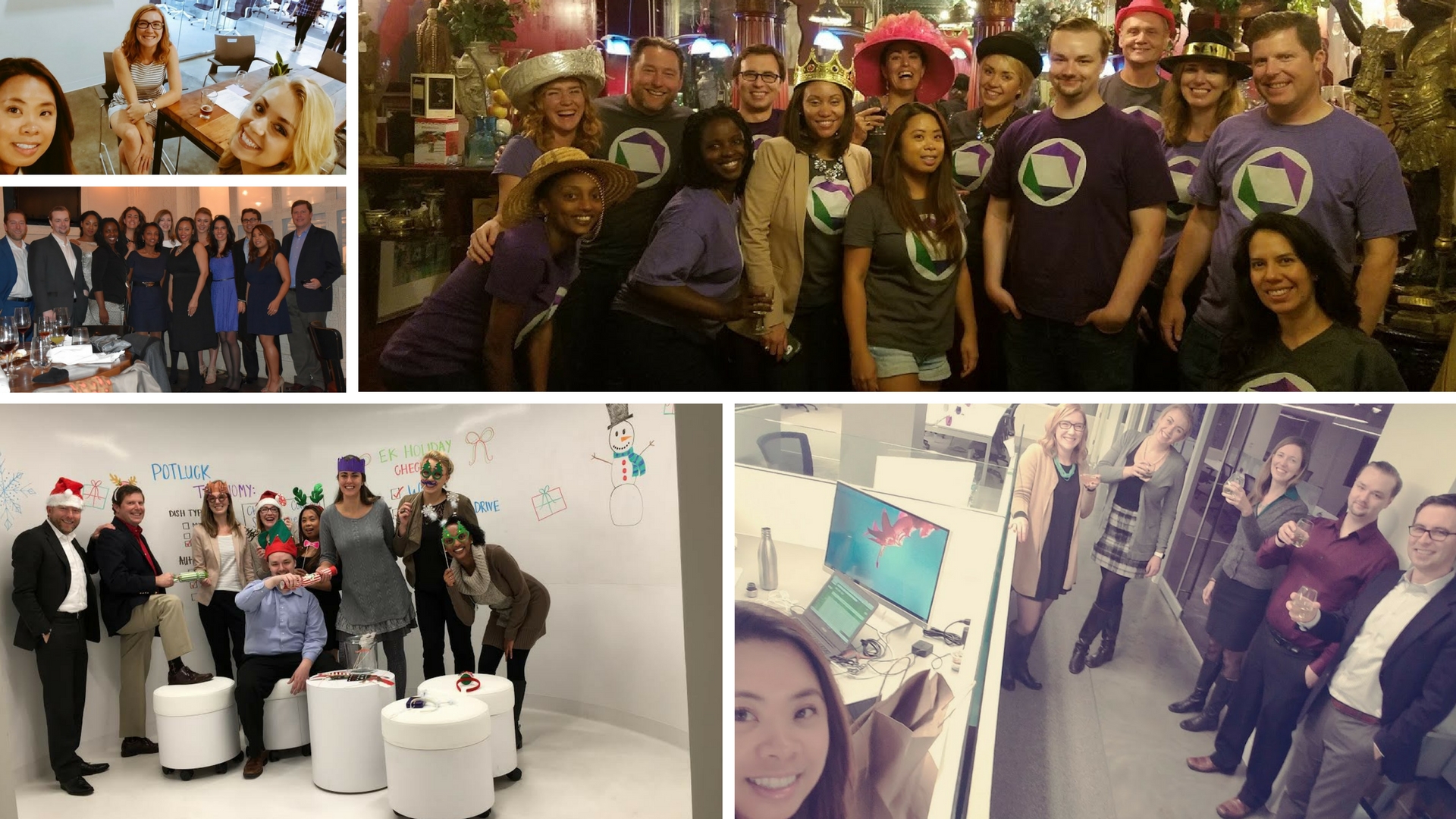 EK continued to grow this past year, adding expert consultants to deepen our capabilities in Knowledge Management, Taxonomy Design, and Agile Transformation and Facilitation. We also kicked off our College recruiting plan, hiring our first college graduate from Dickinson College, a personal source of pride for me as this is my Alma Mater.
Every member of our team utilized one of my favorite benefits, a $3,000 guaranteed budget for lifelong learning, enabling each employee to continue their education, attend conferences, or take other professional classes or certifications. It is one of EK's core beliefs that we must always invest in our team and help them develop.
We also added new benefits for our employees this year. We created a parental leave benefit that provides up to 13 weeks of paid leave. We also added additional insurance benefits, health benefits including gym membership reimbursement, and added a new corporate holiday in the day after Thanksgiving (because no one should have to work with that much tryptophan in their system). 
Thought Leadership
EK published over forty new blogs and articles on our newly designed website, and spoke at over twenty different conferences and events including Taxonomy Boot Camp, KMWorld, eLearning Guild Learning Solutions Conference, AgileDC, Regional Scrum Gathering in Portugal, KMI Showcase, and Agile Dev East, amongst others.  
We were recognized for this thought leadership, named by KMWorld as one of the 100 Companies that Matter in KM for the second year, recognized by CIO Review as one of the 20 Most Promising KM Solution Providers, and by the Global KM Congress as one of the world's 50 most influential KM professionals.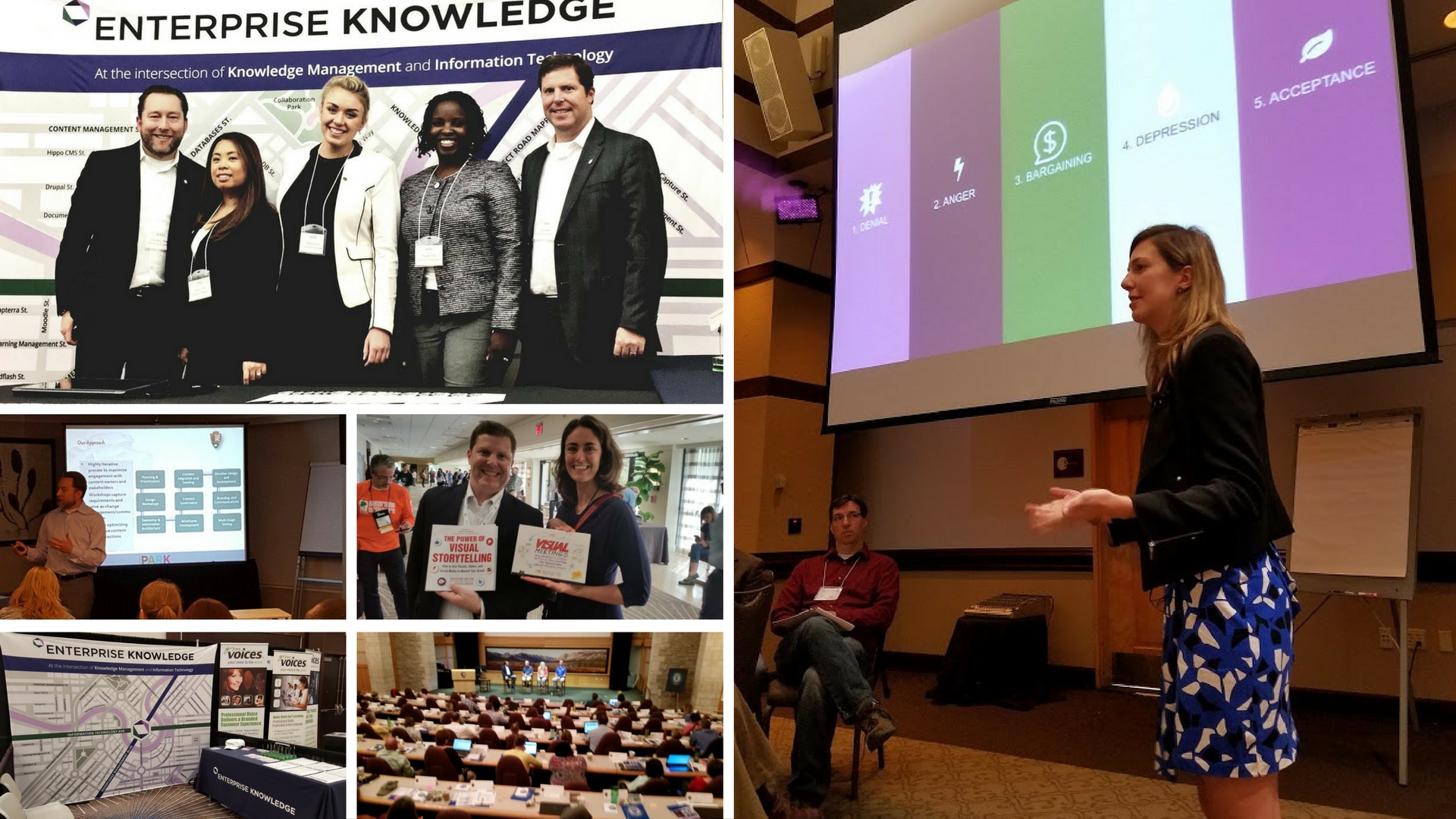 Transparency
Our aim has always been to operate our business in a clearly transparent manner to both our clients and our employees. This builds a sense of trust, proven by the fact that in 2016 we are closing the year having maintained all of the major clients we began the year with, and have added several more. Moreover, our stellar employee retention is representative of the manner in which we comport ourselves.  
One of our new tools to encourage transparency, along with greater collaboration and team development, was the opening of our Corporate Headquarters in Arlington, VA this year. The office exemplifies our style and spirit, filled with collaborative spaces (including our round whiteboard room) as well as areas to celebrate our successes.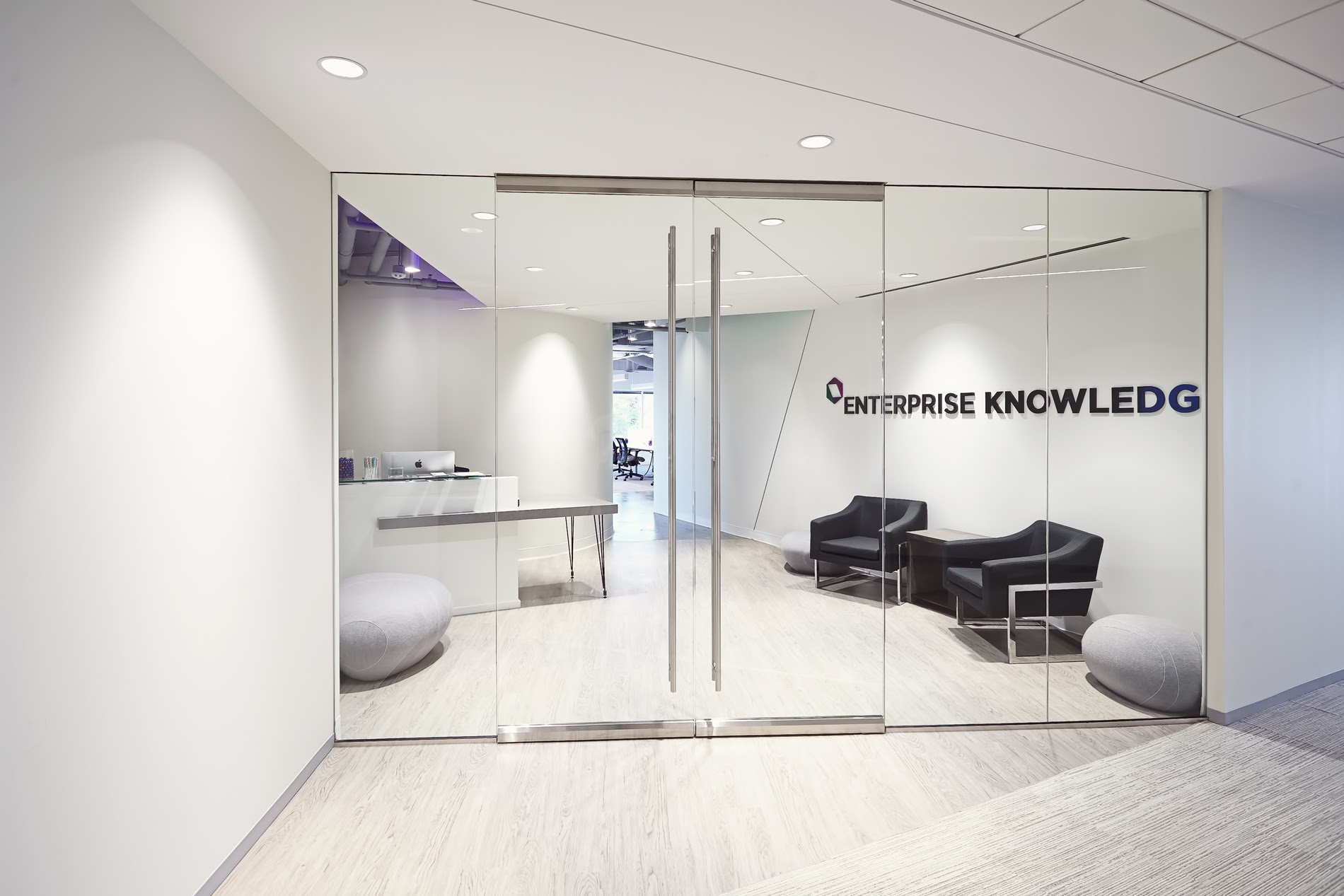 We've worked to be transparent with our team by communicating our goals and how we're performing against them regularly throughout the year. We announced our annual performance goals and metrics during our Winter Gala this past February and updated the team during our bi-weekly knowledge sharing sessions as well as during our quarterly offsites. At every step of the way, the team knew where we were under-performing and over-performing and was thereby able to flex and provide their considerable energy and talents where they were needed most.  
As the year closes, we didn't hit all of our goals, but none of that is a surprise to our team because we've been communicating every step of the way and leveraging their inputs to plan for an even stronger 2017.
Partnership
As I mentioned above, it is a great source of pride for us that we've maintained working relationships with all of our core clients from a year ago. For some, our support has grown as their needs have increased or their understanding of how we can help them has expanded, for others, we've moved to a smaller role as we've transferred our knowledge to them and moved to a support role. Consistent through all of these partnerships, however, is the fact that we've maintained the trust with our clients.
Over the course of the year, in addition to maintaining our partnerships with each of our core clients, we've added several new clients both in the government and commercial spaces. Our work has also taken us abroad, with efforts this year in England, Portugal, India, Indonesia, Nigeria, Uganda, and Mexico.
Our partnerships also extend to our philanthropic efforts and community involvement. This year we formed philanthropic partnerships with Wolftrap Center for the Performing Arts children's program and Linden Resources, and continued our support for the Leadership Center for Excellence. We also instituted a new employee benefit, allowing each team member to take a day each quarter volunteering with one of our philanthropic partners instead of their normal work.
Arlington County also recognized us as one of the County's fastest growing companies, showing us again that our hard work is yielding the type of results that stand out every day.
Integration
We've chosen to focus on a core set of expert services, rather than to be generalists. Though we're proud of all the work we deliver, we've found we provide the greatest value to our clients when these services are integrated.  
Our success stories this year, with clients including the National Park Service, Pearson, Inter American Development Bank, and World Bank are each examples of this. For each of these customers, and many others, we've combined our discrete services offerings into a complete Agile Knowledge and Information Management solution that addresses their needs and yields true business value.
We succeeded this year in being awarded a contract on the GSA Information Technology Schedule 70 Contract, meaning that over the next year and into the future we will have the opportunity to bring more of these integrated solutions to Federal agencies in addition to commercial organizations, nonprofits, and international organizations.
Energy
If you've read this far, at this point, I hope you agree with me that EK is unique and, frankly, pretty awesome. After nearly fifty years, combined, of consulting years for Joe and I, not a week goes by that we don't marvel at the amazing team with whom we have the pleasure to work every day.  
Though there are any number of things that make them remarkable, one of the most unique is the level of energy, enthusiasm, and positivity they bring to bear in everything they do. This year alone, I've marvelled at the number of times our clients have described team members by terms including "unbelievable," "indispensable," and "magical," just to name a few. Coming to work is fun. Personally, I feel like I've won the lottery (and if I actually did, I'd still come to work every day at EK).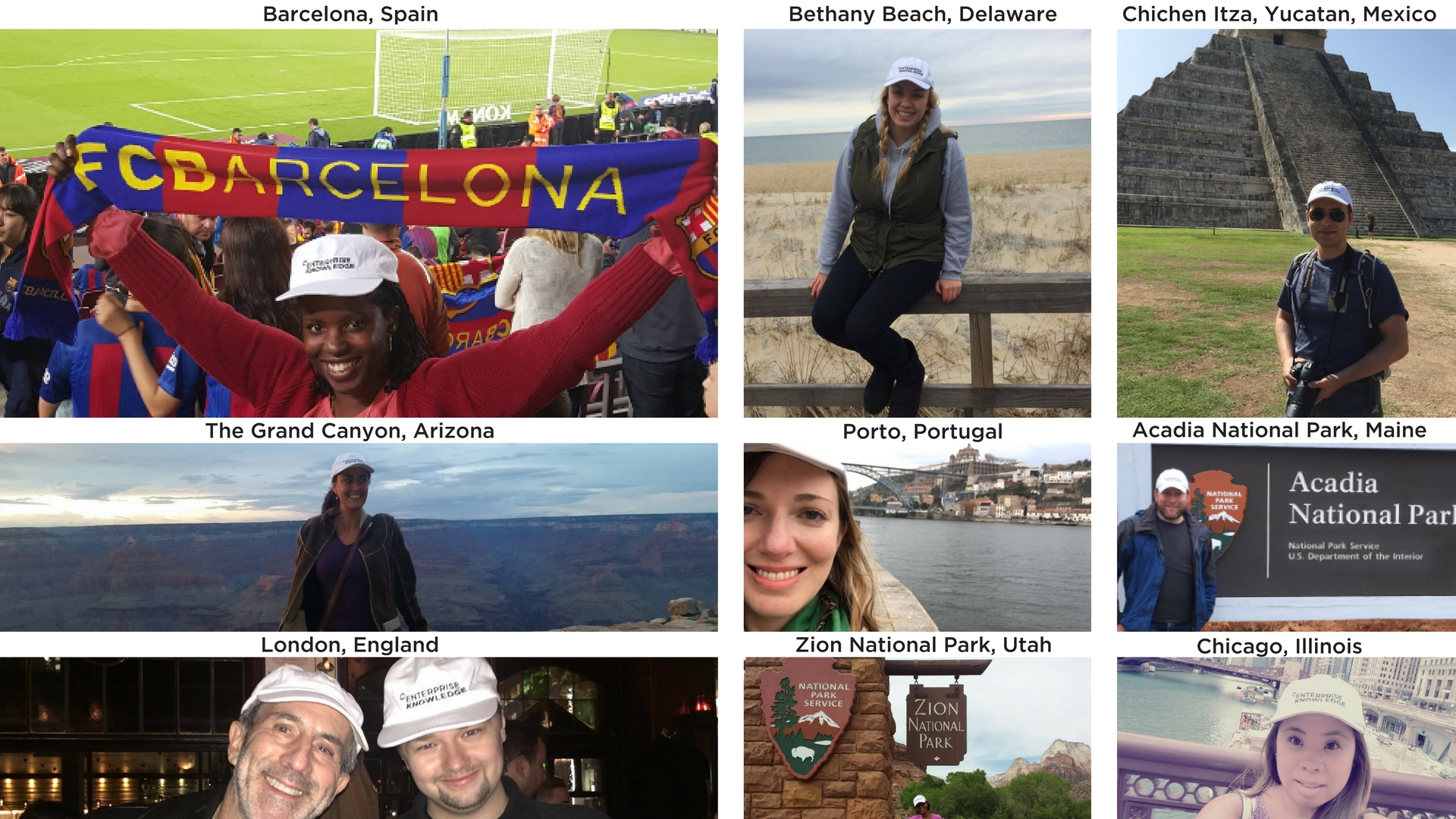 I sometimes refer to the team as rock stars or superheroes, because that's how I see them, and it is certainly how they perform for our clients.  
As we look forward to 2017, we are poised to grow our team and spread this energy even farther with our client partners. Continuing to find and reward the best People, we will maintain and expand our efforts in Thought Leadership, while bringing our Integrated capabilities to our clients in Partnership every day, delivering successes to them that leverage our Energy, Transparent delivery, and expert guidance at every step.