As the year comes to a close, I'm happy to have an opportunity to reflect on 2022 and review the many successes and milestones of the year. The year was another of sustained growth for us, as we continued to diversify globally and expand our reach both in the commercial and government sectors. We're closing the year with the strongest backlog of signed contracts in the company's history, while we continue to lead the way in knowledge management, data and graph technologies, and increasingly in advanced learning solutions. 
We're in an exciting position to experience continued growth during a time where other organizations are pulling back. Though there are many factors that go into this, I'll sum it up with the two most significant. First, EK continues to be filled with some of the smartest, most conscientious, and most creative people I've ever worked with. This team of truly special people drives our growth and value to our clients, and is my personal primary motivation every day. Secondly, as a company, we've always chosen to look beyond the current trends and consider what our clients truly need to support their business. Over the years, this has pushed us to be early adopters and thought leaders in agile KM, knowledge graphs, content assembly, ontology management, and data catalogs, amongst many others, leading to better, more forward-looking solutions for our clients and continued growth for EK.
I'll use EK's six guiding principles to further discuss our year.
People – Our number one asset is our people. We invest in them and ensure they possess the knowledge and resources to serve our clients to the highest degree possible.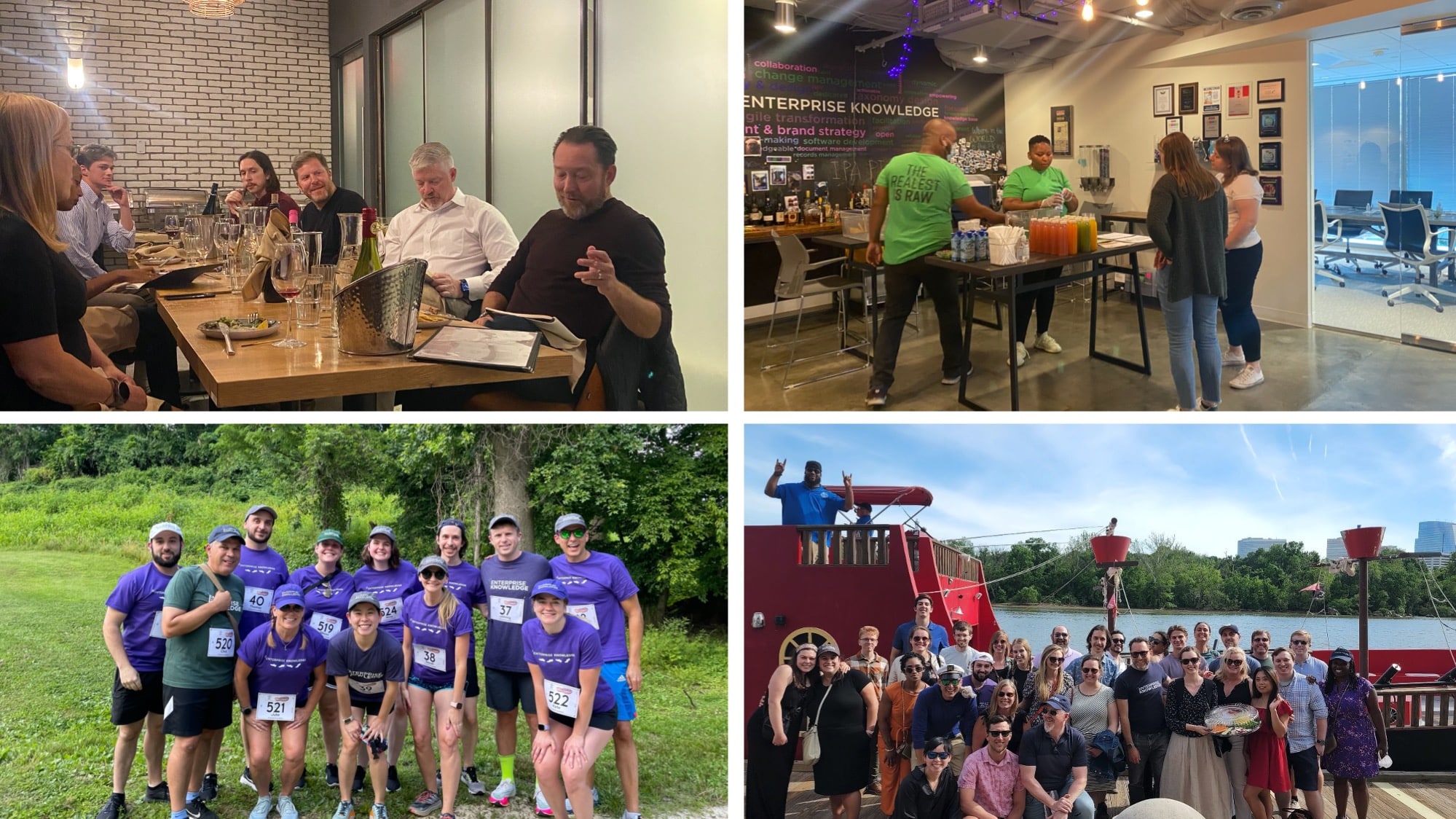 As I mentioned in my introduction, we are where we are in large part due to our team. We've done our best to always honor this principle above all others, and our team has rewarded us for that with amazing results and spirit. This year we began welcoming employees back to the office on an optional basis and I was thrilled to see people choosing to come back, and feel the energy and collaboration return to the office. Though we will be a hybrid organization moving forward, it was exciting to see people choose to return to the office and leverage that time to make stronger connections and learn from one another. This collaboration will help fuel the next round of EK innovations we bring to our clients.
We continued to grow our staff this year, adding new team members at all levels. Given our growth and forecasts for 2023, we've got more work to do there, including our existing openings. We also continued our investment in our team, successfully rolling out our year-long onboarding process called Kamp EK, which includes a mix of formal and informal learning, both live and asynchronous, arrayed over a year with measurable success criteria at each stage in the process. I'm personally enjoying teaching the "Why KM Matters," and "Introduction to Consulting" modules. We also continued our standing professional learning benefit, where each employee received a guaranteed $3,000 to apply to their development in a way they choose. This year we had one of the highest rates of usage for this benefit, reflected in the fact that twenty team members earned promotions over the course of the year as well.
We added several new successful programs this year to supplement our benefits and reinforce the importance of lifelong learning and work. The first, 'EK Balance,' is about health and wellness, as well as overall work life balance. Events have included pop-up juice bars in the office, recurring yoga classes, and massage days. We've also been running monthly challenges, including a steps challenge in the fall and a hydration challenge this winter. Participation in these activities has been strong, and we've made donations to various charitable organizations (amongst more material prizes) for each participant.
'EK Grow' is about career development and lifelong learning. It supplements our $3,000 per year professional learning benefit and adds an additional $1,000 per year for any other type of learning an employee may choose. Thus far, employees have used this for cooking classes, wilderness rescue, woodworking, piano lessons, and language lessons, to name just a few. EK Grow also includes "Pitches and Pints," where team members can sign up to do dinner and drinks with the leadership team and practice delivering the company pitch deck. This has been a wonderful opportunity to get to know team members in small groups and also provide coaching on public speaking and effective presentation in a fun setting. 
Though we started the year fully remote and were hybrid throughout, we found some wonderful opportunities to celebrate together, including our first live Gala since before Covid, our annual Holiday Potluck and Purple Elephant, as well as several other great team building opportunities (including movie nights, a summer Pirate Ship cruise, and painting lessons. 
Now for the fifth time, Inc. Magazine listed us amongst their best workplaces. This recognition continues to mean a great deal since it is a national competition, but moreover because it is driven by an anonymous survey of employees. You will read below of the many new wins we received this year, but the recognition driven by our own employees, to me, continues to be one of the best each year. This gives us a great sense that, though there will always be more to do, we continue to head in the right direction. 
Thought Leadership – We serve as leaders in the industry, sharing our knowledge and expertise, guiding the development of agile knowledge and information practices, and supporting the community.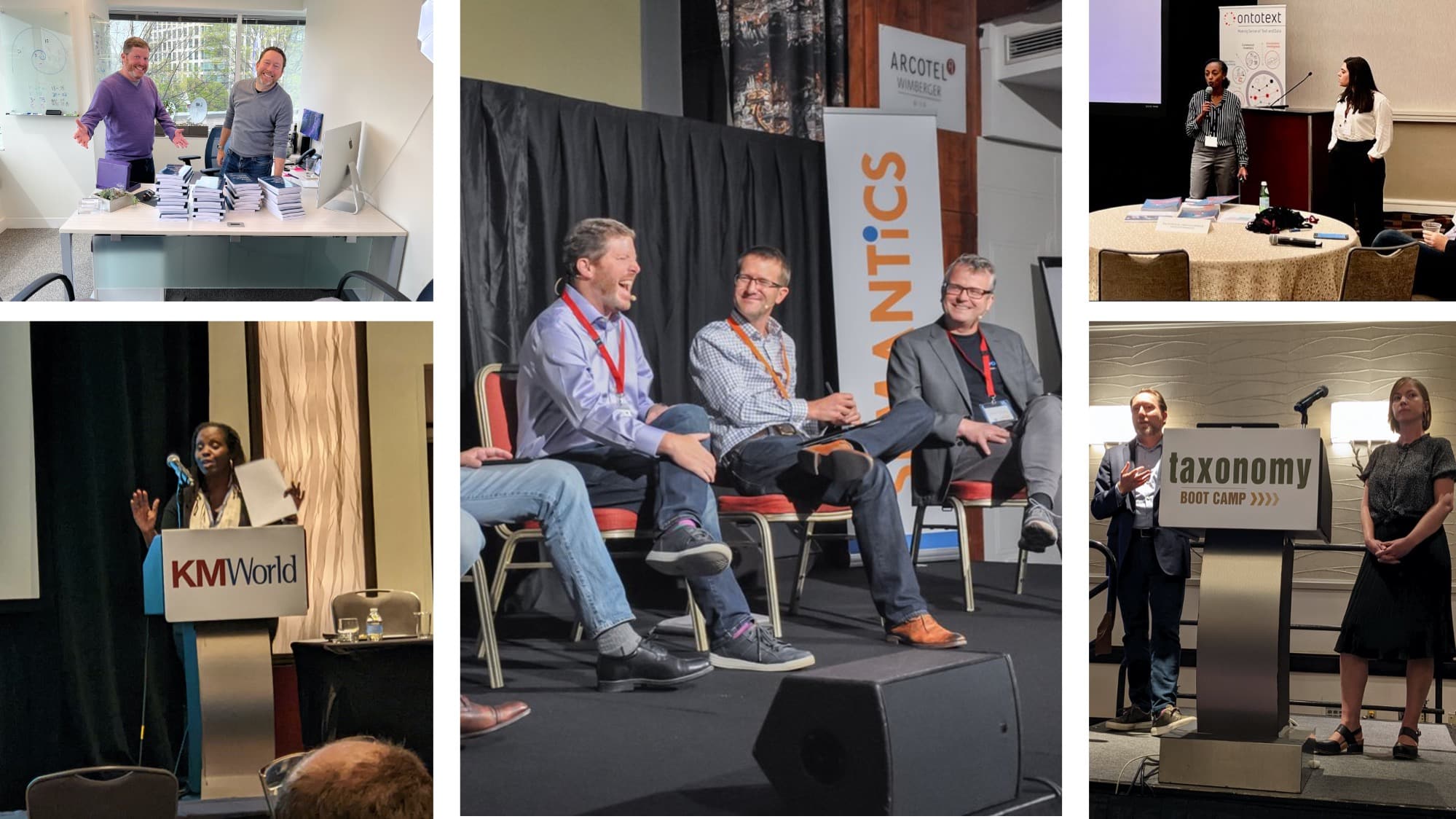 This year, we broke our past record and published a total of 93 new thought leadership pieces in our knowledge base, meaning we now have nearly 500 total pieces of thought leadership, free and open to the community. The knowledge base includes blogs, white papers, case studies, slide presentations, videos, and podcast episodes. Our podcast, Knowledge Cast, was named the number one KM podcast for the second year in a row, and this year we recorded a live episode of Knowledge Cast as the closing keynote at KMWorld. Speaking of KMWorld, we broke another record there, this year delivering twelve separate presentations, including client case studies alongside our clients at NASA Jet Propulsion Lab, U.S. Department of State, and Walmart, amongst others. A highpoint of the year was being recognized at the conference alongside Walmart as the 2022 KM Reality Award Winner for the work we've done with them.
Another major thought leadership highpoint was the publication of 'Making Knowledge Management Clickable," the book I coauthored with EK's COO Joe Hilger. Published by Springer, the book bridges the gap between knowledge management and technology and details the complete lifecycle of knowledge, information, and data from how knowledge flows through an organization to how end users want to handle it and experience it. In short, it is EK's total experience rolled into 318 pages of very small print. 
Between the knowledge base, conference speaking, podcast, and book, we were proud to receive additional recognition from the industry. Again this year, KMWorld and Info Today recognized EK as one of the 100 Companies that Matter in KM for the eighth year in a row, as well as one of the 50 Companies leveraging AI to drive Knowledge Management for the third year in a row. 
Transparency – We communicate clearly and openly, ensuring the highest level of quality and accountability for our company's management, in our service to our clients, and with respect to our colleagues.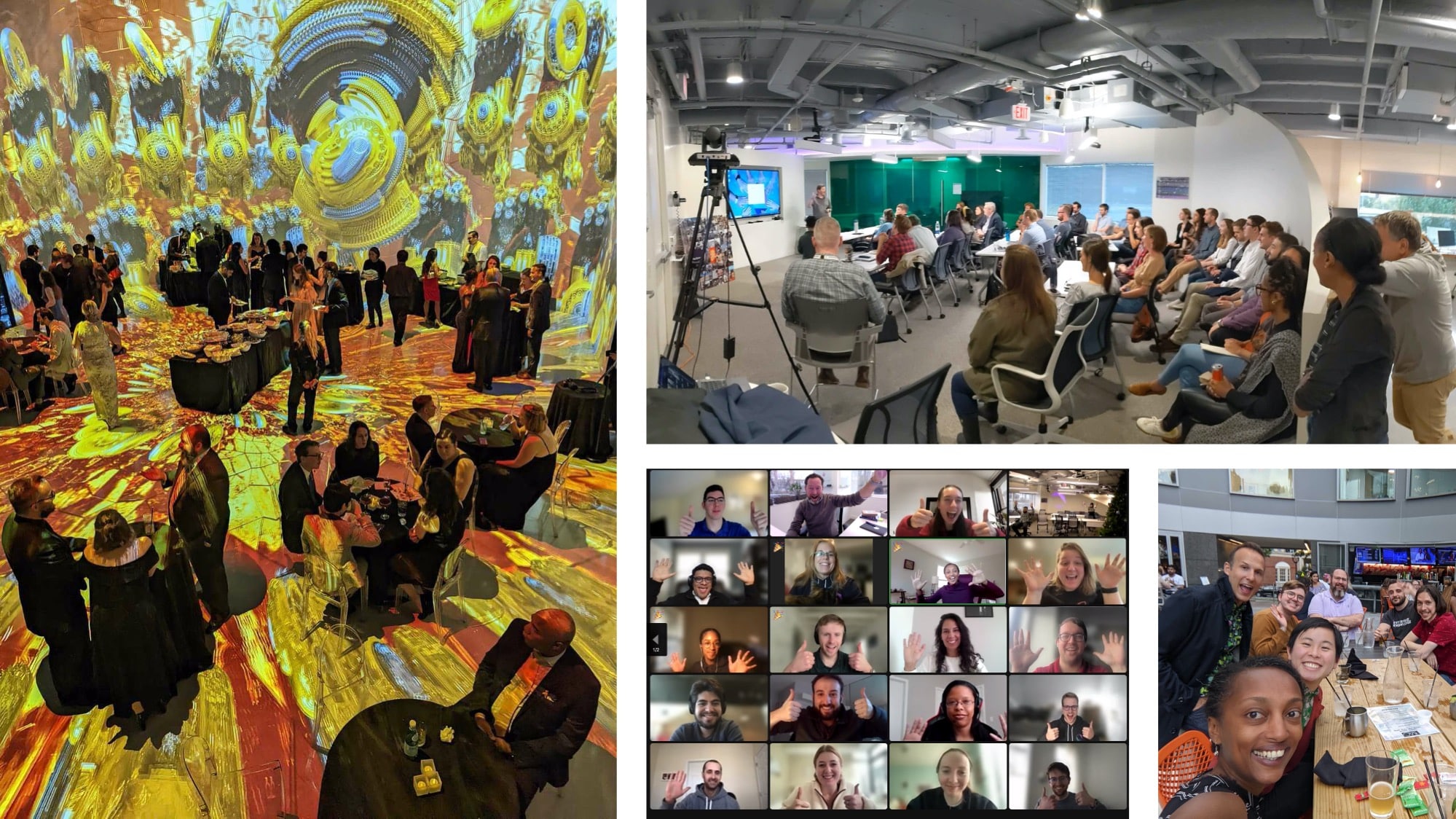 When we talk about transparency we are referring to openness through all channels, between leadership and staff at EK, between us and our clients, and between each other as colleagues and teams. The last couple of years of Covid have been a major learning lesson for us. Communications that were easy in the office became much harder digitally. Even with our hybrid return to the office, we've learned from that experience and are working more to improve all forms of communication.
One of the primary company-wide communication techniques we use is our bi-monthly all-hands employee knowledge share, where we discuss company goals and achievements, new wins, greet all new hires, and have employees present on new learnings or innovations. We also use this time to discuss any potential issues or challenges. 
This past year, one moment of transparent communication stands out for me. We were notified by one of our clients that their executives were insourcing all consulting services due to poor financial projections and, out of their control, our work with them would unexpectedly end. This was not a crisis for EK, as we are incredibly well-diversified, but it was nonetheless bad news. The news would unexpectedly move several people to "the bench" and represented a significant future revenue loss for us. I immediately sent out an all-company email on this and we opened the topic for questions and conversations at the next knowledge share. We managed the transition gracefully and came out of it a better company for it, demonstrating the openness and trusted dialogue for which we strive.
Since we also were able to return to a live Gala this year, we had that opportunity to celebrate important achievements and milestones, including our annual CEO and COO awards and the "Jacketing" of employees that have completed a three-year tenure at EK. Each new employee, every birthday, and every promotion are also communicated and celebrated company-wide. These celebrations aren't just about the what, but about the why, covering the impact we can have for our client partners, for our community, and for each other.
Partnership – We partner with our clients, building meaningful relationships founded on a sustained commitment to mutual success.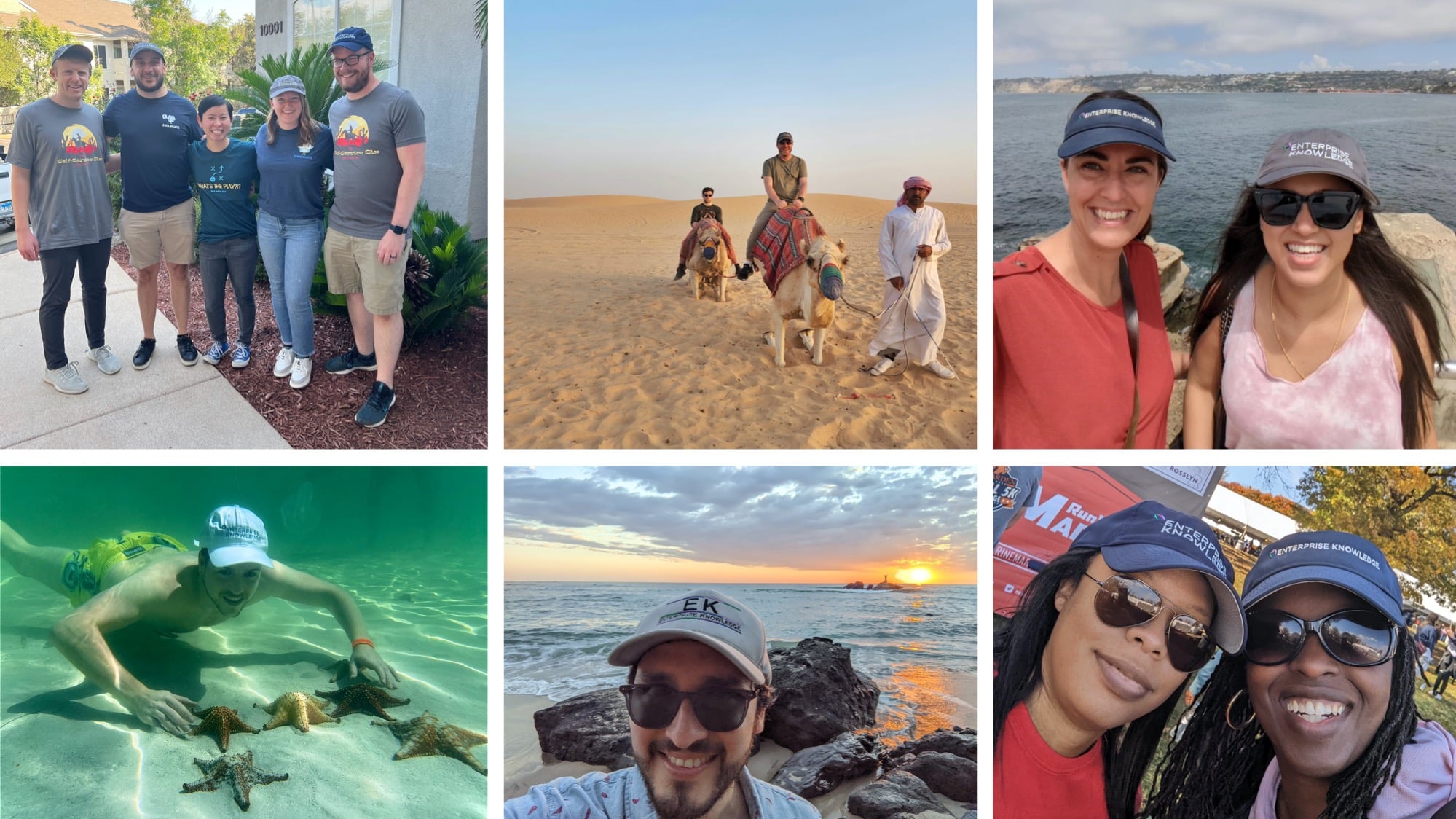 The word "Partnership" was chosen very carefully when we first crafted our guiding principles in 2013. We wanted to express our vision to be true consultative partners and trusted advisors to our clients, rather than generic order takers. We've fulfilled this promise every year of EK's history, and 2022 was no different. 
In large part due to newly won long-term contracts and long-term partners that have renewed with us, EK will begin 2023 with the largest backlog of contracts and projects in our history. Notably, many of these projects with long-term clients have grown from prototypes, pilots, or group-based initiatives to enterprise level transformations. We've helped our clients position and develop these projects for global support, and we're proud to continue the journey with them and support these hugely impactful programs. We also continue to see our clients come back to us year after year. Small projects have transitioned to large, but moreover, past clients from initial engagements continue to re-engage with us in new and larger ways. Even the aforementioned client that was forced to close our contract due to the economy worked with their leadership to identify an exception enabling us to return in 2023. This is what true EK-client partnerships look like!
One of the greatest results of EK's client partnerships, growth, and overall success is what we're able to do with it. Every year since our creation, we've actively engaged with our community, both in volunteering our time and in providing financial support to our philanthropic partners. One of the largest and most long-standing of these is with Wolf Trap Center for the Performing Arts, which delivers early arts and music education to schools in need. To date, EK has donated over $90,000 to this incredibly impactful organization, meaning  thousands of children have received access to arts and music education in their early and most critical years of development.
We've also created our own No Shave November tradition, which we've dubbed 'Know Shave Knowvember," of course. In our version, all EK'ers are invited to participate in the way that they choose, either by growing out their beards for the month, or by choosing another activity. This year, some non-beard-growing choices were letter writing, giving up screens outside of work, and volunteering extra time. For every participant, EK donated $200 to the charity of their choice. This year, EK donated over $4,000 in total with recipients including American Foundation for Suicide Prevention, Wounded Warrior Project, Girls Who Code, National Alliance on Mental Illness, and World Central Kitchen, amongst many other. It was a joy for me not just to have EK support these wonderful causes, but to see all of the diverse choices of organizations the team selected. 
Integration – We provide our customers with the full range of EK's expertise, integrating all of our services and resources to ensure the most significant business value.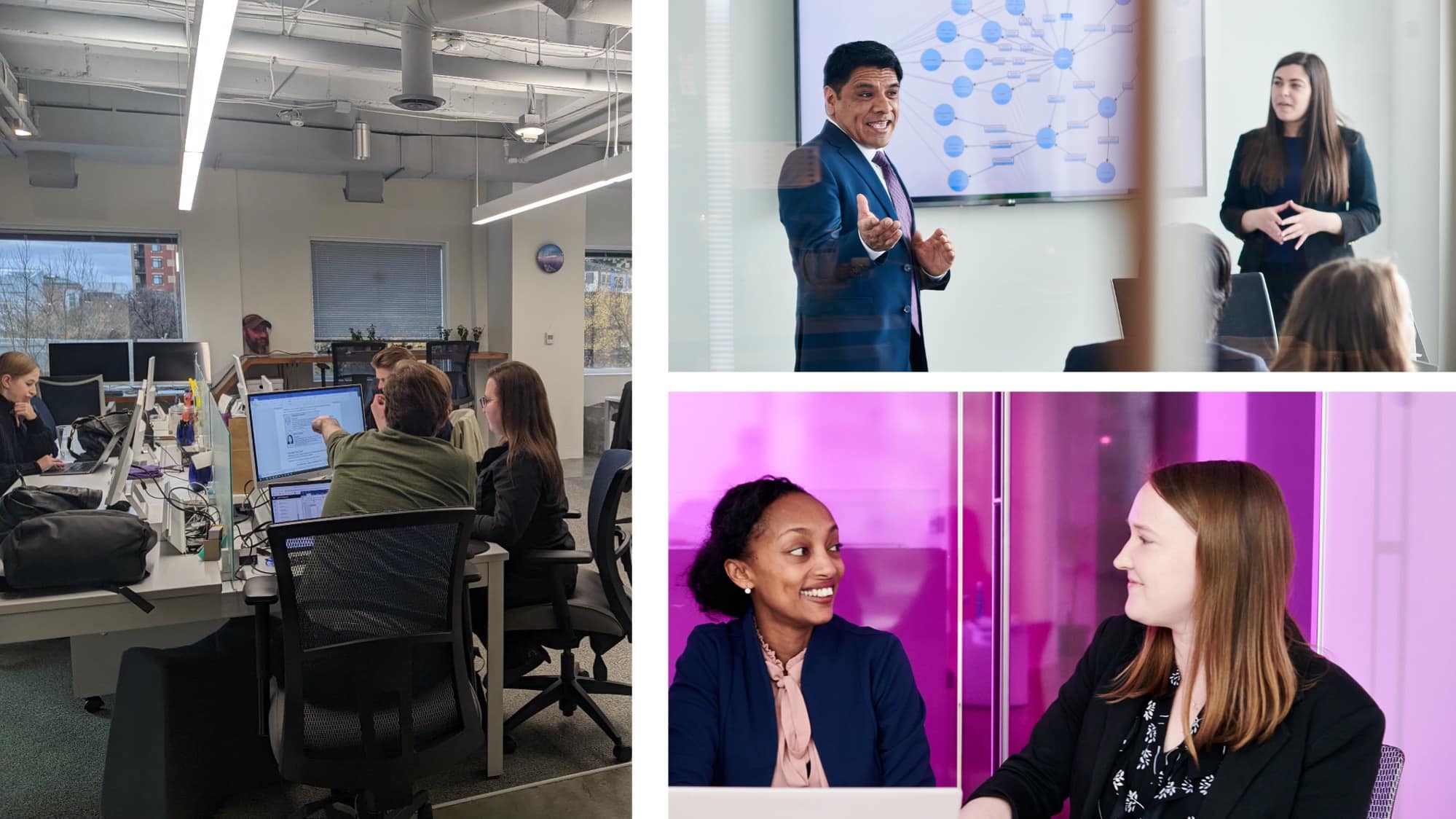 Integration has a few meanings at EK. For one, our definition of KM means that we're helping our customers enhance and integrate all of their knowledge objects, including structured and unstructured information, people, products, and other concepts. It also means that we help organizations integrate their disparate systems, processes, and groups to function more cohesively. Finally, it means that we seek to integrate our own services and bring together the individual talents of our diverse staff to deliver the greatest results for our customers.
Where we find the greatest success is when these separate services combine to form comprehensive solutions. This year, we've seen a great trend of organizations hiring us to build Knowledge Portals, Intelligent Learning Systems, and Content Assembly Tools, each of which leverage the power of knowledge graphs alongside an organization's content and data to drive customized and integrated solutions. These are business critical, transformative tools that for many organizations are helping them rapidly adjust to remote or hybrid work environments. 
Just in the course of the last two months, in fact, we've won a major multi-year framework agreement with a European banking organization, a multi-year multi-million dollar contract with DAU, and the USALearning contract, with a potential ceiling of $1.76 Billion. This same period has seen an uptick in commercial wins, with a common thread between all of them; each are seeking EK not for a single service, but for an integrated collection of our Knowledge Management, Learning, and Advanced Technology services. 
Our ability to deliver truly integrated services and solve real business challenges for our customers, typically resulting in measurable return on investment, has helped us to grow and perform again this year. In fact, this year we hit a major milestone, being named to the Inc. 5000 fastest growing companies in the U.S. for the fifth year in a row! 
Energy – We share our enthusiasm with our clients and colleagues, leveraging our excitement to achieve meaningful change.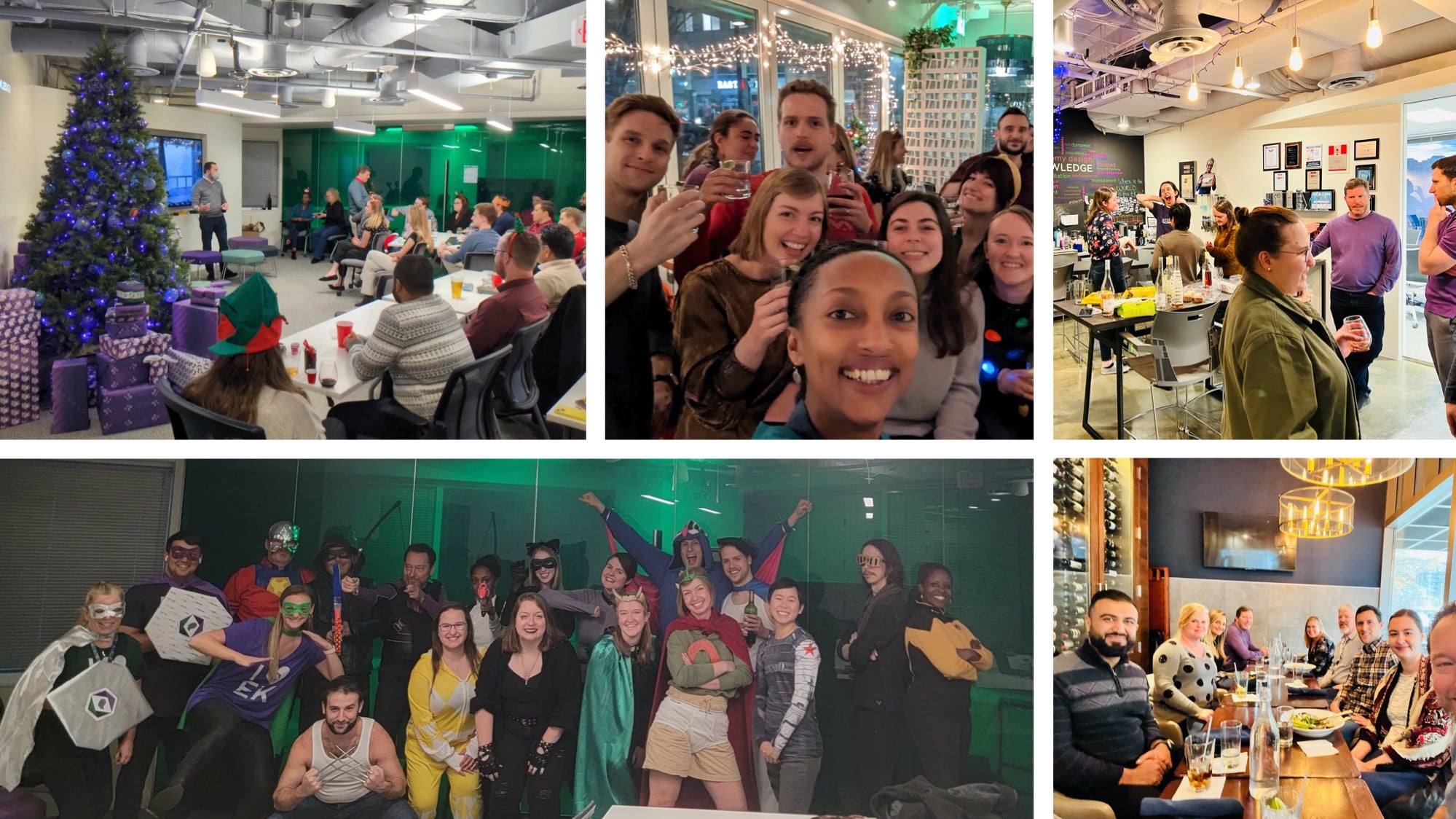 With growth on the horizon and new team members joining us with their spirit for collaboration and innovation, I am incredibly excited about the year to come. As has been a theme of this review, we are a company that celebrates our successes and our people, and I anticipate a lot of energy and many celebrations in the year to come.
One of the other ways we sought to better express our energy is through a major company rebrand that took place over the course of the year. We shifted our colors and associated iconography, in fact, to express that energy in all of our materials.
I anticipate 2023 will be a year of more time together, more opportunities to work alongside our wonderful clients, and trusted partners, and more time infusing our energy into our work and our community. This year, we'll be celebrating our ten-year anniversary as a company and I imagine we'll do it in style.
On behalf of Enterprise Knowledge and the EK Group, I thank you for your partnership, and wish you a wonderful 2023!