It has become an annual tradition for me to report on EK's performance and milestones to close each year. This tradition has become as much for me and the team at EK as it is for the broader KM community and myriad of EK followers. In another year overshadowed by COVID-19 and frustrating separation, it feels more important than ever to reflect on the year and what we've achieved together at EK.
I'll also begin this year's entry by noting the challenges and frustrations of 2021. As we end the year the same way we began it, with the office closed, maintaining a fully remote work stance due to COVID, I am extremely thankful for the resilience of my EK colleagues and their continued efforts to partner with our clients and form new bonds with our growing team. The core reason EK has flourished over the last two years in spite of the pandemic is the commitment of our team. This is commitment to our clients and to the KM field as a whole but also to each other. That culture of kindness and collaboration that makes EK so unique has taken us far as an organization, and it will continue to do so in the years to come, pandemic or (hopefully) not.
As I've done in the past, I'll use our six guiding principles to summarize our year.
People – Our number one asset is our people. We invest in them and ensure they possess the knowledge and resources to serve our clients to the highest degree possible.
As I discuss above, I'm struck by how the EK team has rallied to support each other, maintain relationships, and build new ones as our team has continued to grow. In addition to recruiting great new talent at all levels, we continued to promote from within, raising up sixteen team members into positions of new opportunity and responsibility. Our sustained growth means many more opportunities to move up at EK, as well as more wonderful recruits joining the team, as evidenced by our eighteen current job openings. This growth is occurring not just within the United States but via our subsidiary in Europe, EK Global, where we're presently onboarding our first employees and expect substantial growth in the year to come.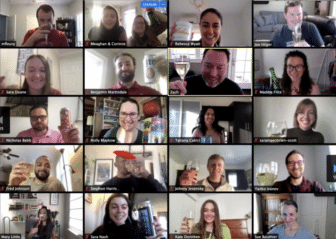 To ensure our continued growth and ability to serve our clients and support our team members, we invested heavily this year in our training and development program. Dubbed 'Camp EK,' the program is a year-long plan with training, activities, and measurable goals for each new employee's first day, first week, first month, first quarter, and first year. Rolling out early in 2022, this program reflects our commitment to our people and their development and leverages our own enterprise learning expertise to deliver learning and performance at the point of need. Of course, this complements our existing onboarding and training programs, as well as our existing benefit that all employees receive $3,000 annually to apply to learning and certifications as they see fit.
Though we all suffered from "Zoom Fatigue" over the course of the year, we found opportunities to come together remotely, including fun events like our March all-hands meeting with wine sent to each employee to help celebrate, online parties and bartending class, and continued care packages to "swag up" the team. When safe, we found opportunities to come together in person, including for our annual Holiday Potluck and Purple Elephant, as well as other team building events and meetings to continue to build relationships with each other. The team responded by once again helping us to be recognized as one of the top places to work in the United States. For the fourth time, Inc. Magazine listed us amongst their best workplaces, a recognition of particular meaning as it is driven by an anonymous employee survey. Though we know there is always room to improve (and indeed, we've got some great plans for the year to come), it is incredibly encouraging to see the team recognize us from within.
Thought Leadership – We serve as leaders in the industry, sharing our knowledge and expertise, guiding the development of Agile knowledge and information practices, and supporting the community.
As in past years, we put a major emphasis on thought leadership, publishing over sixty new articles into our freely open knowledge base, speaking at over twenty (virtual) conferences, and expanding our podcast to include a new chapter with our COO Joe Hilger interviewing technology leaders and executives within KM software companies to discuss the current and future state of KM technologies. The industry responded accordingly, with KMWorld and Info Today recognizing EK as one of the 100 Companies That Matter in KM for the seventh year in a row, as well as one of the 50 Companies Leveraging AI to Drive Knowledge Management. Feedspot also recognized EK's podcast, Knowledge Cast, as the number one KM podcast globally.
This year, we also released the first ever online self-assessment version of our proprietary KM Benchmark. Our proprietary benchmark, unique in the industry for its observational basis and deep inclusion of KM technologies, is the product of years of work and consists of over forty scorable factors. We've applied it to help a multitude of organizations map and then realize their KM transformations. The online self-assessment condenses this detailed benchmark into a twenty minute self-assessment, which then generates a customized report for your organization, all open to the public. We took the unusual step of opening this to the public in order to continue our service to the industry, guiding the future of Knowledge Management as the continued leaders in the space and largest dedicated KM consultancy.
There will be more exciting thought leadership news to share in the new year, so stay tuned.
Transparency – We communicate clearly and openly, ensuring the highest level of quality and accountability for our company's management, in our service to our clients, and with respect to our colleagues.
For EK, transparency means that all levels of EK employees, as well as our clients and partners, have a clear understanding of EK's goals and capabilities. Historically, we've always reviewed the previous year's performance and announced goals for the year at our annual Winter Gala. This has become a wonderful tradition at EK, to come together with all employees and their significant others, thank the team, and celebrate with great food at a leading restaurant. This year, unfortunately, we were separated in the throes of COVID-19, but we still held a virtual event where we discussed our performance and goals for the year to come. We do this for much more than expressing a set of numbers and performance metrics (though that is part of it). We use this time to discuss the "why" of our growth and what it means to our company, our community, and to each employee's path at EK and beyond.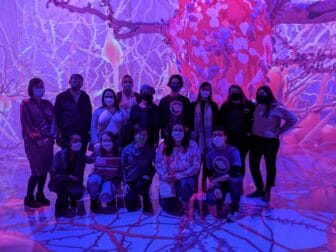 In our pursuit of transparency, EK also continued our bi-monthly all-hands employee knowledge shares, discussing our goals and achievements but also our challenges and areas for improvement. We also enhanced our internal knowledge portal, called seEK, this year, with additional content types for project information and new resources for diversity and inclusion, human resources, and strategic planning.
This year, we also completed our goal of running an internal employee satisfaction survey to ensure we are supporting our employees in the best ways we can. One of the main findings from the survey was the team expressing their want for more paid leave. In response to this, we immediately updated our leave policies to add a new week of paid sick leave, annually, for all employees. Though we're regularly reviewing our policies and benefits to ensure they're fair to our team, it was important to us that we respond to the survey with real and immediate action.
Partnership – We partner with our clients, building meaningful relationships founded on a sustained commitment to mutual success.
When we first created our guiding principles, we chose the word "partnership" very carefully. The word expresses the relationships we seek to build with all of our clients. More than the traditional client/consultant relationship, we strive to form lasting relationships of trust and two-way cooperation. Our success in this goal is represented in our client retention. I am incredibly proud to note that we are closing 2021 with every major client with whom we began the year. Moreover, many of these engagements have transitioned from strategic planning projects to implementation projects or from prototype/proof of concept efforts to enterprise programs. In short, KM is growing up around the globe, and we're successfully partnering with our clients to help them realize their KM transformation goals.
Notably, this year, clients old and new also came to us asking that we supplement their own teams and fill senior positions for them. They've noted they're unable to hire individuals with the unique expertise they need but that EK can deliver this for them. This is a great expression of the investments we make in our people to upskill them on the latest technologies, languages, and methodologies through our own internal training and development, and this allows us to partner with our clients in yet another new way.
We also express partnership in terms of our community engagement. Due to COVID, we missed out on many of our traditional volunteer activities, but we nonetheless maintained our longstanding financial support for Wolf Trap Center for the Performing Arts to deliver early arts and music education to schools in need. We also maintained our financial support and engagement with Black Code Collective and gave to over a dozen other different philanthropic organizations as part of our "Know Shave Knowvember" competition. This year, one of our Know Shave Knowvember participants organized a coat drive for Miriam's Kitchen as her activity for the month. We capped the year with another campaign to assemble care packages and write cards for a local hospital, helping to spread cheer to those who would be apart from family during the holidays. I love seeing these team-driven activities and am excited to find new ways to support such activities in the year to come.
Integration – We provide our customers with the full range of EK's expertise, integrating all of our services and resources to ensure the most significant business value.
As I noted above, we're increasingly finding ourselves driving enterprise-level initiatives for our clients, providing operationalized KM and true digital transformations for these organ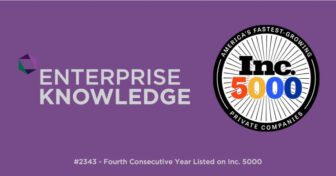 izations. These efforts call on EK's complete depth and breadth of expertise, affording us opportunities to collaborate across practices and disciplines and deliver integrated solutions and seamless teams of experts to our clients. 
What that looks like to our clients varies greatly. For one, their central solution is a knowledge portal powered by an enterprise search tool, uniting content and data from over twenty different systems into a consistent interface. For another, it is an adaptive learning tool that assembles customized curricula based on each employee's needs and goals. For yet another, it is a knowledge map that automatically relates structured content, unstructured content, and people via a recommender engine, delivering new content and contacts to help each employee learn and perform. Increasingly, our integrated solutions include a knowledge graph at their center to add context and deliver enterprise AI. I am particularly proud of the position of leadership we're in within this exciting field.
Our successful delivery of enterprise knowledge management services has resulted in our continued growth. This year, we celebrated our place on the Inc. 5000, a ranking of the fastest-growing private US companies, for the fourth year in a row and were also listed on the Inc. 5000 regional list at an impressive rank of 80. 
Energy – We share our enthusiasm with our clients and colleagues, leveraging our excitement to achieve meaningful change.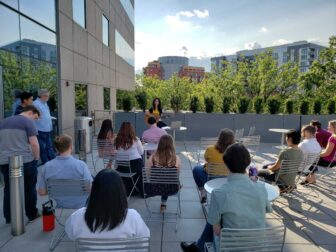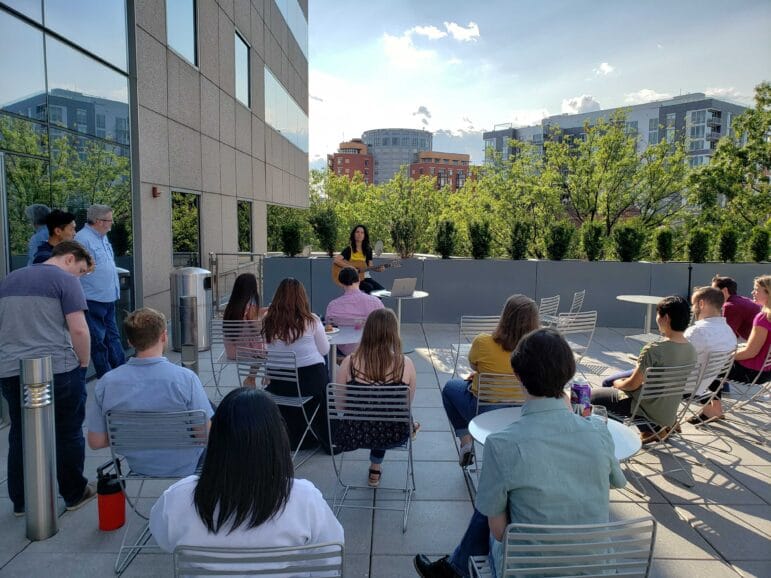 After a year of dealing with COVID, I'm sure I'm not the only one with a sense of "Are we there yet?" to end the year. The world has been weathering a long period of challenges. Before Omicron reared its head, I was lucky enough to spend time with colleagues old and new in the office, and those interactions supplied me with the energy to step into 2022 with enthusiasm and confidence. When Joe and I first founded EK, we envisioned an organization with superior delivery and thought leadership, but neither of us could possibly have imagined the incredible combination of talent, collaboration, and kindness the EK team would grow to become. That team, our team, is what is giving me energy to drive into 2022.
That, of course, and the prospect of another year of exciting growth, engaging partnerships, and meaningful delivery with our ever-growing list of client partners. In 2022 we will continue to expand internationally, we will take the next major step in our thought leadership, and we will successfully deliver on the promise of KM done right. 
On behalf of the entire EK group, thank you for being a part of our journey. Happy New Year, and get excited for what's to come.