As 2019 comes to an end, I'd like to summarize our year and take a brief look forward to 2020. In 2019, we once again continued our growth, exceeding our performance expectations, adding new capabilities in Advanced Search and Enterprise AI, and welcoming new members to the team to further deepen our capabilities. As with any year, we experienced challenges, but more than ever before we addressed them as a cohesive organization and are stronger for it. 
In many ways, our established goals for 2019 were a continuation of our aspirations from the previous year. We sought to continue our growth curve, expand our team, maintain our strong relationships with our clients, and deepen our special culture of collaboration and kindness. I can summarize our achievements in these areas using EK's six guiding principles: People, Thought Leadership, Transparency, Partnership, Integration, and Energy.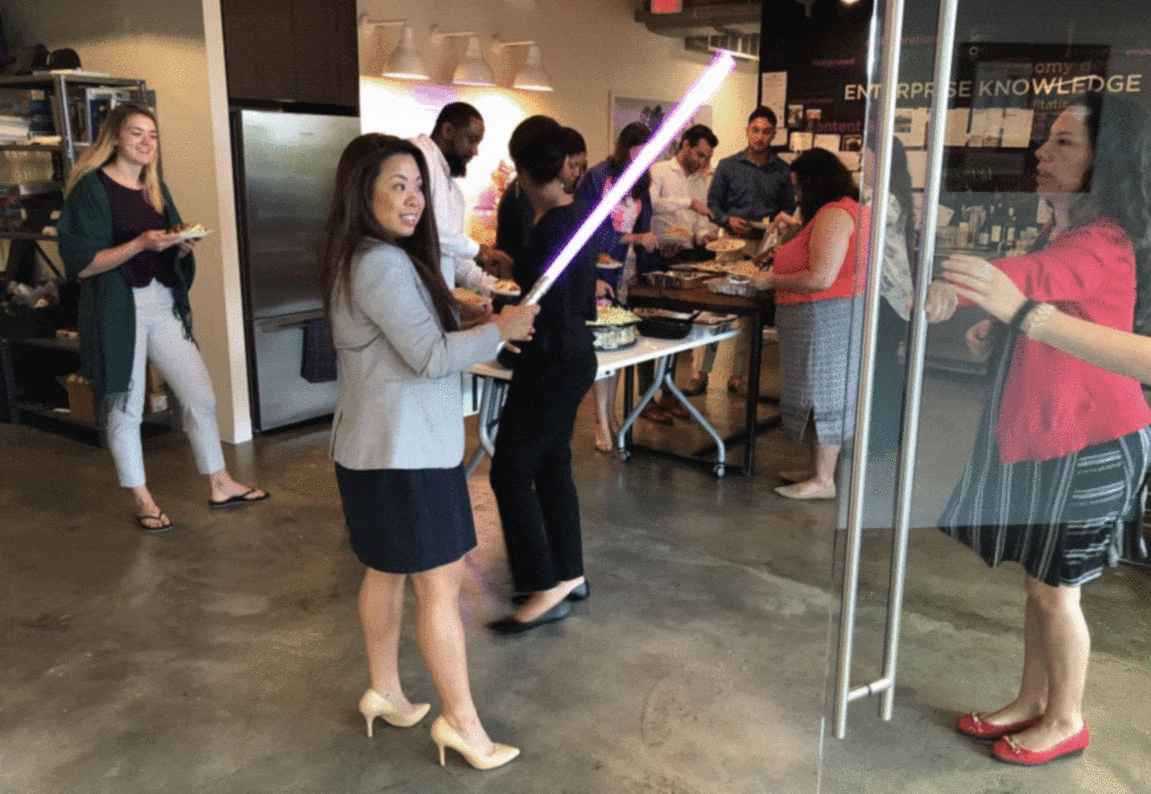 People – Our number one asset is our people. We invest in them and ensure they possess the knowledge and resources to serve our clients to the highest degree possible.
As an organization, we've always chosen to invest in our team, focusing on hiring and developing individuals' business and technical skills while celebrating the unique culture and individuality they bring to EK. In 2019, we continued to hone our recruiting and interviewing practices to ensure we were finding the best "EK Rockstars" to provide exceptional delivery for our clients as well as strong collaboration with our colleagues. As a result, we are now the largest dedicated Knowledge Management consultancy in the world.
Maintenance and evolution of our culture of kindness, fun, and collaboration continued to be one of our greatest areas of focus. For the third year in a row, Washington Business Journal recognized us as one of their Best Places to Work, and Inc. Magazine recognized us nationally as one of the best workplaces in the United States for the second year in a row. 
We've codified our culture in eight guiding elements we refer to as the EK Way.  These are Kindness, Leadership, Voice, Collaboration, Balance, Growth, Ownership, and Fun. Each of these speaks to how we want every member of the team to feel empowered to be themselves and take ownership at EK. Over the course of the last year, we've continued our efforts to reinforce the EK Way and ensure every member of the team, new and old, knows what it means to be a member of this organization.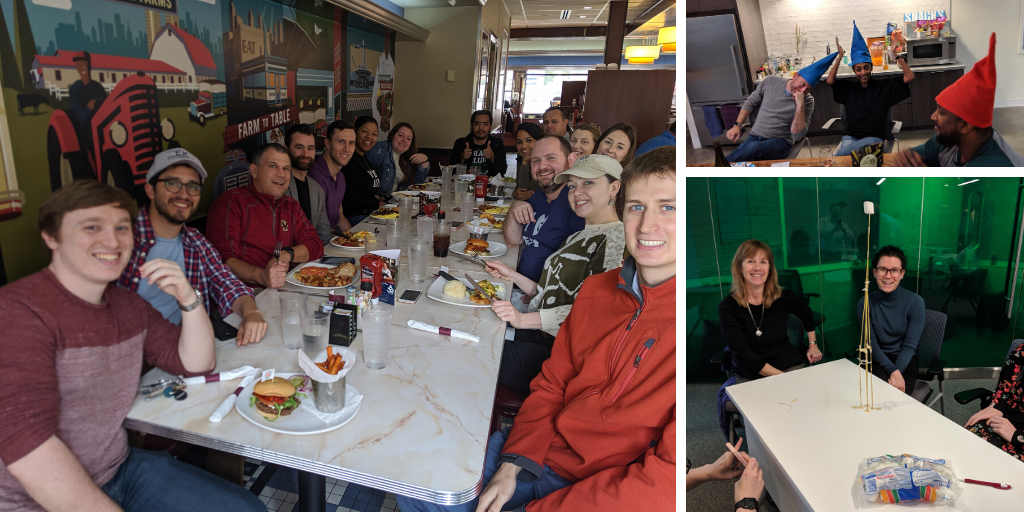 As I've stated in past years, one of my favorite benefits is that every employee receives $3,000 for their own chosen growth and learning. I see a passion for lifelong learning as one of an EK'ers greatest traits. The passion with which our team members have leveraged this benefit serves them well, as well as our clients who benefit from their development. The team chose an assortment of training, certifications, and conferences this year, including Knowledge Graph Design and Modeling, Cornell Product Management Program, Data Management and Governance, The Working Ontologist, Agile Product Owner Certification, Advanced Certified Scrum Master, DevOps, AWS Cloud Practitioner, User Experience (UX) with Content Design, Elasticsearch Engineering, and Boston University's Masters in Computer and Information Systems. 
This year it has also been gratifying to see how the team is taking ownership of the office culture and shaping the benefits and perks that motivate them. One example of this is how the holidays came to EK this year in a way that hasn't happened before. For Halloween, the entire office transformed into Hogwarts School of Witchcraft and Wizardry, complete with costumes and a themed lunch. In December, we've always done a big holiday potluck and a "Purple Elephant" (our version of a White Elephant gift grab, where EK supplies the gifts – this year I think the favorite was the electric scooter). New this year, however, were the various themed events in December, including a holiday movie day and EK Gingerbread House decorating contests. We also started fun new traditions, like catered lunches any day we win a new account, themed for the location of our new client, and our version of "ringing the sales bell," where new accounts are introduced by swinging one of the company lightsabers. Individually, each of these elements might be described as fun or unique, but taken as a whole they represent the team taking it upon themselves to craft EK into the place that makes them happy and where they feel at home.
On a personal note, I am excited to be taking one of the benefits for which I am most proud, EK's parental leave benefit. Several years ago we established a policy including 13 weeks of paid maternity leave, as well as paid paternity leave. I've been happy to see many of my colleagues leveraging this benefit and we've celebrated every EK baby who has joined the family. Now, I'm excited to be starting my own paternity leave, further demonstrating that EK is an organization that values work and life balance, modeled from the top.

Thought Leadership – We serve as leaders in the industry, sharing our knowledge and expertise, guiding the development of agile knowledge and information practices, and supporting the community.
In 2019, EK published over 60 new blogs, infographics, articles, and videos in our website's Knowledge Base. All of this material is completely open to the public without a login and represents a major element in our support of thought leadership in the field. We also spoke at over 15 different conferences, including Taxonomy Boot Camp, KMWorld, KMI Showcase, KMI Agile and Design Thinking Certification Course, SEMANTiCs 2019, DoD and Federal Knowledge Management Symposium, OmniChannelX, Graphorum, CTAA, PMIWDC, Agile DC, Agile New England, Digital PM Summit, and KM Midwest Symposium.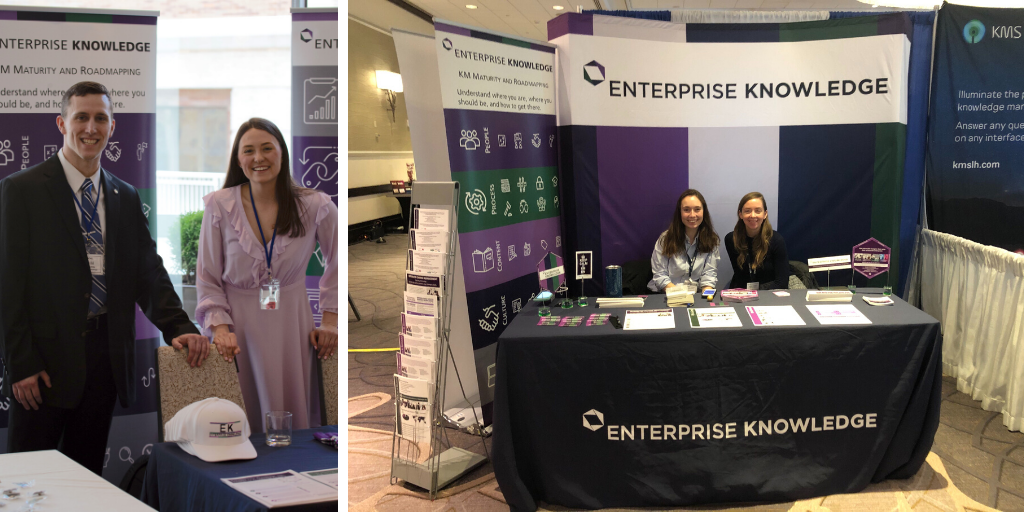 We also supported the community by expanding the events we host and deliver in our space. Over the course of the year, we hosted the Knowledge Management Community of DC, Content Strategy DC, Enterprise Knowledge Graphs, and Design Thinking DC. 
Demonstrating our continued leadership in the KM space, I chaired the Knowledge Management Institute's annual Knowledge Management Showcase and will do so again this coming March. Under my leadership, the conference grew to be a two-day, two-track event, including a track on real world case studies. Confirmed speakers from the Peace Corps, National Park Service, Hilton, GSA, and Inter-American Development Bank presented real world case studies that demonstrated the true value of KM.  
As another major new thought leadership initiative, EK is teaming with Semantic Web Company to bring their long-running SEMANTiCs conference to the United States for the first time ever. EK COO Joe Hilger will be serving as chairperson at this inaugural event being held this coming April in Austin, TX. We anticipate it will quickly become the premiere North American conference regarding Enterprise AI, Machine Learning, and Natural Language Processing.
We were also pleased to be recognized by Information Today as one of KMWorld's 100 Companies that Matter in KM for the fifth year in a row, and were happy to have a total of seven EK team members speaking at their annual conference this year.

Transparency – We communicate clearly and openly, ensuring the highest level of quality and accountability for our company's management, in our service to our clients, and with respect to our colleagues.
For us, transparency means that our team members, clients, and partners all know what we're doing and why. For our clients, this means partnering with them in order to share successes, clearly communicate, and jointly address challenges. For our employees, this means establishing a clear sense of what's working and what isn't at EK, talking about it honestly, and working together to trend towards better. That's why we've continued our bi-weekly knowledge sharing sessions, where EK's leadership provides updates on the company and team members share what they're working on and teach areas in which they've developed expertise. 
As with every year, we also communicated measurable goals and expectations regarding company performance at our annual Winter Gala. These included the standard elements regarding revenue, headcount, and client retention, but also included specific elements regarding employee development and growth. To better communicate with the team and help everyone understand the "what and why" of EK's priorities, we also recently published a roadmap for 2020 that includes major initiatives regarding hires, onboarding, recruiting, marketing, and rollout of our new company intranet. This is another way we're striving to model the type of work we often do for our clients, by giving each member of the team the insight into what they can expect and further seeking their involvement in shaping our priorities and guiding these assorted initiatives.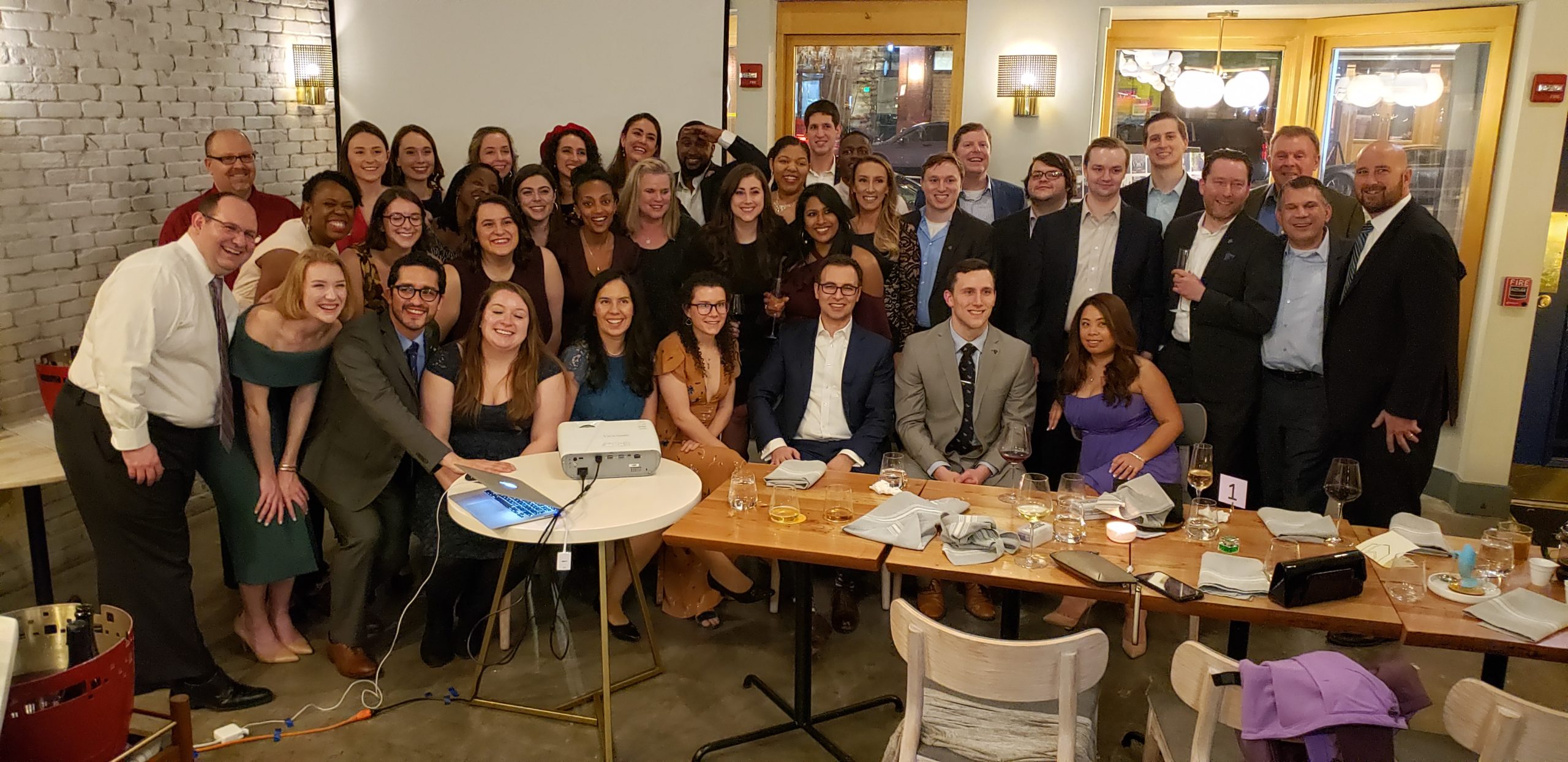 Partnership – We partner with our clients, building meaningful relationships founded on a sustained commitment to mutual success.
Our most successful engagements and greatest client relationships are those where we develop a true spirit of partnership and collaboration. This year was full of both new and existing clients engaging in that spirit of partnership with us. We were thrilled to host many of these clients in our office over the course of the year, and enjoyed working with them as fellow team members, while also "showing off" our culture and work spirit. Our clients this year leveraged our office for strategy sessions and training and also visited us to get to know the team better. 
This spirit of client partnership resulted in EK once again maintaining the vast majority of our core accounts over the course of the year, while adding an array of exciting new organizations that we've begun to support. I was also thrilled to see many previous clients come back to EK asking to engage in additional services with us. It is a huge validation for us to receive the referrals and praise we do from our clients, but it is even more special to see a client pushing their organization to engage with us again after previous successful work. All of this effort resulted in EK being listed on the Inc. 5000 List of Fastest Growing Companies in the United States for the second year in a row, an achievement less than 25% of companies ever listed have accomplished. We were also recognized by the Virginia Chamber of Commerce as one of Virginia's 50 fastest growing companies, ranking at number 19 on the list.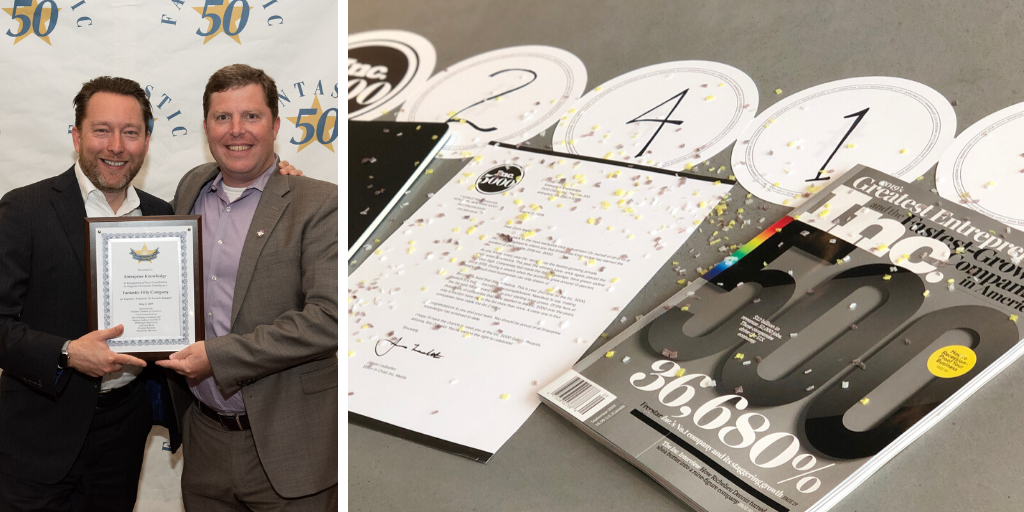 As with previous years, our partnerships also translate to active participation in the community. In 2019 we continued our longstanding support for the Wolf Trap Foundation for the Performing Arts by continuing to fund their childhood education programs. We also continued our work with Bridges to Independence, an Arlington-based charity that works to lead individuals and families out of homelessness and into stable, independent futures. In addition to financial support, EK employees leveraged their expertise to help Bridges with strategic communications, visioning, and public speaking training. We also hosted a summer intern from their program for the second year in a row. 
This year, at the request of team members, we added a No Shave November (or, for us, a Know Shave Knowvember) competition as well as a coat drive. Each team member who participated identified their charitable organization of choice and EK donated to them at the end of the month. These organizations included: Girls Who Code, NAMI, Autism Speaks, Alzheimers Foundation of America, the Prevent Cancer Foundation, Welles Remy Crowther Charitable Trust, the Tom Coughlin Jay Fund, the American Foundation for Suicide Prevention, the Rotary Foundation of Rotary International, and St. Judes Christian Hospital.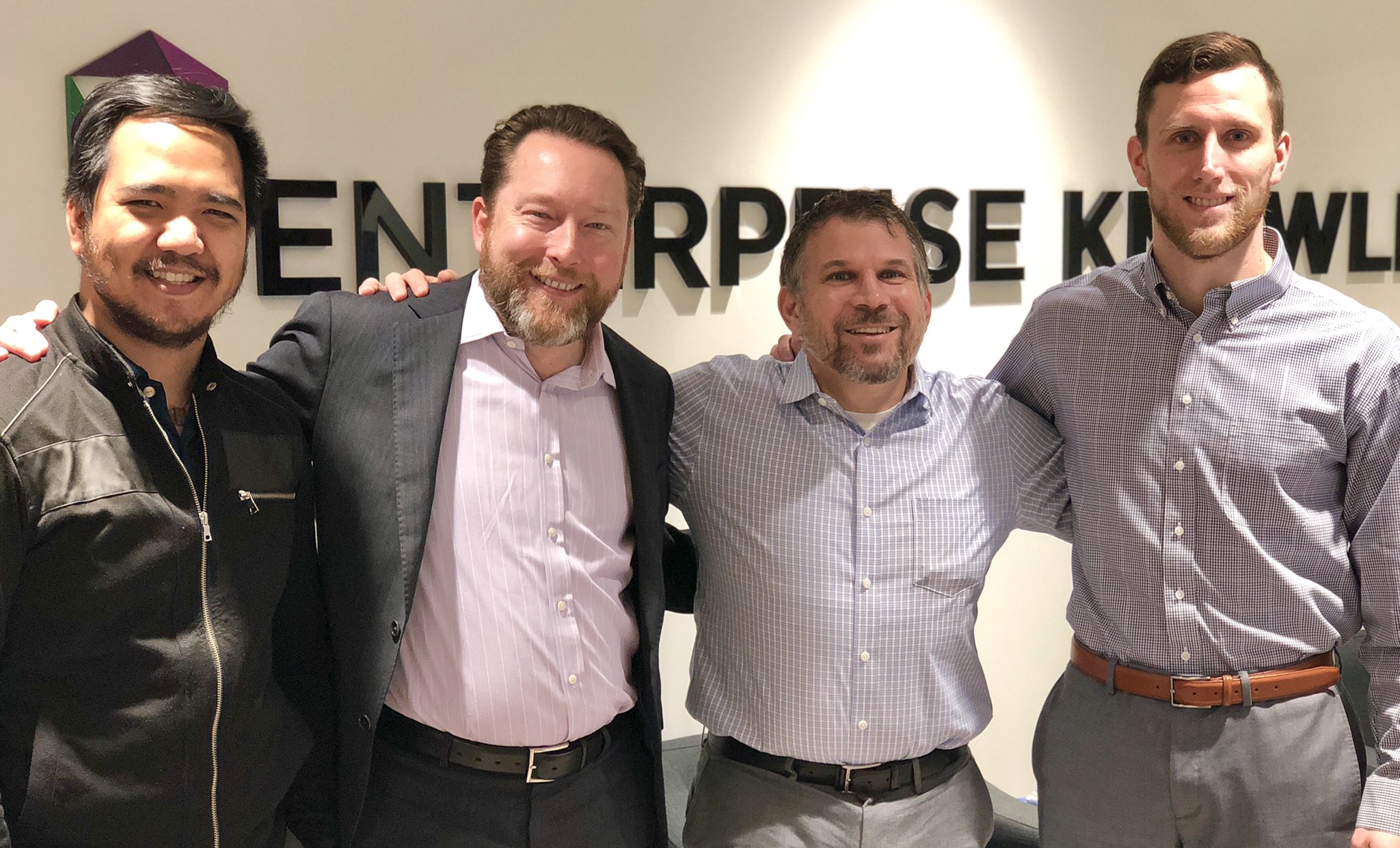 Integration – We provide our customers with the full range of EK's expertise, integrating all of our services and resources to ensure the greatest business value.
In 2019, the average size and scope of our client engagements increased significantly.  More and more of our clients are asking us to move beyond strategy with them in order to help realize multi-year Knowledge Management and Enterprise AI transformations. With our unique place in the market delivering strategy, design, and implementation services, we're able to deliver on multi-year commitments to our clients and help them show true return on investment and demonstrable progress iteratively.  
As part of this commitment, EK expanded our work with semantics and knowledge artificial intelligence to create a new set of service offerings we call Enterprise AI. These services help an organization to plan, test, and iteratively build the capabilities in artificial intelligence being sought around the world, ensuring data and content are fully integrated, findable, and actionable. We are now expanding on these service offerings to deliver advanced semantic search capabilities as well. These services perfectly integrate with our core KM offerings, deepening our capabilities to ensure organizations receive the right KM foundations as well as the advanced capabilities to fully leverage all of their people and information.
EK also achieved another milestone this year, receiving an award on the General Services Administration's Professional Services Contract. This new contract is yet another avenue to ensure we can provide our fully integrated advanced service offerings not just to the world's leading commercial organizations and nonprofits, but also to the U.S. Government.

Energy – We share our enthusiasm with our clients and colleagues, leveraging our excitement in order to achieve meaningful change.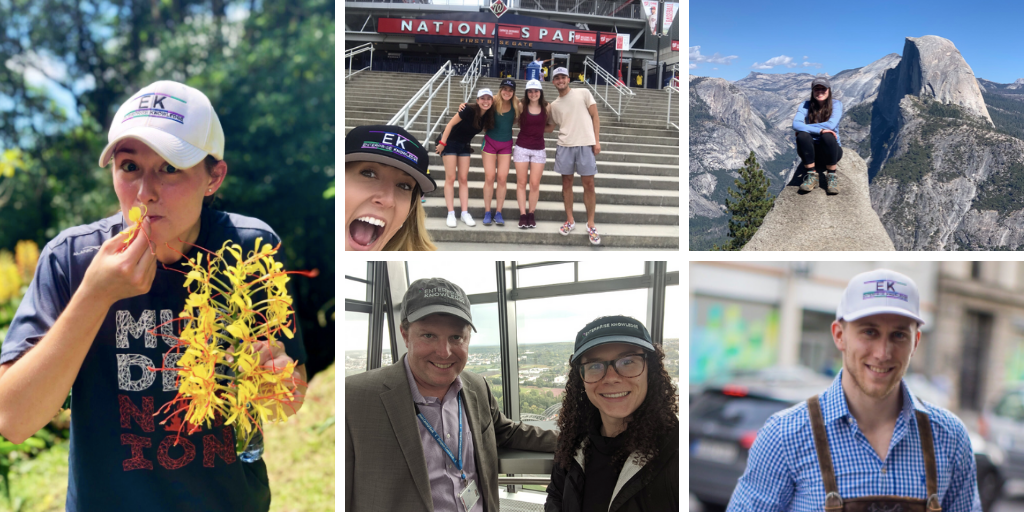 Our many achievements over the last year have only been made possible due to the dedication and energy of the team at EK. That energy has magnified as we've grown, with new individuals bringing their own ideas and brand of energy to our organization. Our clients are increasingly seeing how EK is different in this way, and I truly believe it has become one of our major differentiators. With our energy, we bring kindness and care for our fellow colleagues, partners, and clients. With this, we've become not just the largest or most advanced KM Consultancy in the world, we've also become a model for how organizations big and small wish to operate and grow. Increasingly, our clients are asking us to help them replicate this model, and we are thrilled to help them do so.
Most importantly, increasingly at EK I'm not the one driving this energy. The energy at EK has become self-sustaining and group-driven. As I begin my paternity leave, I'm confident the team will be stewards of EK and suppliers of our energy in my absence. As CEO, that may be my greatest achievement. Of course that said, I can't wait to get back next month and see the amazing progress the team has made towards our 2020 goals to continue our growth, build our culture, and serve our clients.